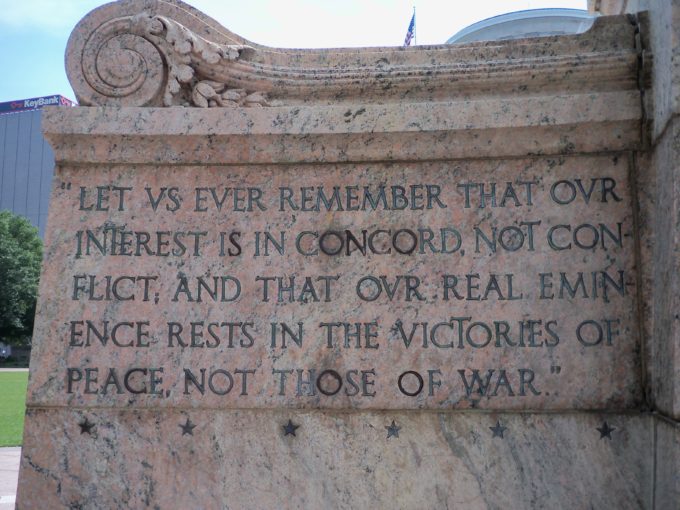 Friday, 4 October 2019
… because it is written, "Be holy, for I am holy." 1 Peter 1:16
This is cited by Peter from Leviticus 11:44. It reflects God's expectation for His people, both of Israel under the Old Covenant, and for those who come to Christ under the new covenant. Though Peter is writing to Jews, because he is the apostle to the circumcision, this is no different than what Paul writes to the Gentiles as the apostle to the uncircumcised. Two of many examples from him are –
"Blessed be the God and Father of our Lord Jesus Christ, who has blessed us with every spiritual blessing in the heavenly places in Christ, 4 just as He chose us in Him before the foundation of the world, that we should be holy and without blame before Him in love." Ephesians 1:3, 4
"Therefore, having these promises, beloved, let us cleanse ourselves from all filthiness of the flesh and spirit, perfecting holiness in the fear of God." 2 Corinthians 7:1
The Lord expects the same holy conduct at all times from His people, because such conduct reflects His holy nature. Time and again in Leviticus, the idea of holiness is presented. Their conduct under the law was expected to conform to the law in order for them to reflect His holiness. But the reason for it was because the conduct of the people from which they were called (meaning the world at large) did not reflect what He expected. This is seen, for example, in Leviticus 20:26 –
"And you shall be holy to Me, for I the Lord am holy, and have separated you from the peoples, that you should be Mine."
Now, Christ has called not only Jews, but all people into His new covenant. This is by drawing them from out of the world. The Jews were called out from the law which only highlighted their sin, and the Gentiles are called out from the unholy conduct of being aligned with the world and against God. Together, all are called to a new type of holiness, which is sanctification by the Spirit and through right conduct before God.
Life application: A couple of great points come from today's short verse –
1) Peter is quoting Leviticus 11:44. There are other times in the Bible where this same general thought is mentioned. Scripture quoting Scripture is one way the Bible validates itself internally. Things are proclaimed and then they happen; things are stated and then they're re-quoted elsewhere; someone claims to be a prophet and Jesus confirms that status. These and many other such occurrences validate the authority of other books, other people, and other concepts within the framework of the Bible.
2) God is making an absolute statement about Himself – a statement that can be inferred from simply thinking about the nature of God, even without the Bible. In other words, the Bible not only validates itself internally, but in a host of other ways, including when discussing the nature of God. Unlike the Koran or other religious texts from religions around the world, only the Bible fully reveals and confirms the nature of God. We are left with an absolutely sure word concerning His nature. He has revealed Himself to us in a way we can understand.
3) We are to reflect God's image. He is holy and we are to act accordingly. He is full of grace and we are to likewise be graceful. He is filled with mercy and therefore we need to exercise mercy. The same is true with truthfulness, love, righteousness, justice, etc. God expects us to live in a way that reflects His nature. When we deviate from that, we isolate ourselves from His goodness and are left with only a fearful expectation of judgment. Let us always attempt to live our lives in a way which reflects God's infinite qualities, even if we fall short of demonstrating them perfectly.
Heavenly Father, You have asked us to be holy because You are holy. That can be rather difficult for us at times. We each fail You when we fail to be forgiving, truthful, or to act in any other way that should reflect Your glory. Forgive us of our weaknesses, and fill us with Your Spirit, so that we can correct this. In Jesus' name we pray, Amen.