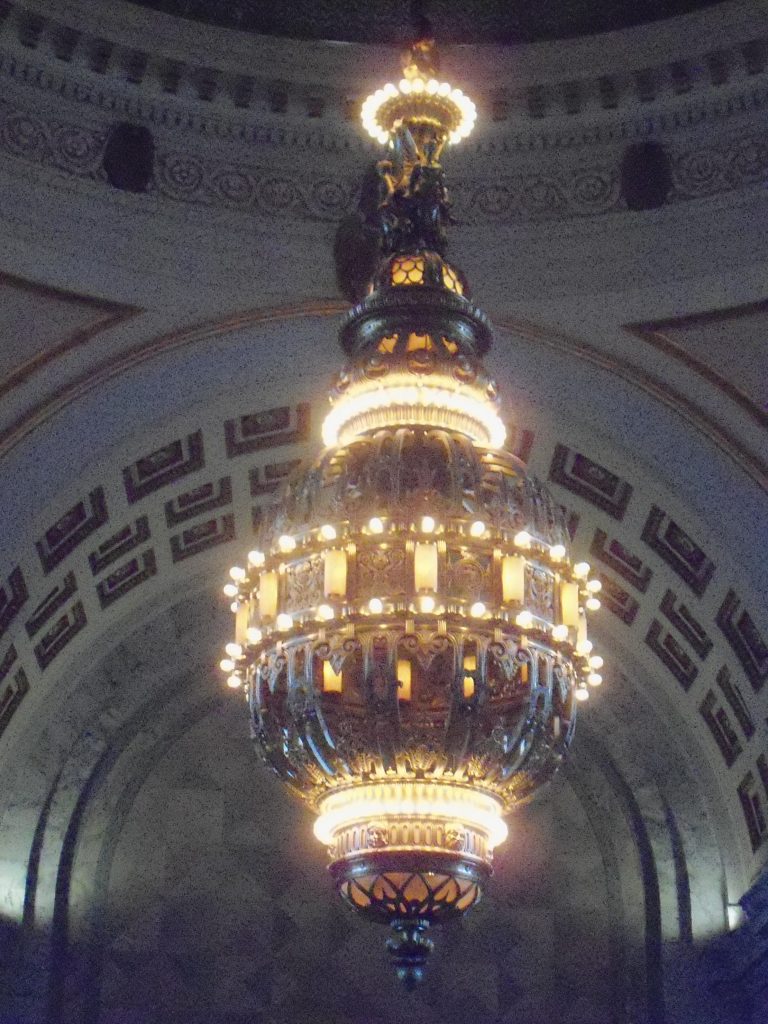 Super fancy chandelier. Washington State Capitol.
Saturday, 1 July 2023
And he departed from there and entered the house of a certain man named Justus, one who worshiped God, whose house was next door to the synagogue. Acts 18:7
Note: You can listen to today's commentary courtesy of our friends at "Bible in Ten" podcast. (Click Here to listen)
You can also read this commentary, with music, courtesy of our friends at "Discern the Bible" on YouTube. (Click Here to listen), or at Rumble (Click Here to listen).
The translation is more correctly rendered, "And having departed thence, he came to the house of someone by name Justus, worshiping God, whose house was adjoining the synagogue" (CG).
Paul had just notified the Jews that he would henceforth go to the Gentiles. True to his word, it next says, "And having departed thence."
He left their presence, knowing that he had done his duty by going to his Jewish brethren first, and also knowing that he was wasting his time by staying with them any longer. Therefore, in having departed from there, "he came to the house of someone by name Justus."
The name Justus is Latin for Just (or Upright, as in being or straight). The name is used by Jews in Acts 1:23 and Colossians 4:11. Some manuscripts say, Titus Justus. It is then said that he is the same person referred to in 2 Corinthians and/or Galatians. There is no reason to make this leap as both names were not uncommon at that time. Regardless of that, it notes of him that he was "worshiping God."
It is the same word used five times already in Acts, including of devout women such as Lydia in Acts 16. The meaning is that Justus was either a proselyte or he was a convert to Christianity. The main point concerning him is that he is a Gentile. Paul had gone straight from the Jews to engaging the Gentiles, including entering a Gentile house.
In this, he was clearly demonstrating his convictions that the Gentiles were not to be considered "common or unclean" (Acts 10:28). Concerning the location of the house of Justus, it next says, "whose house was adjoining the synagogue."
It is a word found only here in the Bible or any other ancient Greek literature, sunomoreó.
It signifies to border on or be next door to. What is probably the case is that the ministry was moved to the house of Justus, but Paul continued to live with Aquila and Priscilla. There would be no need for Paul to cut himself off from them just to make a point about going to the Gentiles. Rather, he was simply moving his ministry to a location where the Jews could see his freedom each time they went to the synagogue.
It is a purposeful act on the part of Paul that his teaching would continue within earshot of them, but in a place that they would have been loath to enter because of their attitude concerning Gentiles.
Life application: Despite his statement that he would go henceforth to the Gentiles, he still left the door open to evangelizing the Jews, even in the area of Corinth. He will continue to engage the Jews, having both positive and negative interactions with them. He knew that he could not beat his faith into someone else. He had said what he had to say. They were belligerent against his words, and so he moved on.
This is a good lesson for us as well. We may be extremely passionate about a family member or a friend that we want to see come to Christ. If they have been told the gospel and turned it down, you have done your job. In continuing to harp on someone about their need for Christ, it is not unlikely that you will alienate the very person you hope will convert.
State your words, offer to be there to answer questions in the future, and then be a proper example to them of what you have told them about by living as a faithful Christian, praying for them as it comes to mind. You cannot beat your faith into them, but you can act in a manner that may – someday – remind them of their need for Jesus. When their lives hit a bump or a brick wall, you can reengage them in a manner that may be just what they need at that moment. If you had alienated them through constant nagging, that would not come about. So be patient and be a positive representative of Jesus in the meantime.
Lord God, help us to be wise in our evangelism of others, including those close to us. Help us to faithfully proclaim the gospel and then allow those who hear to make up their minds accordingly. Give us the wisdom to understand that it is not up to us to convert their hearts. It is our job to present the gospel that can. From there, they have a choice to make. Give us wisdom in this regard. Amen.