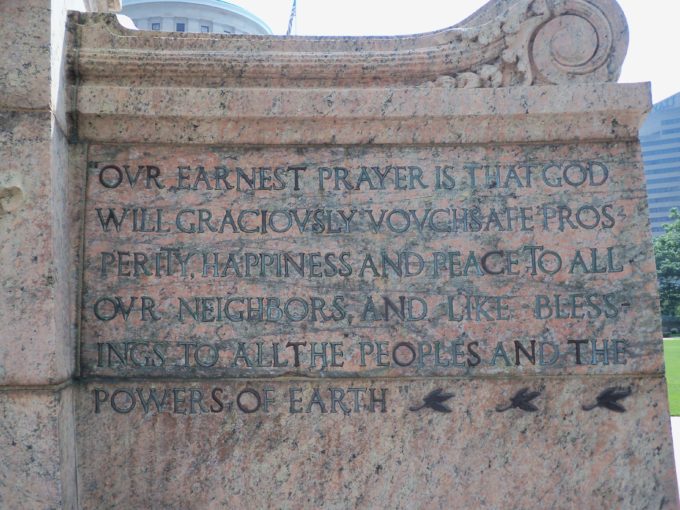 Saturday, 5 October 2019
And if you call on the Father, who without partiality judges according to each one's work, conduct yourselves throughout the time of your stay here in fear; 1 Peter 1:17
In the previous paragraph, Peter spoke of being prepared for the coming of Christ, keeping free from the stain of this world. He then explained why this should be by citing Leviticus 11:44 – "Be holy, for I am holy." As the character of the Lord God does not change, He expects us to emulate Him – whether under law or under grace. With that in mind, he now reveals why this is necessary for us. To do so, he begins with, "And if you call on the Father."
The translation is not acceptable. There is no "the" before "Father" in the original. It should read, "and if you call on Him as Father." The reason is that anyone can call on the Father – whether in Christ or not. The difference is that it is Jesus who brings us into the Father/Son relationship (as will be noted in verse 19). For those not in Christ, they are not recognized as sons through faith. Further, the words are connected to the idea of Him as Judge. As Vincent's Word Studies says, "the point being that God is to be invoked, not only as Father, but as Judge."
Understanding this slight, but important change, we can understand Peter's words clearly. We have called on God as Father because we have come to Him through Christ. However, how was that accomplished? It was through His death. There was judgment on sin involved in Christ's work. Can we expect anything less after coming to Christ? No! And so, Peter says, "who without partiality judges."
There must be judgment rendered for not being holy, even after calling on Christ. He died for our sins, and the expectation is that we will live in holiness because of what He did for us. If we fail to do this, judgment must (not "might" or "may") come about. One cannot violate the holiness of God in their conduct and come away free from judgment. And this judgment is without partiality.
As Peter himself said in Acts 10:34, "In truth I perceive that God shows no partiality." God has one standard which must be met for Jew and for Gentile, and He will ensure that each deed is evaluated without bias and in a perfectly fair manner. As Peter says, it will be "according to each one's work."
This is exactly what Paul speaks of in both 1 and 2 Corinthians concerning our judgment. In 1 Corinthians 3:12-15, he says –
"Now if anyone builds on this foundation with gold, silver, precious stones, wood, hay, straw, 13 each one's work will become clear; for the Day will declare it, because it will be revealed by fire; and the fire will test each one's work, of what sort it is. 14 If anyone's work which he has built on it endures, he will receive a reward. 15 If anyone's work is burned, he will suffer loss; but he himself will be saved, yet so as through fire."
And again, in 2 Corinthians 5:10, 11, Paul says –
"For we must all appear before the judgment seat of Christ, that each one may receive the things done in the body, according to what he has done, whether good or bad. 11 Knowing, therefore, the terror of the Lord, we persuade men; but we are well known to God, and I also trust are well known in your consciences."
The message of both Paul and Peter is consistent, and it is one which shows that what is coming should be considered by each of us as we walk in this current body. As Peter admonishes his audience, so "conduct yourselves through the time of your stay here in fear."
The word Peter uses for "stay" is found only elsewhere in Acts 13:17. It indicates sojourning in a strange land. The idea is that we are no longer of this world, even though we live in this world. This is not to be taken to the ridiculous extreme that many take it to. Some close themselves off in monasteries. Some refuse to serve in the military of whatever country they reside in. Some will not vote in the elections of the land in which they live. And so on.
The problem with this logic is that they are still in this world. They are still eating food which comes from the ground, and they are still being protected by whatever government of the land in which they dwell. They still pay taxes (you bet they do!), and they still benefit from the roads and other infrastructure of the land. The idea of sojourning is that we are to live in this world, but not to conform to its morals. We are to be a part of whatever situation we are in without violating the holy standard, which Peter cited in the previous verse, and as he explicitly states again in this verse when he says, "conduct yourselves."
He is tying the "be holy" of the previous verse to "in fear" from this verse. When we fail to walk as we should, we should fear. However, and as Paul made perfectly clear in the verses from 1 and 2 Corinthians cited above, this is a fear concerning judgment which is not for condemnation, but for rewards. It is that of rewards and losses only.
Life application: In this verse from Peter, we see two obvious overlaps in the duties of the Godhead. Compare what it says with these two verses –
"For 'whoever calls on the name of the Lord shall be saved.'" Romans 10:13
"For I know of nothing against myself, yet I am not justified by this; but He who judges me is the Lord." 1 Corinthians 4:4
When we call on Jesus, we call on God, who is the Lord (Yehovah of the Old Testament); when we call on the Father, we call on God. Likewise, the authority for judgment rests with Jesus, and yet the authority for judgment rests with the Father. Everything must be taken in context, but it is obvious that God the Father is revealed to us in God the Son.
Note that judgment is "according to each one's work." Salvation is eternal, and it is from the first moment. However, our judgment will be based on the work we do after that moment. This then is not a judgment for condemnation, but for reward. If you desire a greater heavenly reward, then you need to "conduct yourselves throughout the time of your stay here in fear."
Further, this is not a fear of condemnation, but a reverent fear. God is ever-present with us, and we simply cannot hide our wicked actions. Instead, we need to fear that they will be exposed, and loss will result. As it says in Acts 17:28, "…in Him we live and move and have our being." Let us act as if we really believe it – in reverence, in holiness, and in gratitude for all good things. Remember what is promised for those whose works are acceptable!
Lord, it is so easy to get distracted and forget that You are right here with us. When we do, of course, we fail You and we act in ways that aren't as holy as they should be. For this, we are sorry. We ask that You give us the wisdom to know Your word, to act in accord with it, and to be filled with Your Spirit in order to remind us of our obligations to You. Help us in this, O God. Amen.