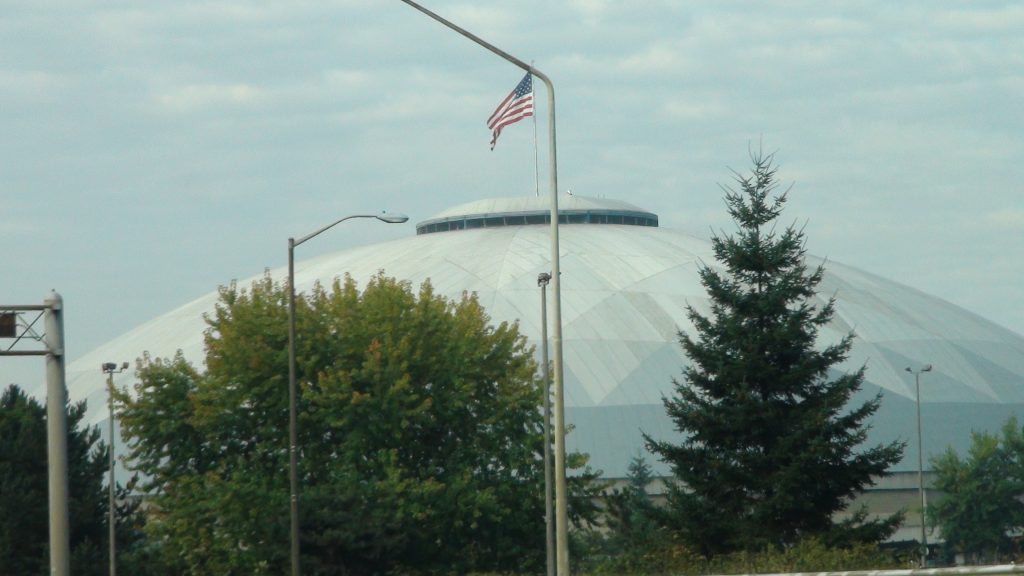 A mall or something. Can't remember. Washington State.
Wednesday, 4 October 2023
"I have coveted no one's silver or gold or apparel. Acts 20:33
Note: You can listen to today's commentary courtesy of our friends at "Bible in Ten" podcast. (Click Here to listen)
You can also read this commentary, with music, courtesy of our friends at "Discern the Bible" on YouTube. (Click Here to listen), or at Rumble (Click Here to listen).
The order of the words is reversed in the translation – "Silver or gold or clothing of none I coveted" (CG).
Paul just commended those with him to God and the word of His grace. He also spoke of the inheritance among those who have been sanctified. The words he now will speak seem somewhat disconnected from that, but they are not. Rather, he is going to use his state among them to confirm the truth that what he just said is living in him. Rather than focusing on the things of this world, he was doing exactly what he just commended to them. Taken together, this can be seen –
"And now, brethren, I commend you to God and the word of His grace, being able to build and to give the inheritance among all those having been sanctified. Silver or gold or clothing of none I coveted."
He will continue this thought in the verses to come. But the point is that it would be outrageous to commend someone to God and the word of His grace if he wasn't living in exactly that manner. Understanding this, the verse itself appeals to three particular items, "Silver or gold or clothing."
Smith's translation seems right by placing a comma after gold – "Silver or gold, or clothing." In other words, Paul begins with the metals that are commonly used for wealth accumulation, starting with the lesser and going to the more desired. He then mentions one of the highly desired commodities that can be bought with silver or gold. Thus, the idea would be, "Silver or gold, or even clothing." As such, clothing reflects the wealth status of a person.
The words demonstrate the cultural value of garments at that time, something that has not changed in the past two millennia. The outward adornment of clothing is still something that reflects the status and wealth of a person. Of these things, Paul next says, "of none I coveted."
He was unconcerned with getting rich, nor did he envy those who were rich. His focus was on God and the word of His grace. Those things, and not silver or gold or even clothing, were able "to build and to give the inheritance."
Therefore, his words of the previous verse are being validated by his own personal conduct before them. The same general intent of Paul's words is reflected later in his first letter to Timothy –
"Now godliness with contentment is great gain. 7 For we brought nothing into this world, and it is certain we can carry nothing out. 8 And having food and clothing, with these we shall be content. 9 But those who desire to be rich fall into temptation and a snare, and into many foolish and harmful lusts which drown men in destruction and perdition. 10 For the love of money is a root of all kinds of evil, for which some have strayed from the faith in their greediness, and pierced themselves through with many sorrows." 1 Timothy 6:6-10
Life application: Although the reason for Samuel's words is a bit different, his words to Israel in 1 Samuel are similar to those of Paul in Acts –
"Now Samuel said to all Israel: 'Indeed I have heeded your voice in all that you said to me, and have made a king over you. 2 And now here is the king, walking before you; and I am old and grayheaded, and look, my sons are with you. I have walked before you from my childhood to this day. 3 Here I am. Witness against me before the Lord and before His anointed: Whose ox have I taken, or whose donkey have I taken, or whom have I cheated? Whom have I oppressed, or from whose hand have I received any bribe with which to blind my eyes? I will restore it to you.'" 1 Samuel 12:1-3
Samuel was confirming his integrity before Israel to demonstrate that it was not his actions that led to the people's call for a king. Rather, the Lord had supplied them with a faithful judge, but the people wanted a king to rule them instead of the Lord. In Paul's case, he is commending the people to live a God-focused life, trusting in His word rather than looking for security or status in earthly things.
Both Samuel and Paul were using their lives as examples of how people should conduct themselves and in whom they should place their trust. And their words were not just, "Do as I say but not as I do." Rather, they were, "Trust in God as you see I have been doing." This is what we should look for in our leaders, both political and spiritual.
Don't get caught up in fancy people who merely impress with externals. Rather focus on what the true intent of those you encounter is. When those you surround yourself with are honest, sincere people, you will find yourself blessed for it.
Heavenly Father, it is very easy for us to get distracted by the things of this world. We are earthly beings that have needs and desires that must be met. But help us to, first and foremost, keep our eyes and hearts focused on You. In this, we will then be able to rightly fulfill our needs and desires. May our lives always be committed to You. Help us in this, O God. Amen.