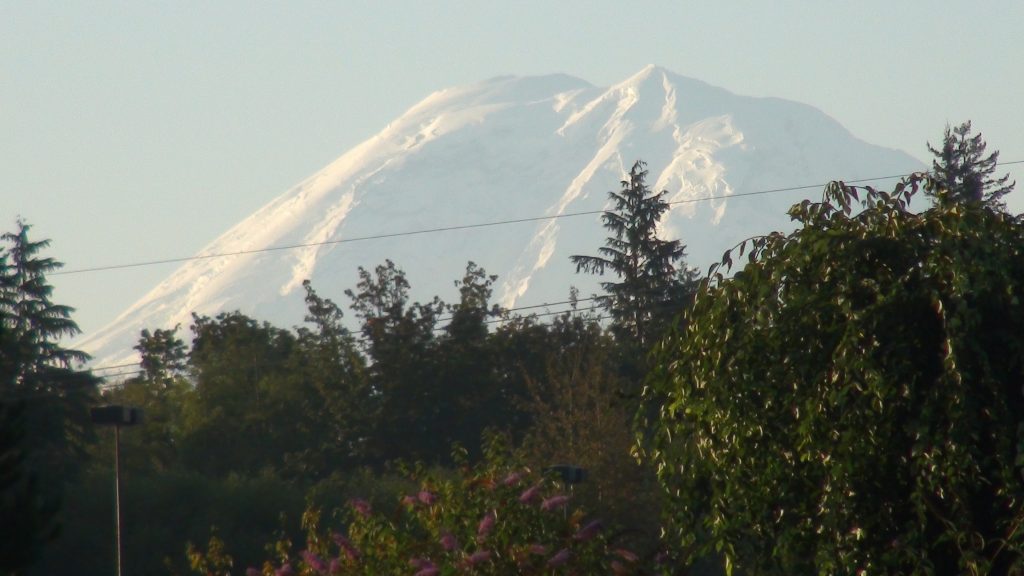 Mt Rainier. Washington.
Tuesday, 3 October 2023
"So now, brethren, I commend you to God and to the word of His grace, which is able to build you up and give you an inheritance among all those who are sanctified. Acts 20:32
Note: You can listen to today's commentary courtesy of our friends at "Bible in Ten" podcast. (Click Here to listen)
You can also read this commentary, with music, courtesy of our friends at "Discern the Bible" on YouTube. (Click Here to listen), or at Rumble (Click Here to listen).
A few small adjustments will bring the words closer to the Greek text, "And now, brethren, I commend you to God and the word of His grace, being able to build and to give the inheritance among all those having been sanctified" (CG).
Paul just reminded the elders of Ephesus that he did not cease to constantly warn everyone for three years, even with tears. Now, to bolster them in how to stay on the right path, he begins his next words with, "And now, brethren, I commend you to God."
Paul, calling these men "brethren" for emphasis and a sense of true fraternity, begins his summary thoughts to their ears. He has spoken frankly about the hazards that lay ahead of them in hopes that they would pay heed. He does this by commending them to God. It is something he says about himself in his second letter to Timothy –
"For this reason I also suffer these things; nevertheless I am not ashamed, for I know whom I have believed and am persuaded that He is able to keep what I have committed to Him until that Day." 2 Timothy 1:12
As for these men of Ephesus, Paul would no longer be their instructor or counselor in the things of God and so they would have to rely on the same Source he relied on continuously, meaning God. And further, he continues by saying, "and the word of His grace."
It is doubtful that he is thinking of Christ in the way John later writes, meaning the Word of God. Rather, he is rather speaking in the sense of what James 1 says, where James repeatedly brings up the word, meaning Scripture –
"Of His own will He brought us forth by the word of truth, that we might be a kind of firstfruits of His creatures.
19So then, my beloved brethren, let every man be swift to hear, slow to speak, slow to wrath; 20 for the wrath of man does not produce the righteousness of God.
21 Therefore lay aside all filthiness and overflow of wickedness, and receive with meekness the implanted word, which is able to save your souls.
22 But be doers of the word, and not hearers only, deceiving yourselves. 23 For if anyone is a hearer of the word and not a doer, he is like a man observing his natural face in a mirror; 24 for he observes himself, goes away, and immediately forgets what kind of man he was. 25 But he who looks into the perfect law of liberty and continues in it, and is not a forgetful hearer but a doer of the work, this one will be blessed in what he does."
James is essentially committing his reader to the word of God's grace. Likewise, this is what Paul is telling the elders of Ephesus, imploring them to cling to the word. It is the word that, according to Hebrews 4:12, is "living and powerful, and sharper than any two-edged sword, piercing even to the division of soul and spirit, and of joints and marrow, and is a discerner of the thoughts and intents of the heart."
This word was, at this time, limited to the Old Testament and any verbal or written communications that existed concerning the Lord as the fulfillment of them. Together, they were sufficient to meet the specifics of the second half of Paul's words in this verse which begin with, "being able to build and to give the inheritance."
The idea of building is used by Paul several times, mostly in his first letter to the Corinthians. The word "edify" carries the same connotation and once meant exactly that: to build. Of this word, Albert Barnes says –
"The word used here is properly applied to a house which is raised and completed by slow degrees, and by toil. It here means to establish, make firm, or permanent, and hence, to instruct, to establish in doctrine and in hope. The idea is, that the Word of God was able to confirm and establish them, amidst the dangers to which they would be exposed."
This process of building is specifically said by Paul to be for the inheritance. That is another thought carefully described by Paul in his epistles, especially his letter to the Ephesians, the very group who is represented before him now. He refers to the "guarantee of our inheritance" in Ephesians 1:14, the "riches of the glory of His inheritance in the saints" in Ephesians 1:18, and the "inheritance in the kingdom of Christ and God" in Ephesians 5:5.
Understanding this, Paul's words finish with this thought concerning the inheritance. It is "among all those having been sanctified." The verb is a participle in the perfect tense. Through faith in Christ Jesus, the sanctification of the believer is immediate, and it is complete.
This doesn't mean that the believer is now perfected. Rather, it means that in God's view, what Christ did to sanctify us is complete and perfect. Nothing is lacking. Jesus' perfect life and atoning death have allowed us to be fully consecrated to God, once and for all time. Nothing further needs to be accomplished for us to be allowed into the presence of the infinitely holy and pure Creator.
Sanctification is also implied in his words, but not the ongoing sanctification of our Christian walk. Rather, he is speaking of the position we are in because of the work of Christ – sanctified by Him as holy and acceptable to God.
Life application: Paul's words to those of Ephesus are a descriptive account of what he conveyed to them. However, what he said is to be taken as a truthful and accurate state of how things are. It is as if his words are an epistle spoken forth to them. When he commits them to God and the word of His grace, he intends for them to trust God wholeheartedly and not waffle in their convictions concerning their state before Him.
It means that the word of God is sufficient for believers to trust in regard to their walk before God. It is where our knowledge of Him and what He has done for humanity is recorded. There is nothing lacking for those who are considering a relationship with Him, and like those already counted as believers, their hope will not be futile. Rather, they will also be sanctified and set for eternal glory by trusting in the gospel of Jesus Christ.
How sad it is that people fail to accept that God's provided sanctification is complete and now belongs to them forever! There is no hint in Scripture of the false doctrine of "loss of salvation." What God has done in Christ is fully sufficient to sanctify His people once and for all time.
We are to accept this and hold fast to it. Otherwise, we will be like so many whose hope is marred by their personal failures, as if their failings can somehow override the full, final, finished, and forever work of God in Christ. Don't be like that. Instead, be confident that His grace is sufficient to cover all our sins and failings.
Heavenly Father, Your word says that the work of Jesus Christ is sufficient to carry us through this life and into Your presence. We will fail You, but in Christ, we will never be separated from You again. We accept this and give our eternal thanks to You. Hallelujah to Jesus Christ, who has made this possible! Amen.