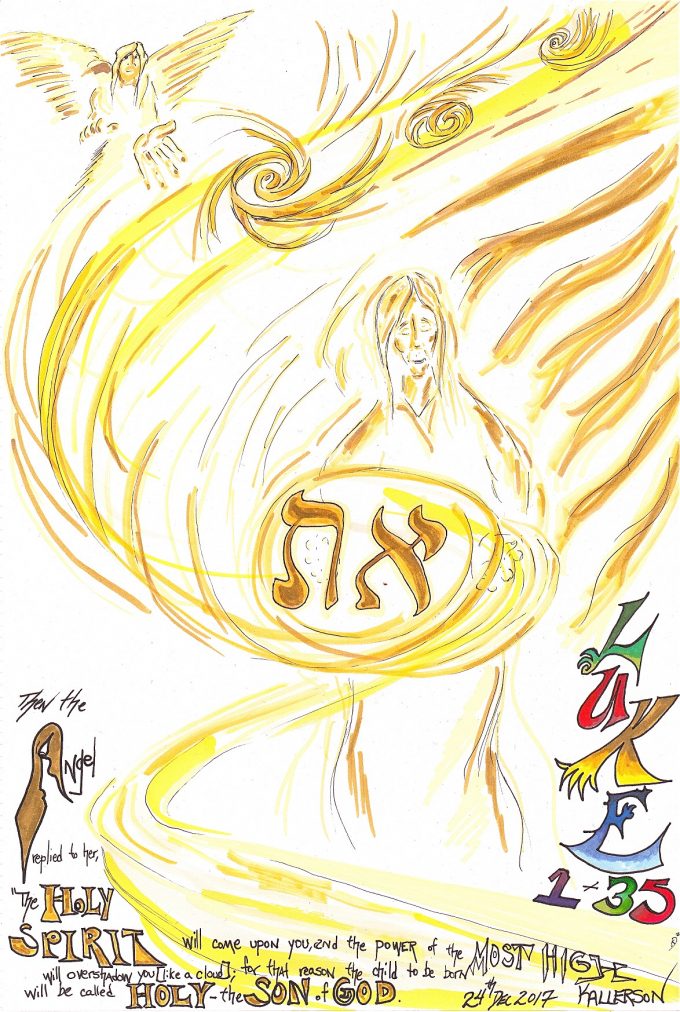 Luke 1:35
The Son of the Highest and of a Maidservant
Read Luke 1:26-38. It's not uncommon in today's church for women to be upset with Paul for his directions concerning church conduct as outlined in 1 Timothy 2. In the pastoral letters of Timothy and Titus, Paul gives guidance to us concerning all manner of church conduct. Most of his words are taken at face value as things which are still relevant to the proper operation of a Bible-obedient church, even to this day.
However, in 1 Timothy 2, Paul gives directives for the church, meaning any and all churches, during this dispensation. In those directions, he puts set limits on what women can and cannot do within the church setting. They are very limiting, and they don't square well with modern feminist sensibilities. At the end of his thoughts, he explains why –
"For Adam was formed first, then Eve. 14 And Adam was not deceived, but the woman being deceived, fell into transgression. 15 Nevertheless she will be saved in childbearing if they continue in faith, love, and holiness, with self-control." 1 Timothy 2:13-15
What is Paul speaking of here? A woman will be saved in childbearing? Isn't a woman saved in the same way as a man? Aren't people saved by grace through faith? Isn't it a gift and not of works? How can Paul say that a woman is saved by doing certain things? That seems completely contrary to what the epistles say elsewhere. Why is this being brought up during our annual Christmas sermon? And isn't Charlie ever going to stop asking questions and get on with it?
Text Verse: "Therefore the Lord Himself will give you a sign: Behold, the virgin shall conceive and bear a Son, and shall call His name Immanuel." Isaiah 7:14
Recently, a woman was angry at me for stating in a prophecy update exactly what Paul writes about concerning a woman's place in the church. I said his words are to be taken literally, and prescriptively, in all churches at all times. Count me one less viewer on the Superior Word YouTube channel…
She posted something angry on my Facebook page, and then she posted a comment on her own page that said something like (and I am paraphrasing here), "It is unimaginable that a woman could carry the incarnate word of God, the Savior of the world, in her womb, and yet not be allowed to serve as a deacon while administering the bread and wine at the Lord's Table."
Now think that one through. The highest honor of any human who ever lived was given to a woman, and yet that isn't enough for her, or for countless other "liberated" women in the church today. Rather, for them it is better to be disobedient to the very word which God has given us, and which is the only source to tell us of the incarnation of Jesus Christ, than it is to accept the story of the Lord's coming, and then to accept the word of that same Lord as authoritative. The breakdown in the logic is gigantic.
If she, and others like her actually studied what Paul says, they might actually drop their emotions and agree with God that His word is really the best way of all. Why do I say this? Well, we'll look over Paul's words before we conclude today, putting together a picture of what he is speaking of, and which is directly related to the splendid promise which was fulfilled in Gabriel's coming to Mary with the words of what was soon to occur in her womb.
Really wonderful things are to be found in His superior word. And so let's turn to that precious word once again and… May God speak to us through His word today and may His glorious name ever be praised.
I. The Announcement to Mary (Luke 1:26-38)
26 Now in the sixth month
The timing of the birth of Christ can be determined by the timing of the pregnancy of Elizabeth. She is now in her sixth month of pregnancy, and so if one knows the time of her conception, then one can know the month of the year that this announcement to Mary is made. From there, one can then determine when Jesus was born, nine months later.
The exact dating of this will come in a sermon in just a couple weeks. When we arrive at Leviticus 23:23 in our series of the Feasts of the Lord, the timeline will be given then. Until then, be assured that Luke is carefully chronicling certain names and periods of time so that we can know, with all certainty, when Christ Jesus was born. For now let us just know that it is the sixth month of the pregnancy of Elizabeth, mother of John the Baptist.
26 (con't) the angel Gabriel was sent by God
The name Gabriel means basically "Man of God" but it means more than simply "man." Rather, it signifies a mighty man. Thus one might say, "Mighty Man of God."
He is found twice in the book of Daniel, and twice in Luke – once at the announcement of of the coming birth of John the Baptist, and once here with the news to be relayed to Mary. As he is a heavenly angel who passes on messages from the throne of God to humanity, he is often associated with one who speaks with authority and eloquence, and thus we remember him today in the idiom, "He has the gift of gab."
26 (con't) to a city of Galilee named Nazareth,
The region of Galilee is mentioned six times in the Old Testament. It means "circuit" or "circle." Most notably, it is found in the prophetic announcement of the coming Messiah in Isaiah 9:6 –
Nevertheless the gloom will not be upon her who is distressed,
As when at first He lightly esteemed
The land of Zebulun and the land of Naphtali,
And afterward more heavily oppressed her,
By the way of the sea, beyond the Jordan,
In Galilee of the Gentiles.
2 The people who walked in darkness
Have seen a great light;
Those who dwelt in the land of the shadow of death,
Upon them a light has shined.
  3 You have multiplied the nation
And increased its joy;
They rejoice before You
According to the joy of harvest,
As men rejoice when they divide the spoil.
4 For You have broken the yoke of his burden
And the staff of his shoulder,
The rod of his oppressor,
As in the day of Midian.
5 For every warrior's sandal from the noisy battle,
And garments rolled in blood,
Will be used for burning and fuel of fire.
6 For unto us a Child is born,
Unto us a Son is given;
And the government will be upon His shoulder.
And His name will be called
Wonderful, Counselor, Mighty God,
Everlasting Father, Prince of Peace.
7 Of the increase of His government and peace
There will be no end,
Upon the throne of David and over His kingdom,
To order it and establish it with judgment and justice
From that time forward, even forever.
The zeal of the Lord of hosts will perform this." Isaiah 9:1-7
The time for the prophecy to be fulfilled has arrived. The words of Gabriel are to announce that which has already been revealed through Isaiah. The specific place in Galilee is in the hometown of Mary, Nazareth. This town is never mentioned in the Old Testament, but is found 12 times in the New. It's meaning is widely debated, but it could mean "scattered" or "sewn."
27 to a virgin betrothed to a man whose name was Joseph, of the house of David. The virgin's name was Mary.
People argue over whether Isaiah was prophesying of a literal virgin or not when he said "the virgin shall conceive and bear a Son." But Scripture interprets Scripture, and Matthew cites that verse and applies it to Mary in his gospel. Luke now repeats the same thought here. It is without a doubt that the Bible expects us to accept, at face value, that Mary is a virgin, and that Mary will conceive and bear a child as a virgin.
The name Joseph gives the sense of doubling or repeating. "He shall add" is an acceptable translation of his name. David means, "Beloved." And finally, the name Mary, or Mariam, is rather hard to pin down, but it is probably based on the perfume myrrh, and means something like "Myrrhs" or "Occasions that call for Myrrh." Looking at the uses of myrrh in the Old Testament, the prominent idea which it symbolizes is love, but more especially, love in intimate union, but not necessarily sexual in nature. What an appropriate name for the mother of the Messiah.
28 And having come in, the angel said to her, "Rejoice, highly favored one, the Lord is with you; blessed are you among women!"
Gabriel's announcement is one of wonder and delight. He entered into Mary's presence and immediately sent forth a greeting which tells us of divine favor. "Rejoice" here gives the sense of a formal greeting of well wishes of peace or joy. He then says to her that she is one who has a special station by saying "highly favored." The word is only used here and in Ephesians 1:6. It gives the sense of one who has been accepted through the bestowing of grace.
This is then seen in the next words, "the Lord is with you." It is a standard Hebrew greeting found in Ruth 2. But coming from Gabriel, it indicates divine favor upon her as an individual. Because of this, she is "blessed," meaning praised, among women.
29 But when she saw him, she was troubled at his saying, and considered what manner of greeting this was.
Here the same root word is used that was seen when Zechariah, the father of John the Baptist, received his greeting from Gabriel. The only difference is that for Mary, it is an intensified form. Where Zechariah was troubled, Mary is troubled through and through. She was going back and forth in her mind between her inner thoughts and her emotions. She was unable to process both the presence of Gabriel, and the meaning of his words to her.
30 Then the angel said to her, "Do not be afraid, Mary, for you have found favor with God.
Gabriel's words are intended to quell the surge of emotions and thoughts which took hold of her. Her terror was obvious, and so he tells her to not be afraid. Her inability to understand what "highly favored" meant is then fully explained for her to grasp what he meant – she has found favor with God.
31 And behold, you will conceive in your womb and bring forth a Son,
There is no doubt about Gabriel's message here. He is making a purposeful connection to Isaiah 7:14. Mary is a virgin, the virgin will conceive, and the virgin will bring forth a Son. Whether she had ever heard of this prophecy or not we can't know, but she would remember the words and would know that she was the fulfillment of them at some point, be it now, or be it as time progressed and it was revealed to her.
31 (con't) and shall call His name Jesus.
The name Yeshua, or "Jesus," is derived from Yehoshua, or Joshua, which means, "the Lord is Salvation." The name Yeshua simply means, "Salvation." And so something of a divine pun is being made on the name. As the Lord is Salvation, then we see that the Lord is Yeshua, or salvation.
It is to be His name, and it is to be His function. But Mary, if she has heard of the prophecy of Isaiah 9, would be then be even more confused. There, Isaiah said that His name would be Emanuel, or "God with us." Unless she was highly astute, and processed the name as to its meaning, she would be left wondering why the name would be Yeshua and not Emanuel. And so to ensure that she at least begins to think it through, he continues without giving her a chance to interject…
The English almost sounds like the world's greatest understatement. But Gabriel would have spoken to Mary in Aramaic, the language of the day. Despite this, the New Testament was written in Greek. The word megas, or "great," is surely intended here in a superlative sense indicating "exceeding greatness." "Mary, the Child born to you will be great."
32 (cont') and will be called the Son of the Highest;
The Greek word for "Highest" here is hupsistos. It too is a superlative word. In the case of the One being referred to, it then signifies the Most High. There is nothing which can exceed the station to which His Father possesses. The title here is from the Hebrew elyon which was introduced into Scripture at the time of Abraham, where Melchizedek is called priest of El Elyon, or God Most High.
32 (cont') and the Lord God will give Him the throne of His father David.
Of the words of Isaiah, the ones most likely to have been known by Mary would be those of Isaiah 9. A coming Messiah was prophesied, and a list of names and duties were ascribed to Him. That He would sit upon the throne of David was surely known to all of the people of Israel, and Gabriel's words now would call this prophecy to mind. This throne was to be granted to her Son, the Son of the Highest, by Yehovah Elohim, or the Lord God.
33 And He will reign over the house of Jacob forever, and of His kingdom there will be no end."
Though not identical to the prophecy, Gabriel's words mirror the thought of Isaiah 9:7 which I read earlier. There will be no end to His government, and He will sit upon the throne of David forever and ever.
The house of Jacob comprises the twelve tribes of Israel. The kingship over them was granted to the throne of David, and the throne of David is now said to be granted to the Child that she would bear. And the reign of his throne over this kingdom would be without end.
But in this there now arises an obvious question for this heavenly messenger. First, Mary is betrothed to a man, but she has not yet been married to him. How could the Child she was to bear be the Son of the Most High and not the son of Joseph? And more, how could she conceive in her womb without having known a man? The betrothal to Joseph, and the obvious state of her virginity, both appeared to render the words of Gabriel impossible to reconcile.
34 Then Mary said to the angel, "How can this be, since I do not know a man?"
It is the most obvious question of all. In the begetting of a child, it takes two to tango, and that music had not yet played in her life. The question is surely one of understanding the nature of humanity, and not one of denying the possibility of Gabriel's words. Where Zechariah had history itself to provide an answer to his question, meaning Abraham and Sarah, among others, Mary had no such history to rely on. Not since the world was created had a woman bore a child without knowing a man. "How can this be" then is not distrust, but lack of understanding. That lack will now be corrected…
35 And the angel answered and said to her, "The Holy Spirit will come upon you, and the power of the Highest will overshadow you;
The chances of Mary not knowing the creation account of Genesis would be very, very unlikely. Almost anyone with ten brain cells today will know the words, "In the beginning God created the heavens and the earth." They will know where the words came from, and they will know what they signify.
The creation account would have been commonly held knowledge by the people of the land. What Gabriel is telling Mary now would take her mind right back to those early school lessons. In Genesis 1:2, it says, "The earth was without form, and void; and darkness was on the face of the deep. And the Spirit of God was hovering over the face of the waters." The same God who created the universe, and the same God then who formed the barren, lifeless elements into shape, would come upon her and over shadow her.
Just as God uttered the words, "Let there be light," and there was light, so God would beget a Child in her womb, and the spark of life would ignite within her. The lifeless womb would come alive, even as the lifeless creation had brought forth life. From "Let there be light," even to "Let there be Life," the word of God would be accomplished. There was the creation by God, and there would be entrance into that creation by God.
35 (con't) therefore, also, that Holy One who is to be born will be called the Son of God.
Gabriel's words have answered the "How?" which Mary asked, Now his words explain what that means. She will bear a Child, and He will be called, "the Son of God." He will have no earthly father, and no earthly father is even necessary. And because no physical act of union will take place, there can be no sin imputed to her for violating her betrothal to Joseph.
Further, as He will be born of God, the term Holy One is given. He will be set apart unto God, and thus holy. Just as the high priest of Israel was set apart to God, and just as the people of Israel were set apart to God, there would be a special separation of this Child to God which would make Him unique above all others. It is probably here that she realized that Isaiah's name for the Messiah, Emanuel, is actually a title. His name is Jesus, and He is "God with Us."
Depending on her knowledge of Hebrew Scripture, she could either find herself getting lost in countless points of doctrine and how they were suddenly cleared up by the announcement which has rested upon her ears, or she could simply take the words at face value and not consider them further than what had been spoken. But what she had heard is still being pondered and studied 2000 years later, and still not all that it means has been drawn from it.
36 Now indeed, Elizabeth your relative has also conceived a son in her old age; and this is now the sixth month for her who was called barren.
Elizabeth means both "God is Seven" and "God is Oath." The name carries both meanings. Here she is called "your relative." In verse 1:5, she is said to be "of the daughters of Aaron," meaning of the priestly class of Israel. Taking this in its intended sense, this means that either Mary's father or mother was of the house of Aaron, or that the mother of Elizabeth was of the house of David.
As we are not told, we cannot speculate too far other than to say that it is possible that Christ Jesus descends from Levi through Aaron, as well as from the line of David.
What is significant about these words is that another important event has happened in the land, and it would be reason for Mary to feel that what has been told her is a part of a greater plan than just that which pertains to her alone. The Lord was working, once again, in the land of Israel, and she was to be a great and blessed part of that plan. But even more, Gabriel identifies the child to be born to Elizabeth as a son. He could not know this apart from divine revelation. Everything he says shouts out the supernatural.
37 For with God nothing will be impossible."
Jesus will later say in the book of Luke, "The things which are impossible with men are possible with God." This is the intent of what Gabriel now says to Mary. God cannot make a square circle, or make a two a seven. He also cannot violate His own character, such as being unrighteous. But those things which are deemed impossible to man are wholly possible to God. The barren womb of Elizabeth had come to life, and the virgin womb of Mary would do so as well.
*(fin) 38 Then Mary said, "Behold the maidservant of the Lord! Let it be to me according to your word." And the angel departed from her.
Mary's answer to the news which she has received is the simplest and most basic words of acceptance that one could think of. There are no further questions, such as "When," as if she wanted to be ready for things to happen. Nor does she ask "Why," as if she was somehow unsuitable to the role she has been chosen for.
Unlike the parents of Samson, who was also divinely prophesied, she doesn't ask for a cup full of details as to the many variables of what she should do during her pregnancy, or afterwards. Instead, with the purest of faith that if God has chosen her, and if He has the plan already in motion, then all she needs to do is submit herself to the will of the Lord and that will be sufficient.
And so in saying, "Behold the maidservant of the Lord!", she accepts everything that has been presented as possible, and everything that will occur as in accord with His sovereign will. She simply and faithfully accepts her role in redemptive history. And with that, Gabriel departs her presence.
May it be according to Your will, O God
May my life be used as You alone see fit and right
May You guide my every step as upon the path I trod
Be with me through every day, and be with me every night
I am Your servant, and Your will is what I desire
According to Your word, I gladly live my life
From this day forward, to Your will I aspire
I am in Your hands for use, and not for insolent strife
Thank You for the Christmas Gift, our Lord Jesus
Because of Him, to You my life I submit
How grateful I am for something so very marvelous!
Because of such love, to You my life I do commit
II. The Child of God, Born of a Woman
As we opened today, I mentioned Paul's instructions to us concerning propriety within the church, especially in regards to the conduct of women. But what does this have to do with the Christmas story? Why include this in a Christmas sermon?
Well, God established a hierarchy which hasn't changed since the creation of man. There will never be a time that woman comes before man in the sense of creation. She came from him, and he is over her. That is what God ordained. However, there is a time when woman comes before man in the reception of a special honor. Before we get there though, we have to get through the cataclysmic event which precipitated the need for this high honor. Here are Paul's words to the women of the church –
"I desire therefore that the men pray everywhere, lifting up holy hands, without wrath and doubting; 9 in like manner also, that the women adorn themselves in modest apparel, with propriety and moderation, not with braided hair or gold or pearls or costly clothing, 10 but, which is proper for women professing godliness, with good works. 11 Let a woman learn in silence with all submission. 12 And I do not permit a woman to teach or to have authority over a man, but to be in silence. 13 For Adam was formed first, then Eve. 14 And Adam was not deceived, but the woman being deceived, fell into transgression. 15 Nevertheless she will be saved in childbearing if they continue in faith, love, and holiness, with self-control." 1 Timothy 2:8-15
Paul sets strict boundaries on women in the church as to what is not permitted. The words are set, and they are prescriptive. Obedience to them is expected. But he then immediately explains why these things are to be by bringing in the creation account to justify his position. He says that Adam was formed first, then Eve – Creation. He then goes from the order of creation of man – first Adam and then Eve – to the fall of man. He cites the creation account saying, "And Adam was not deceived, but the woman being deceived, fell into transgression." Paul's logic is that the serpent went to the one he knew was susceptible to being deceived. If this were not so, then the Bible wouldn't have bothered with telling us this.
What the Bible implicitly declares, and what is obvious from human nature, is the truth that women are beings which are formed differently from men, and who follow different internal guidelines in order to make decisions. And so in order to avoid the error of the fall, meaning deception, being repeated in the church, Paul gives specific directives to which there are no exceptions.
The problem with exceptions is that they eventually become the rule. This is not how affairs are to be handled, and so rules of conduct are set and fixed. The woman was deceived and fell into transgression. Lesson learned; guidelines are established based on this; doctrine set.
However, Paul then says something which seemingly makes no sense at all unless the context is maintained – "Nevertheless, she will be saved in childbearing if they continue in faith, love, and holiness, with self-control." First, the translation is incorrect, and so no wonder it makes no sense.
There is an article in front of "childbearing" which is left out in almost all translations. A direct translation says, "She will be saved, moreover, through the childbearing." Paul's context is the creation and fall of man. From there, he immediately went to the idea of salvation – "she will be saved." The Genesis account comes alive once again at the hand of Paul – Creation/Fall/Salvation. It is all there waiting to be unpackaged.
And so what is he speaking of? Are women saved if they have children? If they don't have children, will they go to the fiery furnace forever? Will they be "more" saved if they have lots of children? No, none of these things apply.
The second thing to notice is that the account goes from the singular to the plural. It says, "She (singular) will be saved, moreover, through the childbearing, if they (plural) abide in…" Obviously two things are on Paul's mind, which are completely overlooked by the angry women who want to be deacons and elders in the church, despite being told it is not allowed. Paul has explained why, and now he tells them that in a way there is a great honor which they possess anyway.
Only four of the 26 versions of the Bible that I reviewed includes the definite article before "childbearing." And two of those make it a paraphrase, although they are correct in the idea of their paraphrase nonetheless. But before we look at what Paul is referring to, let's see how difficult this verse is when one is trying to force theology into it, instead of drawing it out. Here are the various translations that I looked at. See how they attempted to translate their way out of a theological dilemma –
Women will be saved through childbearing.
She will be saved through childbearing.
Women will be preserved through the bearing of children.
She shall be saved in childbearing.
She will be delivered through childbearing.
But she lives by her children.
She shall be saved through the childbearing. (literal)
Yet a woman will be brought safely through childbirth.
These pretty much represent all of the translations. Only one is literal, the one which includes the article before "childbearing." A couple of them are so wrong it's hard to imagine what they were thinking. Of the two paraphrases that get the intent of what Paul is saying, the ISV does the best job. It reads as follows –
"…even though she will be saved through the birth of the Child, if they continue in faith, love, and holiness, along with good judgment." ISV
Do you see what Paul is doing? He has already taken us back to Genesis 3. He has shown us what happened at the fall, after the creation, and he then explains how that is corrected in the same passage. In Genesis 3:15, the Lord spoke to the woman, and then while cursing the serpent, He said what is now known as the Protoevangelium, or "the first gospel." There, a promise was made that One would come who would destroy him and his works –
And the Lord God said to the woman, "What is this you have done?"
The woman said, "The serpent deceived me, and I ate."
14 So the Lord God said to the serpent:
"Because you have done this,
You are cursed more than all cattle,
And more than every beast of the field;
On your belly you shall go,
And you shall eat dust
All the days of your life.
15 And I will put enmity
Between you and the woman,
And between your seed and her Seed;
He shall bruise your head,
And you shall bruise His heel." Genesis 3:13-15
The Lord promises the woman will bear, and from her would issue the Messiah who would crush the head of the serpent. So who was Paul speaking of when he said, "and she shall be saved through the child-bearing,…" Who is "she?"
Well, the nearest antecedent is found in the previous verse when speaking of "the woman" who was deceived, meaning Eve. Therefore, Paul is referring to her. That is why it is in the singular. She, Eve, will be saved through the bearing of a Child. Not directly, but through her, because she stands in place of all women.
That is why Paul then switches to the plural by saying "if they continue in faith, love, and holiness, with self control." It is the call of the gospel. To live in faith. And in living in faith, the woman will be saved, just as the man will be saved. And this faith is based on the grace which was given to humanity in the Christmas Child; the Lord Jesus Christ.
And so why did I include this passage from Paul's letter to Timothy which governs church-age doctrine in a Christmas sermon? The reason is because of Mary's simple, humble proclamation of faith, "Behold the maidservant of the Lord!" Without having all the details, and with simple faith that God is God, and His will is right, she acknowledged that she was at His disposal.
In the church of 2017, we have so much more than the limited knowledge of God's plan that Mary had. Rather, we have the entire book, complete and sealed, which tells us of what God has done in Christ Jesus. We have the Christmas Child revealed. We have the perfect Life lived. We have the perfect Sacrifice given. And we have the acceptance of each in the resurrection of Christ. But before He accomplished these things, we have recorded for us the simple faith of Mary which set the stage for all of those other things to come to pass. "Behold the maidservant of the Lord!"
This may not be the most dramatic Christmas sermon – one which gives the warm details of the birth of Christ. Such sermons will bring us to tears when we hear of heaven's King lying in an animal's feeding trough. They excite us with high notes of the heavenly choir singing forth the praise of God. Those are sermons which fill us with the Christmas spirit. But we must remember that there could be no Christmas Child without a heavenly Father and an earthly mother of that Child.
The Father's involvement shows us how much we are loved by the Creator of all things. And the mother's teaches us a lesson about what the Father is looking for in each of us. He is looking for the simple obedience of faith, and thus for faithful obedience.
We cannot separate ourselves from our actions. They define who we are. Eve, the first female, and thus she who represents all who follow after her, is saved through the birth of the Child. Mary, the mother of Jesus, was saved through the birth of the Child, and any others who will come to Him for salvation, are saved through the birth of the Child, because the Child then died to save them as well.
Why are we expected to live out the roles assigned for us as men and women of God? Because the Child of Christmas came to die for us so that we could live for Him. He is the Creator, and He is the Redeemer. His name is Salvation, and salvation is what He gives to us, if we will simply have faith? Is disobedience to His word worth appeasing the pride that rises up in our hearts? May it never be so!
Gabriel's words to Mary said, "…blessed are you among women." It is the woman who was deceived and fell into transgression, but another woman was called blessed among them. Where Eve was faithless, Mary was found to be faithful. Where Eve brought about the need for salvation, she was saved through the birth of the Child named… Salvation. And that birth came through one of her own gender.
Paul's words are not restrictive on women, they are freeing. The deception of the woman led to the fall of the man. In his fall, she fell as well. But in granting the honor to Mary of bearing the Christmas Child, the disgrace of of the fall can be erased in all of us, even those who were deceived in the first place.
God's Gift to humanity is given, the Light shining in the dark places has come forth, and the Forgiver of all transgressions has walked among us. Let us acknowledge that His way is best, that His plan is perfect, and that obedience to Him is intended for our good in all ways and at all times. He has spoken, His word is proper, and our humble act of adhering to it will bring great reward when we stand before Him and receive our judgment for the lives we have lived.
Closing Verse: "For the grace of God that brings salvation has appeared to all men, 12 teaching us that, denying ungodliness and worldly lusts, we should live soberly, righteously, and godly in the present age, 13 looking for the blessed hope and glorious appearing of our great God and Savior Jesus Christ, 14 who gave Himself for us, that He might redeem us from every lawless deed and purify for Himself His own special people, zealous for good works." Titus 2:11-14
Next Week: Leviticus 23:9-14 Changing from earthly to incorruptible suits… (The Feasts of the Lord, Firstfruits) (38th Leviticus Sermon)
The Lord has you exactly where He wants you. He has a good plan and purpose for you. He was willing to put on a body of flesh and to dwell among us despite all the pains He had to endure in the process. If He did that for you, think of how much more lies ahead when we walk with Him in glory! So follow Him and trust Him and He will do marvelous things for you and through you.
The Zeal of the Lord of Hosts
Nevertheless the gloom will not be upon
Her who is distressed or in agony
As when at first He lightly esteemed
The land of Zebulun and the land of Naphtali
And afterward more heavily oppressed her
By the way of the sea
Beyond the Jordan it shall occur
In an area of the Gentiles around the land of Galilee
The people who walked in darkness
It is they who have seen a great Light
Those who dwelt in the land of the shadow of death
Upon them has shined a Light so bright
You have multiplied the nation
And likewise its joy You have increased
They rejoice before You with great ovation
According to the time of harvest, a joy which will not be ceased
As men rejoice when they divide the spoil
When they receive the bounty and no longer toil
For You have the yoke of his burden broken
And the staff of his shoulder is taken away
The rod of his oppressor no longer an unfriendly token
As in the day of Midian, when he was destroyed that day
For every warrior's sandal from the noisy battle
And garments roooooolled in blood
Will be used for burning and fuel of fire, worthless chattel
Useless implements overtaken by time's great flood
For unto us a Child is born
A time to rejoice and not to morn
Unto us a Son is given
The One to lead us from death to a'livin'
And the government will be upon His shoulder
Every eye will see Him, every soul will be His beholder
Upon the throne of David and over His kingdom's realm
To order it and establish it with judgment and justice
From that time forward, even forever, He at the helm
The zeal of the Lord of hosts will perform this
And His name will be called Wonderful
The Counselor and Mighty God is He
Everlasting Father, Prince of Peace, pure and white as wool
Of the increase of His government and peace, no end shall we see
Do not be afraid, for behold
I bring you good tidings of great joy
Which will be to all people, forever told
The wondrous story, the birth of a Boy
For there is born to you this day
In the city of David a Savior, it is He
Who is Christ the Lord, to whom heaven's hosts obey
The Messiah has come, and now you may go and see
And this will be the sign to you:
You will find a Babe wrapped in swaddling clothes
Lying in a manger, a glorious view
The Christmas Child whom our Heavenly Father bestows

A Child like no other has come to dwell among us
He shall lead us in paths of righteousness for His name's sake
And His name is called out, His name is Jesus
Come, and of the Heavenly Child partake

He is God's gift and heaven's treasure
He is Immanuel, God with us
And he bestows upon us grace without measure
The Christmas Child, our glorious Lord Jesus
Hallelujah and Amen…