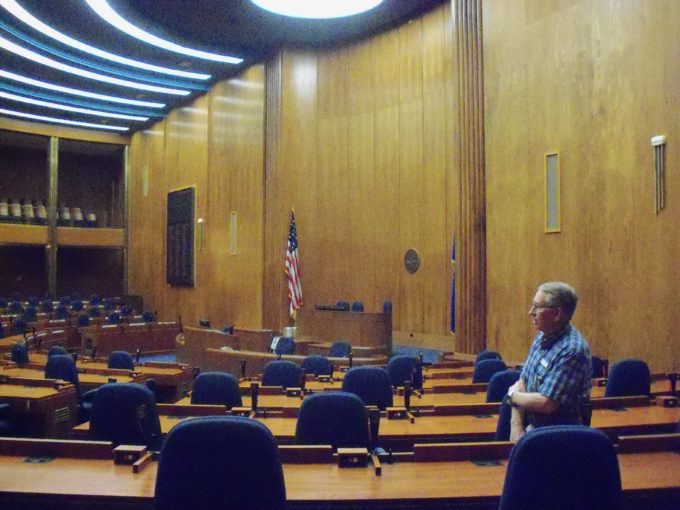 Monday, 19 August 2019
Draw near to God and He will draw near to you. Cleanse your hands, you sinners; and purify your hearts, you double-minded. James 4:8
In the previous verse, James told his audience to "submit to God." He now tells them to go further. Not only should they submit to Him, but they are to "Draw near" to Him. But, this is also tied in with his second statement of the previous verse, which was that they were to "Resist the devil and he will flee from you."
One can see the contrast –
Resist the devil / he will flee
Draw near to God / He will draw near to you
The thing is, one will actually result in the other. If one (assuming he is saved) resists the devil, he is drawing near to God. The morally bad will make an exit, and He who is morally good will draw near. Likewise, if one embraces the devil, God will – by default – move away from him. This obviously means in a relationship sense. God is omnipresent. It is not that God's actual presence moves away, but the sense of a moral connection is lost.
James then gives two thoughts on how one can accomplish these things. He first says, "Cleanse your hands, you sinners." The idea here is similar to that which is presented by Isaiah as he opened his book –
"When you spread out your hands,
I will hide My eyes from you;
Even though you make many prayers,
I will not hear.
Your hands are full of blood.
16 Wash yourselves, make yourselves clean;
Put away the evil of your doings from before My eyes.
Cease to do evil,
17 Learn to do good;
Seek justice,
Rebuke the oppressor;
Defend the fatherless,
Plead for the widow." Isaiah 1:15-17
One can see how Isaiah takes a literal thing (that of washing the hands), and he makes a spiritual application (ending evil). He then provides examples of what good is. By doing the good, one resists the devil and draws himself near to the Lord. In this, the Lord naturally draws near to him. This is what James is referring to. Cleansing of the hands implies sinful lives need to be purged. He then continues with, "and purify your hearts, you double-minded."
Here, as is seen throughout the Bible, the heart speaks of the mind of man. In purifying one's heart, there is moving from that which is unreasonable and chaotic to that which is right and reasonable. The word translated as "purify" is one which speaks of ceremonial purification. For example, in John 11:55, it refers to those who want to purify themselves so that they could participate in the Passover.
James is using this idea in a similar way. Moses, in Deuteronomy 10:16 told the people, "Therefore circumcise the foreskin of your heart, and be stiffnecked no longer." One cannot literally circumcise his heart. But in doing that which is right, and in accord with what physical circumcision was meant to imply, he would symbolically purify the heart. This is what James is conveying now. In this purifying of the heart, the people will cure their state of being "double-minded."
This is a word, dipsuchos, which is only seen here and previously in James 1:8. It is probably a word invented by James. HELPS Word Studies identifies such a person as being a "spiritual schizophrenic." It is a person with two minds which waver back and forth because of the impure heart, meaning a mind which is not clear and willing to reason.
Life application: Drawing near to God is a common Old Testament theme which is repeated several times in the New. Moses drew near to God at Mt. Sinai. God was said to be near the people Israel because of the covenant. The people were told to draw near to God in the Psalms, in Isaiah, and elsewhere. Towards the end of the Old Testament, we read –
"She has not obeyed His voice,
She has not received correction;
She has not trusted in the Lord,
She has not drawn near to her God." Zephaniah 3:2
Will this also be said of you? James and other New Testament writers reach out to us and ask us – like the prophets of old – to draw near to God. But someday there will be no remedy. Those who fail to do so will receive their just due. However, if we are to draw near to Him now, James asks us to wash our hands and purify our hearts. And what is the benefit of this? It is seen in the psalms –
"Who may ascend into the hill of the Lord?
Or who may stand in His holy place?
4 He who has clean hands and a pure heart,
Who has not lifted up his soul to an idol,
Nor sworn deceitfully.
5 He shall receive blessing from the Lord,
And righteousness from the God of his salvation." Psalm 24:3, 4
Let us not lift up our souls to idols and let us only speak what is true and right. May our actions cleanse our hands and purify our hearts.
Lord God, may our prayers be set before You as incense, and may the lifting up of our hands be as the evening sacrifice to You. Set a guard over the door of our lips and keep our hearts from being lifted up to idols. May our eyes be on You and may our souls be satisfied from Your hand alone. Amen.