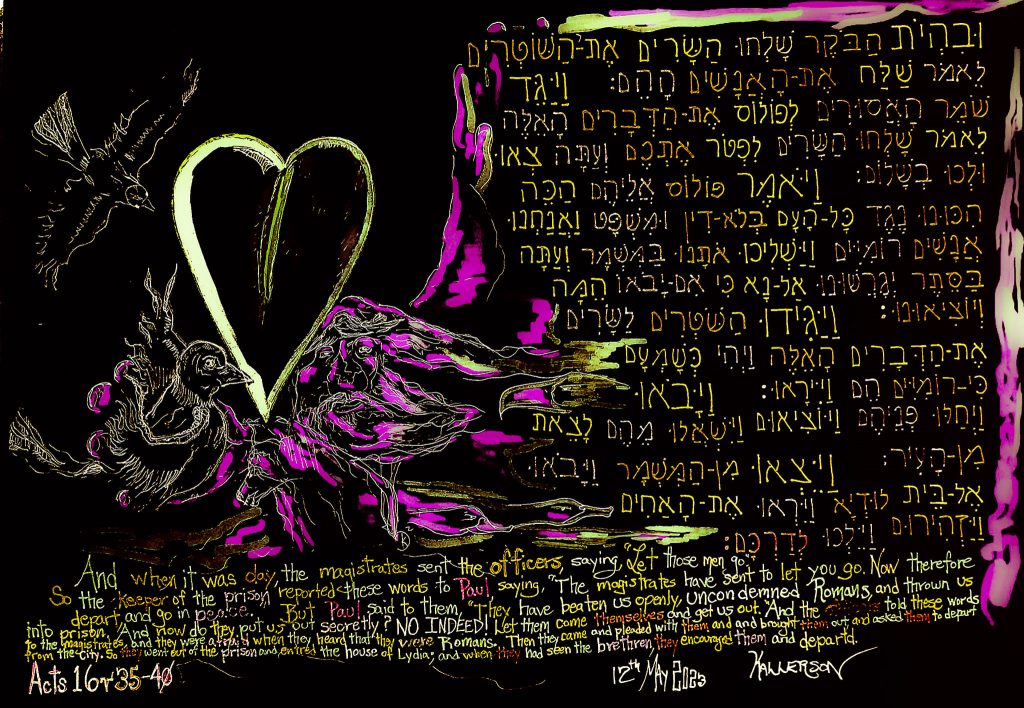 Artwork by Douglas Kallerson
Sunday, 21 May 2023
So they went out of the prison and entered the house of Lydia; and when they had seen the brethren, they encouraged them and departed. Acts 16:40
Note: You can listen to today's commentary courtesy of our friends at "Bible in Ten" podcast. (Click Here to listen)
You can also read this commentary, with music, courtesy of our friends at "Discern the Bible" on YouTube. (Click Here to listen), or at Rumble (Click Here to listen).
Note: This translation will be used for the analysis: "And having gone forth from the prison, they came to Lydia, and having seen them, they exhorted the brothers and departed" (CG).
Paul and Silas had been asked to depart from the city by the magistrates. In response to that, it now says, "And having gone forth from the prison, they came to Lydia." The meaning is that they came to Lydia's house. The reason for going to Lydia's house goes back to verse 16:15. There, she implored the men to stay with her and they were persuaded to do so. Upon arriving there, it says, "and having seen them."
The meaning is that Paul and Silas saw the others who had accompanied them. Lydia and others may have been there as well. The words are not specific, but it at a minimum means the brothers. That is seen in the next words where it says that "they exhorted the brothers and departed."
Luke returns to the third person here. Thus, it means that Paul and Silas exhorted the brothers, and they left without Luke joining them. From the account, it can be inferred that Luke stayed in Philippi. He will be with them again in Acts 20.
As for Timothy, it is uncertain what he did at this time. He may have remained in Philippi and then met up with Paul and Silas in Berea, or he may have gone with Paul and Silas to their next stop of Thessalonica, simply not being mentioned while there. Either way, he will specifically be noted as with Paul and Silas in Berea in verse 17:14.
Life application: Luke appears to have stayed in Philippi, making it his home base for evangelism. As he was not considered a part of the trouble that arose with the magistrates, he was a good candidate to remain there and work with the church. This is speculation, but the next time he will be mentioned, it will be connected with Philippi, so this is a good guess.
The Lord is working things out according to a plan that is far greater than any single person. What we may see as an unhappy occasion may turn out to be a more effective chance to evangelize. This is certainly the case now. Paul and Silas will depart and head to their next location. There, a church will be established. With brothers already established in Philippi, there will be a greater chance for further evangelism there. There will also be the chance to grow in the faith there as well.
Don't look at setbacks as events that are out of control. It may be true from our perspective, but it never will be from God's. Trust that. You are a part of something that is bigger than you, and God is working out His plans accordingly.
O God, there are times when it feels like our wheels are spinning and we are not getting any traction at all. At such times, help us to focus on the bigger picture. Your word is going out around the world and churches are faithfully teaching it. Our lack of progress does not mean that the whole world has stopped. And so, may we pray for the others as we await our forward movement once again. Amen.