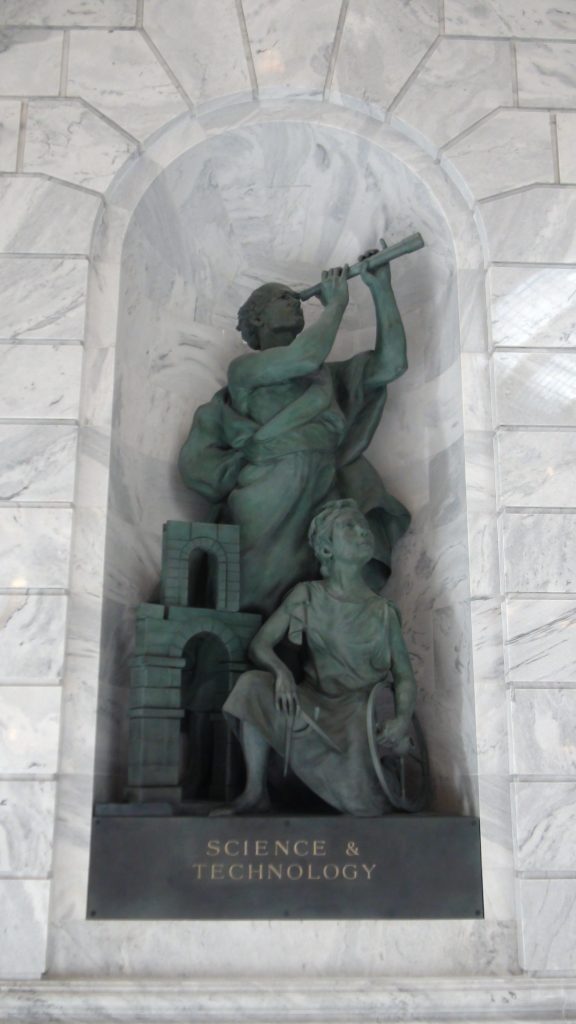 Science and Technology Statues, capitol, Salt Lake City, Utah.
Saturday, 17 September 2022
Then Peter went down to the men who had been sent to him from Cornelius, and said, "Yes, I am he whom you seek. For what reason have you come?" Acts 10:21
Note: You can listen to today's commentary courtesy of our friends at "Bible in Ten" podcast. (Click Here to listen).
You can also read this commentary, with music, courtesy of our friends at "Discern the Bible" on YouTube. (Click Here to listen), or at Rumble (Click Here to listen).
In the previous verse, the Spirit had told Peter to go down and go with the men who were at the gate and to not doubt. Now, the thought continues with, "Then Peter went down to the men."
With immediate compliance to the word, he descended from the roof and proceeded to the gate. There, he met the men "who had been sent to him from Cornelius." These words are not found in most manuscripts. John Gill notes that the clause "is not in Beza's most ancient copy, nor in the Alexandrian copy, nor in the Vulgate Latin, Syriac, Arabic, and Ethiopic versions."
Despite this, it is already understood that this is who he is meeting. Whether the words are original or not, it does not leave any void in one's understanding concerning those whom Peter had gone down to meet. With this understood, Luke next records, "and said, 'Yes, I am he whom you seek.'"
These words are in response to verse 10:19, which said, "While Peter thought about the vision, the Spirit said to him, 'Behold, three men are seeking you.'" Peter already knew that he was being sought. This was probably told to him again by those who met the three at the gate (as is seen in verses 17 & 18).
Therefore, he was certainly fully prepared to find out what was so important that God had given him a vision and that the Spirit had expressly spoken to him about the events that were now taking place. And so, probably very excitedly, he asked them, "For what reason have you come?"
The vision had left him with more questions than answers. The Spirit's directives had certainly hinted to him that the answers were to be found in the arrival of these three men, and so the question must have burst out of him like the breach of a dam. The inquisitive excitement of the moment will find its fulfillment in the verses ahead.
Life application: Peter wanted to know what the word of the Lord that had been conveyed to him meant, and so he asked those who had been sent (albeit indirectly) by the direction of the Lord to interpret the meaning of the matter.
The Lord does not give His word in a manner that cannot be determined, even if it takes a process to find out what that meaning is. Peter had to go through a process in order to understand what was being conveyed and so will we, but it is worth the time and effort to find out why things are the way they are in the word of God.
And so, when you come to an interesting passage or story in Scripture and think, "I wonder why the Lord included that in the Bible?", don't just ignore it, but ask Him – "Lord, what is the meaning of this passage." Then think about it, ask about it, and try connecting it to other things going on in Scripture. Eventually, you will come across a commentary, a sermon, or a personal insight that may bring you to understand that passage.
The Lord wants His word known and understood, and He will reward those who diligently seek it out.
Lord God, thank You for the many treasures laid up in Your word. It is a never-ending well of wonder and delight. The more we know and understand it, the more new insights it continues to provide. How great is Your word that gives us a lifetime of new and precious detail to consider! Amen.