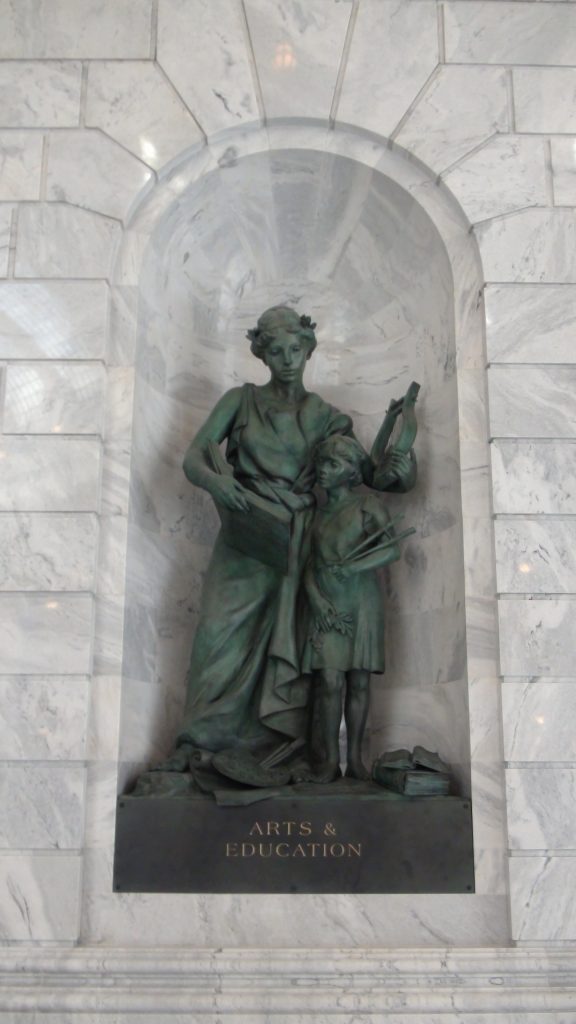 Arts and Education. Good for learning stuff. Capitol building, Salt Lake City, Utah.
Sunday, 18 September 2022
And they said, "Cornelius the centurion, a just man, one who fears God and has a good reputation among all the nation of the Jews, was divinely instructed by a holy angel to summon you to his house, and to hear words from you." Acts 10:22
Note: You can listen to today's commentary courtesy of our friends at "Bible in Ten" podcast. (Click Here to listen).
You can also read this commentary, with music, courtesy of our friends at "Discern the Bible" on YouTube. (Click Here to listen), or at Rumble (Click Here to listen).
In the preceding verse, Peter came down and met with the men who were sent by Cornelius, asking "For what reason have you come?" Luke now continues with, "And they said, 'Cornelius the centurion.'"
The word "the" is inserted by the translators. More correctly, it says, "Cornelius, a centurion." He is identified by his name, previously unknown in the area of Joppa, and he is identified by his rank within the Roman army – being a soldier of low to mid-rank and with authority over a hundred men. Despite his not being a well-known figure, being a man who is not in any high position of authority, and certainly being a Gentile, the messengers continue with the words, "a just man."
The word signifies one who has judicial approval. Such a person conforms to God's being, such as his standard of what is right, and molds himself to God's will. As such, he is upright. Peter may have had his memory called out at this time to the account found in Luke 7 –
"Now when He concluded all His sayings in the hearing of the people, He entered Capernaum. 2 And a certain centurion's servant, who was dear to him, was sick and ready to die. 3 So when he heard about Jesus, he sent elders of the Jews to Him, pleading with Him to come and heal his servant. 4 And when they came to Jesus, they begged Him earnestly, saying that the one for whom He should do this was deserving, 5 'for he loves our nation, and has built us a synagogue.'" Luke 7:1-5
The centurion described there understood even what those of Israel failed to understand, and the account continues with –
"Then Jesus went with them. And when He was already not far from the house, the centurion sent friends to Him, saying to Him, 'Lord, do not trouble Yourself, for I am not worthy that You should enter under my roof. 7 Therefore I did not even think myself worthy to come to You. But say the word, and my servant will be healed. 8 For I also am a man placed under authority, having soldiers under me. And I say to one, "Go," and he goes; and to another, "Come," and he comes; and to my servant, "Do this," and he does it.'
9 When Jesus heard these things, He marveled at him, and turned around and said to the crowd that followed Him, 'I say to you, I have not found such great faith, not even in Israel!' 10 And those who were sent, returning to the house, found the servant well who had been sick." Luke 7:6-10
This centurion understood the power and authority of Jesus and also understood his own lowly position before the Lord. He could be described in a similar manner to Cornelius who is now presented to Peter. Continuing with that description, it next says, "one who fears God."
It is the same word used to describe him in Acts 10:2, phobeó. It signifies to be alarmed, and thus to be afraid, to greatly fear, and hence to reverence. The description of the centurion by Luke in verse 10:2 is also understood to be a right description by those under him. They also continue, saying, "and has a good reputation among all the nation of the Jews."
The meaning is general in nature. If "all the nation" knew of Cornelius, it would have included Peter. Hence, the words mean that those of Israel who had encountered him or heard of him were aware of his noble character. This is the same as the Centurion in Luke 7. That centurion had built a synagogue for the people.
Therefore, whenever his name was brought into a conversation, the people would have said something like, "That guy, that centurion, he is a marvelous friend of Israel." The same would be true with those who had heard of Cornelius. Along with this, these men continue by saying that Cornelius "was divinely instructed."
The word translated as "divinely instructed" is chrématizó. It originally signified "to transact business." HELPS Word Studies says, "to admonish on the basis of a valid standard (what has true worth); used of God admonishing (warning) people – based on what has real value to Him."
Another example of this word, that carries the same sense as here, is found in Hebrews –
"By faith Noah, being divinely warned of things not yet seen, moved with godly fear, prepared an ark for the saving of his household, by which he condemned the world and became heir of the righteousness which is according to faith." Hebrews 11:7
As for Cornelius' instruction, it was "by a holy angel." It is the same word used in verses 10:3 and 10:7 when describing this messenger from God, but the men have affixed the word "holy" to the description. Though not included in the narrative, this would have been from the lips of Cornelius, acknowledging that the messenger was holy. This would be in accord with the description of verse 10:3 which acknowledged it was "an angel of God." Next, continuing their words to Peter, they say it was this angel from God who was sent "to summon you to his house."
This may have seemed unusual, suspicious, out of place, or whatever else to Peter. For all he might have known, it could be a setup to have him arrested for evangelizing. As such, the voice from heaven during his vision had said, "Arise therefore, go down and go with them, doubting nothing; for I have sent them" (Acts 10:20).
The way, with all of its possible contingencies, had been paved so that Peter would be fully aware that this was a divinely appointed meeting and that he should not hesitate to respond favorably to their request. With that understood, the verse ends with, "and to hear words from you."
The word is rhéma. It signifies a word or a saying of any kind. Hence it is an utterance made on a topic. Cornelius was told that Peter would tell him "what he must do" (Acts 10:6). Therefore, the words to be spoken will be in relation to his relationship with God and how to positively affect it so that he might be saved. The hope of Cornelius' life of piety was about to be realized when he is given the gospel concerning Jesus Christ.
Life application: First, this verse, along with verse 10:2, completely blows away the Calvinist doctrine that says that man does not have free will to seek out God.
Secondly, Cornelius is described very highly earlier in the chapte,r as well as in the words of this verse. And yet, his noble character falls short of the glory of God. Without hearing and responding to the gospel, he would remain as condemned as any sinner on the planet. One cannot work his way to heaven because the disconnect (an infinite gap between God and man) already exists.
This gap must be bridged, and it cannot be bridged by finite man. Hence, the incarnation where the infinite unites with the finite in the Person of Jesus is man's only hope of reconciliation. The importance of this cannot be missed. Jesus wasn't just a good man. He wasn't just a man who lived out His life well before God. He is the sinless Man, and He is God. Only through His imputed perfection can we be restored to God.
Thank God that He has done this thing for us. Take time today to contemplate the incarnation, the perfect life of Jesus, the crucifixion, and the resurrection. God Himself was willing to enter into our fallen stream of human existence in order to reconcile us to Himself. Ponder this. Maybe you will ask as David asked –
"Lord, what is man, that You take knowledge of him?
Or the son of man, that You are mindful of him?" Psalm 144:3
At this point, who knows the answer to this? But for those who come to God through Jesus Christ, we will have eternity to search it out. Thank God for Jesus Christ our Lord!
Heavenly Father, thank You for our Lord and our Savior, Jesus Christ. Amen.