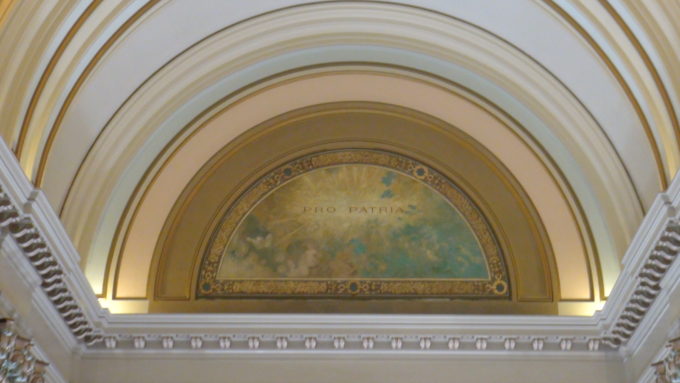 Friday, 27 March 2020
I write to you, fathers,
Because you have known Him who is from the beginning.
I write to you, young men,
Because you have overcome the wicked one.
I write to you, little children,
Because you have known the Father. 1 John 2:13
John's poetic offset which began in verse 2:12 now continues with the first of two triplets. He first wrote to the "little children," concerning their sins having been forgiven "for His name's sake." That was a general address to all of the categories he will now define by their maturity in Christ.
Beginning the triplet, he now next says, "I write to you, fathers." The verb is present tense. It should read, "I am writing to you." This is the case with all three instances in this verse.
The addressees being "fathers" indicates maturity and/or authority. Thus, his words next say, "Because you have known Him who is from the beginning." The very statement indicates maturity. It speaks of a developed theology concerning the Person and work of Jesus Christ. As John said in His gospel –
"In the beginning was the Word, and the Word was with God, and the Word was God. 2 He was in the beginning with God. 3 All things were made through Him, and without Him nothing was made that was made. 4 In Him was life, and the life was the light of men. 5 And the light shines in the darkness, and the darkness did not comprehend it." John 1:1-4
That depth of knowledge is what John then expanded on as he introduced this epistle with the words, "That which was from the beginning." The addressees as "fathers" speaks of such mature knowledge which can then be passed on to those believers who were but "little children" in the faith. For example, the fathers understand that Jesus is the eternally existent Creator – fully God and yet fully man because of the incarnation.
John then says, "I write to you young men." The Greek word here speaks of a young man or a youth. James Strong defines him as someone who is under forty. John says he is writing to them because they "have overcome the wicked one." At such an age, these addressees are in the process of formulating their Christian character and in rightly understanding the doctrines which are presented through the word and by the apostles.
They not only have an understanding of the forgiveness of sin through Christ, but they can apply that understanding in how that brings them to victory in Christ. To overcome is to have faith in Christ's work, but just because a child (the previous verse) understands his sins are forgiven, he may not understand the doctrine of eternal salvation. In other words, one can be an overcomer without realizing it. The young men are established enough to understand this fact.
It is "the wicked one" they have overcome through the blood of Christ. There is the understanding that in Jesus, there is complete victory and total assurance of salvation. John will speak of the wicked one throughout this epistle, directly using the term, or by referring to him in other ways. In Chapter 3, he will return to the "little children," to help them clarify their thinking about this entity –
"Little children, let no one deceive you. He who practices righteousness is righteous, just as He is righteous. 8 He who sins is of the devil, for the devil has sinned from the beginning. For this purpose the Son of God was manifested, that He might destroy the works of the devil. 9 Whoever has been born of God does not sin, for His seed remains in him; and he cannot sin, because he has been born of God." 1 John 3:7-9
The "young men" possess enough understanding of the work of Christ to have the surety and maturity that the "little children" still lack.
John next says, "I write to you, little children." Here, a different word is used than in verse 2:12. There, it was teknia. Here it is paidion. This speaks of a little child under training, maybe seven or younger. Some scholars apply it to one who is even up to twenty. Regardless of age, it speaks of a still immature believer. He is still referring to believers, but his words speak of real immaturity in Christ and a great need for doctrinal improvement. They know the Father because of the Son, but they are completely confused in their theology about the Son.
To them, John says, "Because you have known the Father." The verb translated as "have known" is perfect tense. It thus gives the sense of "you do know, and you continue to know." Simply stated, "you know."
In such a person, he has the knowledge of forgiveness of sin. Through that knowledge, he has come to understand the very heart of the Father. Probably no better thought of the state of this addressee can be found than the opening words of the next chapter –
"Behold what manner of love the Father has bestowed on us, that we should be called children of God! Therefore, the world does not know us, because it did not know Him. 2 Beloved, now we are children of God; and it has not yet been revealed what we shall be, but we know that when He is revealed, we shall be like Him, for we shall see Him as He is. 3 And everyone who has this hope in Him purifies himself, just as He is pure." 1 John 3:1-3
In coming to Christ, even the youngest and most immature believers can understand the love of the Father for his children. Thus, John addresses them in this manner.
Life application: As you can see, John is writing to the body of believers, but he is making real distinctions in their doctrinal maturity without questioning their salvation. May we act in a like manner towards those of less understanding and maturity in Christ.
Lord Jesus, help us to understand that just because someone is less informed about the mystery of Jesus' work and the significance of what He has done, that person is no less saved than others are. May we never arrogantly point our fingers at another blood-bought believer in Christ and tear them apart just because we have a deeper knowledge of who He is and what He did than they do. Instead, help us be instruments of correction and sound doctrine for them. Amen.