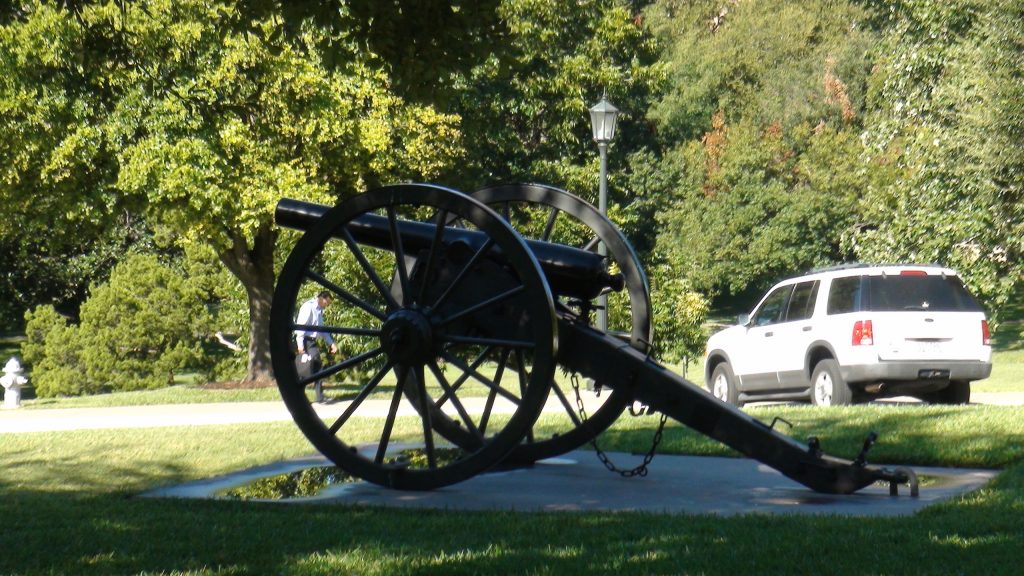 Cannon display. Capitol, Austin Texas.
Friday, 6 May 2022
"And when forty years had passed, an Angel of the Lord appeared to him in a flame of fire in a bush, in the wilderness of Mount Sinai. Acts 7:30
Note: You can listen to today's commentary courtesy of our friends at "Bible in Ten" podcast. (Click Here to listen)
You can also read this commentary, with music, courtesy of our friends at "Discern the Bible" on YouTube. (Click Here to listen), or at Rumble (Click Here to listen).
The previous verse noted that Moses had become a dweller in the land of Midian, where he had two sons. Stephen now continues, going directly to the expiration of that time, saying, "And when forty years had passed."
The verb translated as "had passed" signifies "to fulfill." It is as if a divinely chosen interval of time had been fulfilled, and the events to follow were ready to be directed by the Lord. As such, Stephen continues, saying, "an Angel of the Lord appeared to him."
The word translated as "angel" simply means a "messenger." Here, it has no article before it. Who this messenger is must be determined from the surrounding text in the Exodus narrative. Stephen will explain it in the verses ahead.
As for the reason for the coming of this Messenger, it is to be remembered that the Lord had spoken out a timeline, in advance, to Abraham concerning the state of his descendants. The arrival of this Messenger means that the time for the fulfillment of those promises is at hand. As such, this Angel reveals Himself to Moses "in a flame of fire in a bush."
The account is found as Exodus 3 opens –
"Now Moses was tending the flock of Jethro his father-in-law, the priest of Midian. And he led the flock to the back of the desert, and came to Horeb, the mountain of God. 2 And the Angel of the Lord appeared to him in a flame of fire from the midst of a bush. So he looked, and behold, the bush was burning with fire, but the bush was not consumed. 3 Then Moses said, 'I will now turn aside and see this great sight, why the bush does not burn.'" Exodus 3:1-3
The word used to describe the bush is batos. It signifies a bramble or thorn bush. This rightly corresponds to the Hebrew word used in Exodus, seneh. It too signifies a bramble, coming from an unused root meaning "to prick." It is from this thorny bush that the angel will speak. The words of Stephen finish with, "in the wilderness of Mount Sinai."
Again, the words of Moses correspond to verse 7:30. In Exodus, it said "Horeb," but the name is used interchangeably with Sinai. Some believe it is two separate peaks of one mountain. Or it could be two separate names for the one mountain, regardless of the peaks. Either way, it is a word used synonymously with Sinai. This can be deduced from several verses where Sinai and Horeb are spoken of in the same context, such as –
"And let them be ready for the third day. For on the third day the Lord will come down upon Mount Sinai in the sight of all the people." Exodus 19:11
"especially concerning the day you stood before the Lord your God in Horeb, when the Lord said to me, 'Gather the people to Me, and I will let them hear My words, that they may learn to fear Me all the days they live on the earth, and that they may teach their children.'" Deuteronomy 4:10
&
"And when He had made an end of speaking with him on Mount Sinai, He gave Moses two tablets of the Testimony, tablets of stone, written with the finger of God." Exodus 31:18
"Nothing was in the ark except the two tablets of stone which Moses put there at Horeb, when the Lord made a covenant with the children of Israel, when they came out of the land of Egypt." 1 Kings 8:9
These and other references show that the names are being used synonymously when speaking of the same mountain and area around it.
Life application: In the life application from the previous verse, it was noted that Moses was not yet ready to lead Israel when he was in Egypt. Therefore, he went to Midian and spent forty years in obscurity. In this verse, we can see that the Lord appeared to him in a bush at Sinai. It wasn't for Moses to decide when the Lord would act. Rather, it was the Lord who appeared and who will direct Moses.
It is not to be assumed that the Lord is going to appear to any of us and tell us what to do. It is even unscriptural to think that it could or will happen. The Bible says that we live by faith, not by sight. To have the Lord appear and direct us is not living by faith.
However, we can – and should – ask for the Lord to direct us. We can do this in various ways. One is to ask Him to direct your ways. "Lord, I am unsure of which way to go. I must make a choice, and so be with me to make the right one."
In this, you are acknowledging His presence in your life and making a petition that He will be a part of the process that guides you.
Another way is to ask Him to not let anything happen contrary to His will. This is basically the same thing as before but in a negative petition. "Lord, please don't let this happen if it is not what is right for us or if it is contrary to what You would want us to do."
You can add others in when making such petitions as well. "Lord, I pray that the decision I make will not negatively affect anyone else." And so on.
The main point of this is that you are including the Lord in your every action and decision. It is an acknowledgment of faith that you believe He is there and that He is truly concerned about the actions you take and the decisions you make. This is why Paul says, "Be anxious for nothing, but in everything by prayer and supplication, with thanksgiving, let your requests be made known to God; 7 and the peace of God, which surpasses all understanding, will guard your hearts and minds through Christ Jesus" (Philippians 4:6, 7).
Be sure to include Him in all you do. Acknowledge Him and He will be pleased with this.
Lord God, thank You for being ever-present with us. We know that You are there, and we pray that You direct our steps according to Your wisdom. Keep us from taking the wrong paths in life. Instead, may our steps always be in accord with what is right and proper, by which we will keep from harming others and ourselves. Help us in this, O God. Amen.