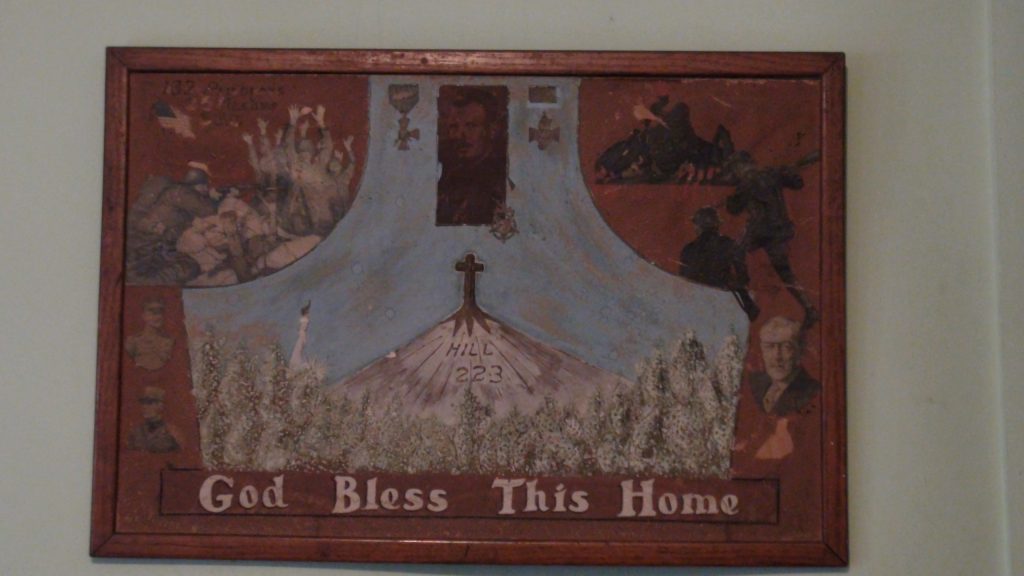 Painting of the memories of heroic actions by Sgt York.
Monday, 14 February 2022
And the young men arose and wrapped him up, carried him out, and buried him. Acts 5:6
Note: You can listen to today's commentary courtesy of our friends at "Bible in Ten" podcast. (Click Here to listen)
You can also read this commentary, with music, courtesy of our friends at "Discern the Bible" on YouTube. (Click Here to listen), or at Rumble (Click Here to listen).
In the previous verse, the demise of Ananias was recorded. Down he went and out went his breath. With that, Luke now records, "And the young men arose." The word is literally "younger" men. Much speculation is given over these words, but what seems likely is that they are simply being contrasted to elder men. They are youthful, they are not in any leadership position. Also, they are asked to do a job that would be expected of someone young. And so, Luke notes that the "younger men arose" to do what was necessary, which is that they "wrapped him up."
This is common in the Middle East to this day. A shroud or blanket was laid out, and then the body is placed on it, wrapped up, and taken for internment. The verb itself gives the sense of drawing together or drawing in, as if it is a sail being shortened. Hence, the shroud is drawn into the body, and that is how it is carried to where it is deposited.
Along with that, it was not uncommon for spices to be added into this burial cloth as it was being drawn in. That is noted of Jesus' body in John 19:40, saying it was "the custom of the Jews." Next, Luke specifically notes that they "carried him out."
There were places appointed for burial outside of the city. Quite often, such places were already prepared so that the body was simply placed into the chamber and a stone was then rolled over the entrance. In this, the body would decompose to the point where its bones could be later gathered together into a stone box known as an ossuary. From there, the gravesite could be used again, as it stood ready to receive its next body. As this was a customary way of quickly and efficiently disposing of a corpse, this is probably the process by which they "buried him."
This was a quick and efficient way of getting the job done, and it avoided a lot of the drama we go through in today's world. Rather, the place would be noted, and from there, mourners would come and go as they saw fit. This is seen, for example, in John 11 in relation to the grave of Lazarus.
Life application: The body of Ananias was handled in accord with the custom of the Jews. This prescribes nothing. It simply describes what occurred. It is an error in thinking to then come to the conclusion that all bodies must be buried. If the practice of the Jews was to be followed, we wouldn't be using caskets. Further, we would later be gathering up the bones of the dead and placing them in ossuaries. And etc. On and on, the thinking concerning what to do with a body would go.
The Bible is silent on this issue. There are no prescriptions at all concerning the matter. As this is so, it is a matter that is left solely up to the discretion of the family or society to handle. Whether a person is vaporized in a nuclear detonation, devoured by sharks, or slowly consumed by worms, the result is pretty much the same. The body returns to its basic elements, and nothing is left of it.
The body is not what the Bible focuses on in such matters. It is the soul of the man that it is concerned with. If Christians spent less time worrying about what is going to happen to their corruptible bodies and more on what will happen to their eternal souls, things would be in a much better perspective. Unfortunately, such is normally not the case.
Jesus is the Christ of the nations. The way those nations dispose of their bodies is up to them. The way that the state of the eternal soul of man is addressed should be where the focus is. Let us consider this and get about the business of sharing the gospel.
Glorious God, You have fashioned us to live out our lives in bodies that are marvelously pieced together. But they also degrade and tire out. If there is such majesty in these frail, temporary bodies, what will it be like when we are united with our eternal dwellings? How wonderful it is to hope for that day. May it be soon! Amen.