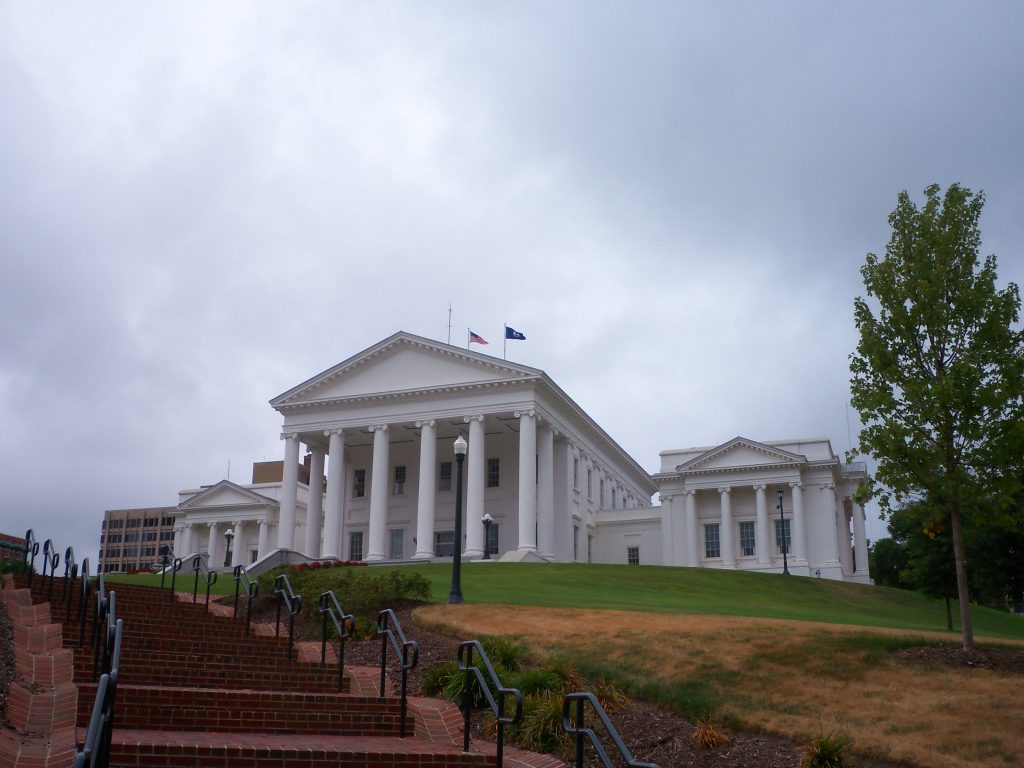 Virginia Capitol. Not the nicest group of folks I encountered during the travels.
Wednesday, 8 March 2023
And when there had been much dispute, Peter rose up and said to them: "Men and brethren, you know that a good while ago God chose among us, that by my mouth the Gentiles should hear the word of the gospel and believe. Acts 15:7
Note: You can listen to today's commentary courtesy of our friends at "Bible in Ten" podcast. (Click Here to listen)
You can also read this commentary, with music, courtesy of our friends at "Discern the Bible" on YouTube. (Click Here to listen), or at Rumble (Click Here to listen).
In the previous verse, it noted that the apostles and elders came together for the purpose of resolving the matter concerning what to instruct the Gentiles. With that, Luke records, "And when there had been much dispute."
It is the same word used in verse 15:2, zétésis. It is translated elsewhere as controversy, speculation, and so on. It signifies "a searching." It is as if there was a formal debate of the matter, and those who were listening were thinking through what was being presented. It is during this course of events that "Peter rose up and said to them…"
Rather, as an aorist participle, it rightly reads, "Peter, having risen up, said to them." One thing follows the other. By rising, it would indicate that he was prepared to speak. Thus, the audience would direct their eyes and attention to him, attending to what he would say.
It is of note that these are Peter's final recorded words in the book of Acts. It is the last time the name "Peter" is used in the book, and it is for the purpose of explaining salvation by grace through faith apart from the Law of Moses. His words will continue through verse 11 and they will refer to this idea of salvation by grace not only for the Gentiles but for the Jews as well. Understanding this, once risen, he began, saying, "Men and brethren."
This is the same formal greeting used quite a few times already in Acts. It indicates that not only are they responsible adults, but they are brethren within the faith. It implies that, as brethren, a right attitude concerning his words should be considered. Next, he continues, saying, "you know that a good while ago."
More appropriately, it reads, "you know that from early days." In other words, what he will present is a fact that happened early in the establishment of the church. A precedent had been set and it was not to be dismissed or forgotten. It was a lesson that would bear on answering the question that was now being investigated. From there, he continues with, "God chose among us.
The meaning is probably twofold. First, it is the selection of Peter to be the one to verify what God was doing as the church began. He was the main figure to speak to the people and witness the events of Acts 2. When the Samaritans were evangelized in Acts 8, the Spirit did not come upon them until Peter arrived to verify the matter. And then in Acts 10, it was Peter who was called to evangelize those in Caesarea.
Second, this selection of Peter to be the one to verify these things was at the mouth of the Lord Jesus –
"Jesus answered and said to him, 'Blessed are you, Simon Bar-Jonah, for flesh and blood has not revealed this to you, but My Father who is in heaven. 18 And I also say to you that you are Peter, and on this rock I will build My church, and the gates of Hades shall not prevail against it. 19 And I will give you the keys of the kingdom of heaven, and whatever you bind on earth will be bound in heaven, and whatever you loose on earth will be loosed in heaven.'" Matthew 16:17-19
The Lord directed Peter to be the one to validate these things, Peter did validate them, and he is now reminding the church of the things that occurred. With that, he refers to the events of Acts 10, "that by my mouth the Gentiles should hear the word of the gospel and believe."
This was the purpose of Peter's designation by Jesus. It was to confirm to the church what had been witnessed. When he refers to what occurred in Acts 10, he provides essentially the same formula as stated by Paul in Romans. The Gentiles hear the gospel and then believe. Paul says –
"How then shall they call on Him in whom they have not believed? And how shall they believe in Him of whom they have not heard? And how shall they hear without a preacher? 15 And how shall they preach unless they are sent? As it is written:
'How beautiful are the feet of those who preach the gospel of peace,
Who bring glad tidings of good things!'
16 But they have not all obeyed the gospel. For Isaiah says, 'Lord, who has believed our report?' 17 So then faith comes by hearing, and hearing by the word of God." Romans 10:14-17
As for Peter in Acts, he will continue with his words, reminding them of a simple fact that has somehow escaped them.
Life application: Remembering that Paul was a Pharisee, a member of the group who has now been set against Paul in this dispute, it shows how deeply ingrained in us presuppositions and biases can become.
Paul had to literally be called out of that by the risen Lord. He was so adamant about law observance that he could not see beyond his own position. Once called, however, he was able to rightly process his calling. It was apart from any merit at all. Grace was bestowed upon him, and he responded accordingly.
The Pharisees are now being reminded of this as well. Until this point, they probably looked at Paul as an aberration, but their attitudes, not his, will have to be corrected. And how is that accomplished? It is through the words of Peter who witnessed the events that occurred when he was directed to the house of Cornelius.
In other words, it all comes back to the word of the Lord. That word, given to Peter, is now recorded in Scripture. We do not need a visible demonstration of the Spirit coming down upon the Gentiles. We do not need a vision from the Lord calling us to recognize Him and turn from our ways as Paul did.
These things are recorded. The precedent has been set, and the confirmation of them has come through Peter who was told that he would be the one to settle them. Even Paul's ministry was implicitly approved by Peter as is recorded in Galatians 1 –
"Then after three years I went up to Jerusalem to see Peter, and remained with him fifteen days. 19 But I saw none of the other apostles except James, the Lord's brother. 20 (Now concerning the things which I write to you, indeed, before God, I do not lie.)" Galatians 1:18-20
These things are now recorded. They are sealed. And they provide our guidance and instruction in the word. If you see someone being bullheaded about their presuppositions and biases, there is no need to ask God to give him a sign. The word has been given. If you see a Muslim that doesn't know Jesus, there is no need to believe Jesus will pop into his room at night and convert him. The word has been given and it is our job to tell him what it says. Etc.
Go to the word! This is what God has provided to us for our understanding of Him and what He expects, for our doctrine, and for our daily conduct. Be sure to go to the word!
Lord God, the world – even among Christians – is looking for a show of Your hand in things to direct us. Instead, You have already given us all we need to see that Your hand is in the events around us. The word is given, and it is sufficient. Help us to realize this and to not look to what is hyped up or sensational. May we rely on the precious word that is filled with the knowledge that You are among us. Amen.