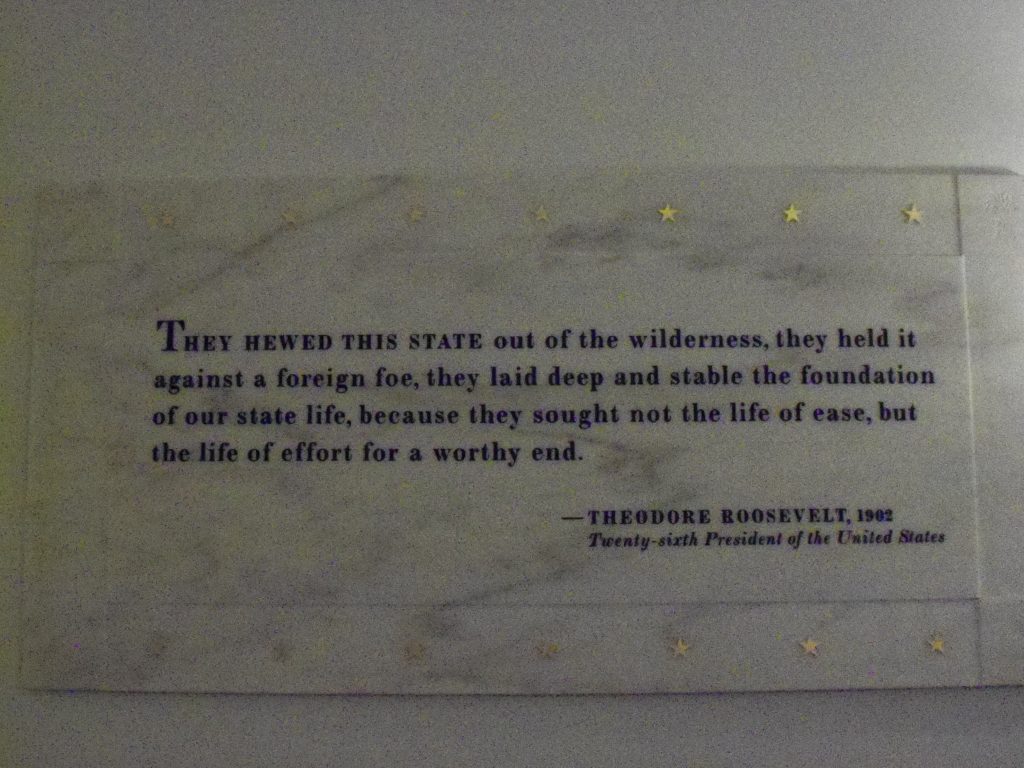 Teddy Roosevelt comments about Vermont, Vermont State Capitol.
Sunday, 8 January 2023
"And though they found no cause for death in Him, they asked Pilate that He should be put to death. Acts 13:28
Note: You can listen to today's commentary courtesy of our friends at "Bible in Ten" podcast. (Click Here to listen).
You can also read this commentary, with music, courtesy of our friends at "Discern the Bible" on YouTube. (Click Here to listen), or at Rumble (Click Here to listen).
The previous verse contained Paul's continuing words concerning Jesus, noting that those in Jerusalem and their rulers fulfilled Scripture in condemning Jesus. With that, Paul continues, saying, "And though they found no cause for death in Him."
The verb is an aorist participle, and the word "though" is not in the Greek. The words are more closely rendered, "And having found no cause of death." Jesus was put on trial in a manner that was in violation of the Law of Moses as well as the later codes of the Jewish people. In fact, it has been noted that as many as eighteen violations of law occurred during His trial. Despite even having false witnesses presented, there was nothing found in Him that was worthy of condemning Him. Even a charge that He committed blasphemy was completely subjective and could not in any way align with the Law of Moses' statutes and judgments.
Further, this charge of blasphemy could not stand the scrutiny of Pilate. Therefore, they went to him with a different charge, pitting Jesus against the Roman authority and claiming His actions were seditious, something the gospel records completely refute. Despite all of this, Paul simply states that "they asked Pilate that He should be put to death."
Jesus was a threat to the leadership of Israel. It was quite apparent that He was approved of God, and they knew He was who He claimed to be. This is not explicitly stated in the gospels, but it is perfectly evident at every turn of a page. They, however, were not looking to cede their power, status, and authority to anyone. Also, they did everything in their power to frustrate Jesus' work every step of the way.
Eventually, Jesus became such a threat to their positions within the nation that they illegally set about to have Him done away with. In this, they had no authority to put Him to death and so they appealed to Pilate to do so. Despite Pilate not desiring to be a part of the matter, the rulers of Israel manipulated him to the point that he conceded to allow the execution of Jesus.
Of the words of this verse, Charles Ellicott does a magnificent job of tying the entire scenario of what Paul says together with references from the gospels –
"And though they found no cause of death in him.—Technically, the Sanhedrin had condemned our Lord on the charge of blasphemy (Matthew 26:66), but they had been unable to prove the charge by any adequate evidence (Matthew 26:60), and finally condemned him by extorting words from His own lips. When they came before Pilate they shrank at first from urging that accusation, and contented themselves with stating in general terms that they had condemned Him as a malefactor (John 18:30); though afterwards, as if seeking to terrify the wavering governor, they added that by their law He ought to die because He made Himself the Son of God (John 19:7), and that by making Himself a king He spake against the emperor (John 19:12)."
Life application: Despite all that occurred in the illegal trial of Jesus, the death of Jesus was preordained by God. And more, John confirms that even the high priest of Israel prophesied of this fact –
And one of them, Caiaphas, being high priest that year, said to them, "You know nothing at all, 50 nor do you consider that it is expedient for us that one man should die for the people, and not that the whole nation should perish." 51 Now this he did not say on his own authority; but being high priest that year he prophesied that Jesus would die for the nation, 52 and not for that nation only, but also that He would gather together in one the children of God who were scattered abroad." John 11:49-52
The death of Jesus was necessary for the people of the world to be reconciled to God. However, this does not in any way mitigate the crimes committed by the Jewish leaders. They were responsible for their actions which were contrary to the law of God, despite the overall matter being in accord with the will of God.
This should give us comfort when we see wrongs committed against Christians, or even if they are committed against us because we are Christians. God's ultimate purposes are being met, even through our trials, whether the events are contrary to God's law or not.
As an example, a missionary may be martyred for his faith by a bunch of Hindus. This is against the law of God and those Hindus will be punished for what they have done if they fail to come to Christ. However, many may see the death of this missionary and convert to Christianity, maybe even one of the perpetrators. The expansion of God's kingdom has occurred, and His ultimate will for this to come about has been met, even though the details were contrary to His law.
This is what happened with Joseph when he was sold by his brothers to Egypt, and it is something that occurs elsewhere in the Bible. God takes the wrongdoings of man, and He turns them into wonderful things that ultimately bring Him great glory. So, when evil comes upon you or others, trust that God is in control, and He is working out something far greater than any of us could ever imagine.
Lord God, how grateful we are to know that You are in total control of all things. We need not worry one iota about what lies ahead because we know that through good or bad or life or death, our salvation and eternal destiny are set because of what Jesus has done for us. Thank You, O God, for Your kind hand upon our eternal destiny. Amen.