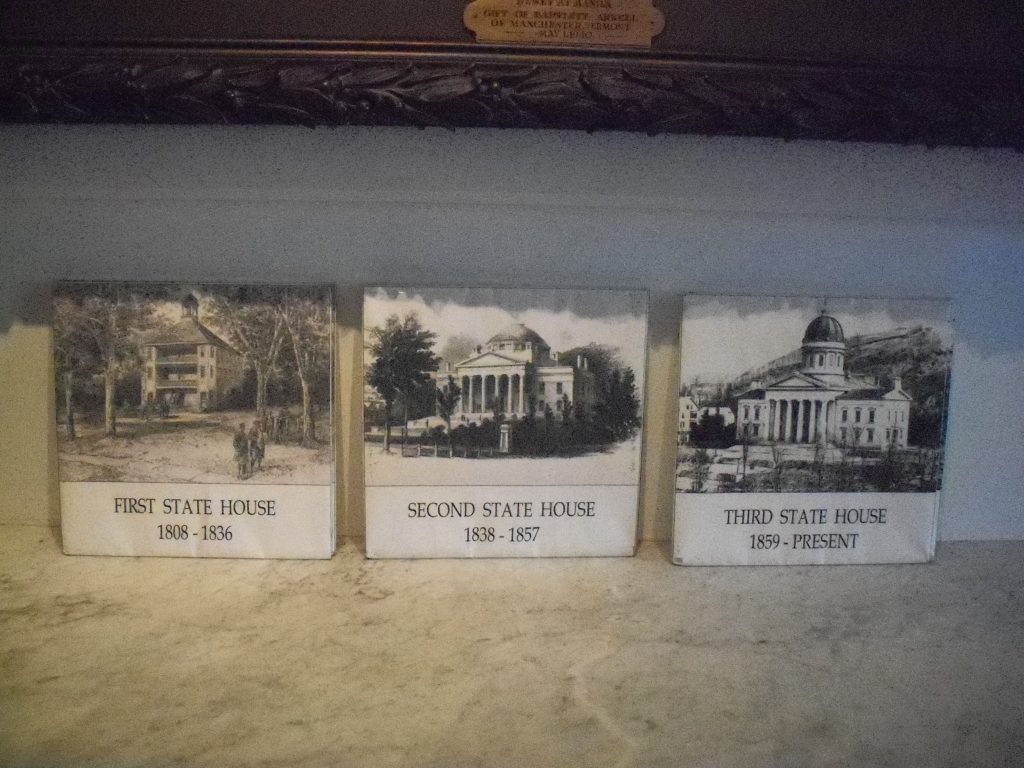 State houses of the state of Vermont, past to present.
Tuesday, 3 January 2023
"From this man's seed, according to the promise, God raised up for Israel a Savior—Jesus— Acts 13:23
Note: You can listen to today's commentary courtesy of our friends at "Bible in Ten" podcast. (Click Here to listen).
You can also read this commentary, with music, courtesy of our friends at "Discern the Bible" on YouTube. (Click Here to listen), or at Rumble (Click Here to listen).
Paul has been speaking about the history of Israel. In the previous verse, he noted the raising up of David because of having removed Saul as king. In his words, he said that God had found David a man after His own heart and a man who would do His will. With that, Paul now continues with, "From this man's seed."
The meaning is that a direct descendant of David is who is being referred to. The word "seed" as understood from Scripture indicates a direct connection between one entity and another, just as when a stalk of wheat bears seed. That seed bears the characteristics of the stalk from which it came. It will be none other than a seed of wheat. And more, if it is a particular class of wheat, it will remain in that same class.
Because this Seed is from David, it remains a fixed part of the line of David in nature and in attributes. The Seed being referred to is next said to be "according to the promise." The inserted word "the" does not belong there. Nor is the word "his" found in many translations. The words should be rendered just as the Greek, "according to promise." It is not a specific promise, but a succession of promises all related to the same unchanging nature of God.
This Seed was promised in Genesis 3 as the "Seed of the woman." He was promised to Abraham, Isaac, Jacob, Judah, and David. He was promised through the words of the prophets in a multitude of ways, all of which were in accord with one another. It is this one overall promise that Paul refers to now. With that understood, Paul then explains the fulfillment of this promise. It is that "God raised up for Israel."
The promise that began in Genesis, and which was the hope of all people who anticipated a return to paradise as indicated there, eventually became the hope of Israel. This was not only as a hope of the people in general, but the hope of its specific fulfillment through them as a people.
Eventually, it became the hope of the house of David, being promised to him personally in 2 Samuel 7:12-16. This promise is also recorded later in the psalms and in the prophets. Paul, speaking to those in the synagogue now, confirms that the promised seed has come, noting that to them God has raised up "a Savior—Jesus."
His words, however, would cause an immediate conflict in the thinking of these Jews. How could Jesus be the Savior of Israel if Israel isn't saved? Their minds were attuned to the idea that Jesus would deliver Israel from her enemies, gather them back to the land of Israel, and lead them as the head of the nations. And yet, they were sitting in a synagogue in Antioch of Pisidia some years after Jesus had come.
It won't be until verse 13:38 that he will exactingly explain what Jesus came to save them from. And then in verse 13:39 he will continue that thought with words that would trouble any Jew unless he understood what their history under the law was intended to reveal. Until he gets there, Paul will continue to explain the proofs that verify Jesus truly is the promised Seed of David.
Life application: Heresies are points of doctrine that destroy the message of salvation by changing the fundamental tenets of what God has revealed in Christ. For example, God has revealed that in the Godhead there are individual "persons" in one essence. Scripture reveals that the Father is God. It reveals that the Son is God. It also reveals that the Holy Spirit is God. And yet, they are not the same "person." We may not understand the concept, but to deny it as a fundamental tenet of the faith is heresy.
Despite teaching that Jesus (the Son) is God, the Bible also teaches that Jesus is a Man. To deny this would then be heresy. But going further, Jesus is not just a Man who was created by God, directly and immediately in Mary's womb. Rather, He is a man who descended from Adam. From there He descends from a long genealogy recorded in Luke 3. He also descends from others as is recorded in Scripture. He is the Seed of these people. Lot, for example, is not in the direct genealogy of Jesus as recorded in Luke 3, but he is still an ancestor of Jesus as the pages of Genesis reveal.
Jesus is also said to be the "Seed of David" here in Acts and elsewhere, such as in Romans 1:3 and 2 Timothy 2:8. Because this is so, to deny His humanity is derived from these people is to teach heresy. A person does not need to know these things to be saved. Salvation comes through belief in the gospel. However, if a person is told, in advance, that these things are not true when the "gospel" is proclaimed, he will not be saved. He has believed in a false Jesus.
It is important to be exact when speaking of the nature of Christ. God has carefully and meticulously revealed Him in Scripture. And so, let us carefully and soberly consider what is recorded there.
O God, we stand in awe of what You have done for us. You set forth a plan and You have meticulously brought it about in human history, finally revealing the purpose of that plan when You sent Jesus. We are the recipients of the glory and splendor of what You have done for us. Thank You, O God. You have done it all, and now You ask us to just believe that it is so. And we do! Thank You for the coming of Jesus Christ our Lord. Amen.