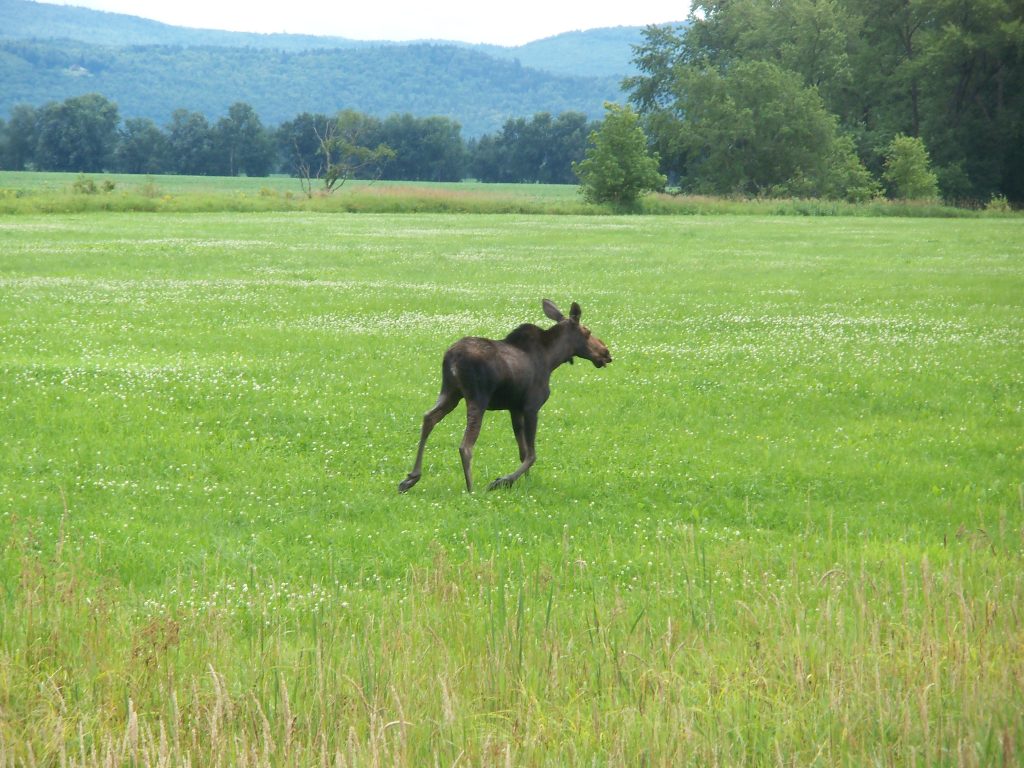 Vermontanese Moose.
Saturday, 5 November 2022
Now those who were scattered after the persecution that arose over Stephen traveled as far as Phoenicia, Cyprus, and Antioch, preaching the word to no one but the Jews only. Acts 11:19
Note: You can listen to today's commentary courtesy of our friends at "Bible in Ten" podcast. (Click Here to listen)
You can also read this commentary, with music, courtesy of our friends at "Discern the Bible" on YouTube. (Click Here to listen), or at Rumble (Click Here to listen).
With the matter of Gentile inclusion clearly established and settled based on Peter's words to those in Jerusalem, the narrative now takes on a new and significant direction. The direction and focus of Acts will now begin to head out into the world beyond the borders of Israel and, eventually, the gospel will predominantly be seen to go forth to the Gentiles. In order to reveal this, the account will also go back to events that occurred in previous chapters so that the narrative catches up with events that occurred there, such as in Acts 7, 8, and 9.
With that understood, the words begin with, "Now those who were scattered." This takes the reader back to Acts 8:1 –
"Now Saul was consenting to his death.
At that time a great persecution arose against the church which was at Jerusalem; and they were all scattered throughout the regions of Judea and Samaria, except the apostles."
This was referring to the events that took place among the Jews and it occurred "after the persecution that arose over Stephen."
This goes back even further, to Acts 7 and the account of Stephen's stoning. The persecution that is recorded in Acts 8:1 is based upon that. Also, rather than "persecution," the Greek word here signifies "tribulation." It is a wholly different word than that used in Acts 8:1. The persecution led to tribulation. Because of this, these Jews were not only scattered within the borders of Israel, but they continued on and "traveled as far as Phoenicia, Cyprus, and Antioch."
The first location, Phoenicia, is introduced here. The name is believed to come from the Greek word phoinix, meaning a palm tree, most especially the date palm. Albert Barnes describes the location, saying, "Phoenice, or Phoenicia, was a province of Syria, which in its largest sense comprehended a narrow strip of country lying on the eastern coast of the Mediterranean, and extending from Antioch to the borders of Egypt. But Phenice Proper extended only from the cities of Laodicea to Tyre, and included only the territories of Tyre and Sidon. This country was called sometimes simply 'Canaan.'"
The next location, Cyprus, is also introduced here, although the name of the inhabitants was mentioned in Acts 4:36. The origin of the name is uncertain. Again, Barnes describes it, saying, "An island off the coast of Asia Minor, in the Mediterranean Sea."
Finally, this is also the introduction of Antioch. Albert Barnes again describes the place, saying, "There were two cities of this name, one situated in Pisidia in Asia Minor (see Acts 13:14); the other, referred to here, was situated on the Orontes River, and was long, the capital of Syria. It was built by Seleucus Nicanor, and was called Antioch in honor of his father Antiochus. It was founded in 301 b.c. It is not mentioned in the Old Testament, but is several times mentioned in the Apocrypha and in the New Testament. It was long the most powerful city of the East, and was inferior only to Seleucia and Alexandria. It was famous for the fact that the right of citizenship was conferred by Seleucus on the Jews as well as the Greeks and Macedonians, so that here they had the privilege of worship in their own way without molestation. It is probable that the Christians would be regarded merely as a sect of Jews, and would be here suffered to celebrate their worship without interruption."
With these locations noted, the verse finishes with the thought that those scattered were "preaching the word to no one but the Jews only." Although true to some extent, this is not so much because they "had the common prejudices of the Jews, that the offers of salvation were made only to the Jews" (Barnes), but that they probably had no idea that Gentiles would even be included in God's offer of Christ Jesus.
In other words, it is true that the Jews had these prejudices, but without even knowing something is available to others, those prejudices would not even arise. Peter found out that Gentiles could be included, and he set aside any such prejudices. These Jews were as of yet uninformed as to what God was going to do for the Gentiles. Therefore, they simply went about telling their own fellow Jews that the Messiah had come.
Life application: The narrative in Acts is marvelously structured to show how events unfolded, but the events are placed in a manner that allows us to go forward with certain events and then go back to older events to see how other things occurred while those first set of recorded events were happening.
In this, we can get a marvelous sense of how the narrative is simultaneously unfolding in several directions. As you read Acts, consider such things and think about why each section is placed where it is. Like all of Scripture, God is slowly and methodically revealing to us what His plans are for the people of the world. At the same time, He is showing us why trouble has come upon Israel during this dispensation and where He would lead things during their time of exile.
Everything is carefully and meticulously placed to help us see how the great story of man's redemption through the Person and work of Jesus Christ has come about, is coming about, and will continue to come about. Luke's record of Acts is a wonderful part of this. If we pay heed to how he has laid things out, we can get a marvelous sense of the structure of this beautiful plan.
Lord God, thank You for the careful detail You have placed in Your word to help us know and understand why things are the way they are. You have set a plan for man's redemption, and it is so beautifully and methodically detailed for us to see. Give us insight into Your word so that we can more fully grasp every nuance that You have placed there for us to understand what is going on. Thank You, O God. Amen.