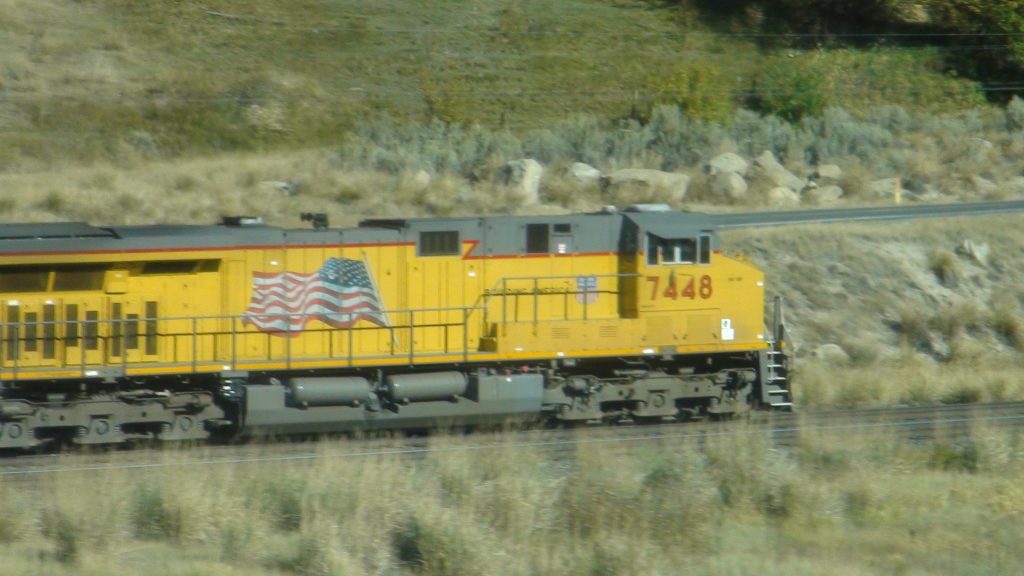 Choo choo. Utah.
Saturday, 29 October 2022
Then the Spirit told me to go with them, doubting nothing. Moreover these six brethren accompanied me, and we entered the man's house. Acts 11:12
Note: You can listen to today's commentary courtesy of our friends at "Bible in Ten" podcast. (Click Here to listen).
You can also read this commentary, with music, courtesy of our friends at "Discern the Bible" on YouTube. (Click Here to listen), or at Rumble (Click Here to listen).
The previous verse told of the three men who were sent from Caesarea and who came and stood before the house where Peter was. This happened at the very moment his vision had ended. With that, it next says, "Then the Spirit told me to go with them."
Peter has been telling of the events before the men came. Now in a supportable defense against those who were accusing him, he notes that his actions were Spirit-directed. Peter had a vision that he  may or may not have immediately understood, nor clued him in to what was going to happen, but the arrival of men from Cornelius would prove direct confirmation. Along with that, he was to be "doubting nothing."
The meaning is that he was to accompany them without any misgivings, although some manuscripts change the word from the middle to the active voice. In this, the sense is changed to "make a distinction," meaning that he should not discriminate against those who had come to collect him. Either way, the directive is given by the Spirit and Peter was to go with the men without any qualms. From there, it next says, "Moreover these six brethren accompanied me."
The words are clearly intended to show that it wasn't just Peter who had gone with the Gentiles, but that the whole group had. That these six men accompanied Peter would argue any possible criticism for Peter staying with Gentiles. As such, there were many more witnesses than required by the law to substantiate everything that he was saying. And more than just going with them, Peter was completely obedient to the situation as directed by the Spirit because he next says, "and we entered the man's house."
Here, Peter changes the accusation of verse 3 where the plural was used, "uncircumcised men." Rather, he says in the singular "the man's house." It wasn't as if he was having a party with a bunch of uncircumcised men. Rather, he was called to a specific house owned by a certain man. The number of people in the house was irrelevant and the status of the man was as well. Peter was given a clear and specific set of instructions and he followed through with them accordingly.
Life application: Peter clearly ate with the uncircumcised, as is indicated in verse 11:3. He did this in Antioch as is recorded in Galatians 2:11 as well. And yet, in the very next verse, Galatians 2:12, he withdrew himself from their fellowship when the Jews who came from James showed up. He failed to conduct himself as he had previously been instructed to do by the Spirit.
His weakness caused harm to the purity of the gospel and Paul called him out on it. However, it became a later lesson to those who were troubled by the Judaizers in Galatia. And it should be a continuing lesson for those who are troubled by the false teachers of the Hebrew Roots movement today.
God can take our faults and our failings and turn them around for good. So don't beat yourself up too much when you have a moment of doubt or weakness. Like Peter, turn back to the straight path and live out your freedom in Christ as you should. And when you have the chance, you can tell others about how you failed. Sometimes people need to hear that they are not alone in falling into temptations.
In the end, each of us has our own failings, but Jesus is greater than them. If you are in Christ, He has already forgiven you. So, press on and do what is right henceforth.
Lord God, thank You for the forgiveness we possess because of what Jesus has done. In Him, we have a surety that goes beyond our failings because He has prevailed. We know that nothing can separate us from You again, but we may need reminders at times that it is so. Help us to be refreshed in this thought often so that our walk before You will be one of joy. Amen.