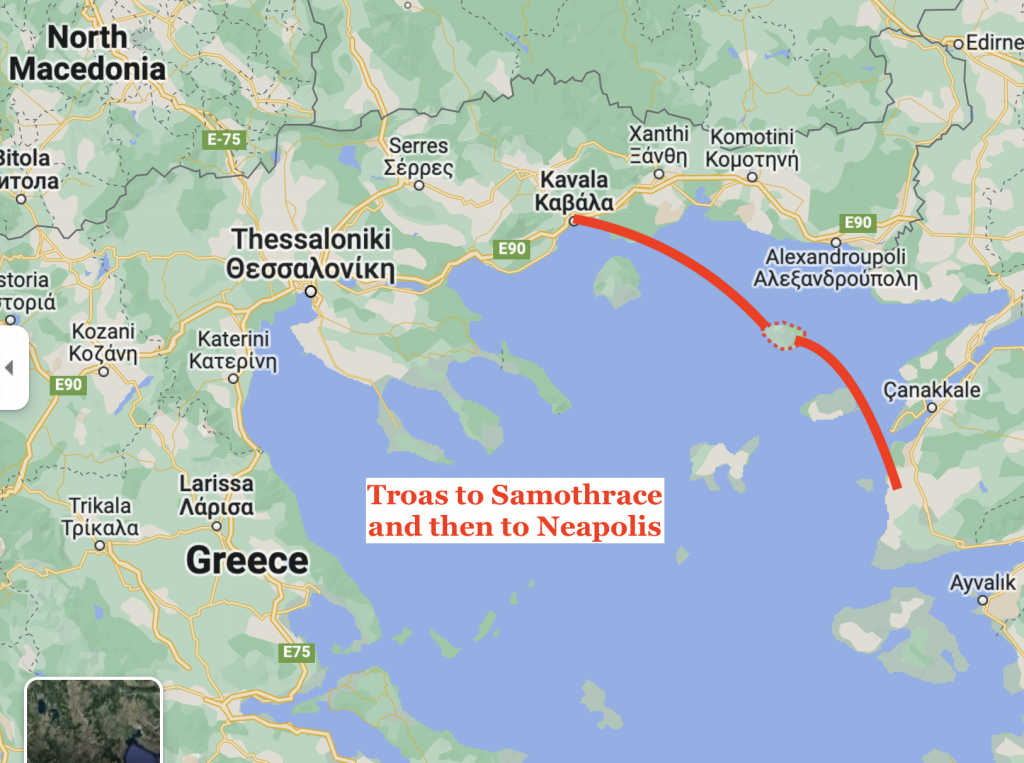 Fun travels.
Saturday, 22 April 2023
Therefore, sailing from Troas, we ran a straight course to Samothrace, and the next day came to Neapolis, Acts 16:11
Note: You can listen to today's commentary courtesy of our friends at "Bible in Ten" podcast. (Click Here to listen)
You can also read this commentary, with music, courtesy of our friends at "Discern the Bible" on YouTube. (Click Here to listen), or at Rumble (Click Here to listen).
The previous verse had the group of men, including Luke as evidenced by using "we" and "us," seeking to head to Macedonia. Next, it says, "Therefore, sailing from Troas."
Rather, the Greek more literally reads, "Having set sail, therefore, from Troas." Luke is writing as if the journey had begun at a certain time from which he will continue the narrative. From this point, it next says, "we ran a straight course to Samothrace."
Luke introduces a word to Scripture, euthudromeó. It will be seen here and in Acts 21:1. It comes from euthus, straight of direction, and dromos, to run a course. It is a nautical term where a ship sails before the wind. Having set out, the ship first arrived at Samothrace. This is to the northwest and would have been stopped at for the night before traveling on the next day. Of this location, Albert Barnes states –
"This was an island in the Aegean Sea not far from Thrace. It was populated by inhabitants from Samos and from Thrace, and hence called Samothracia. It was about 20 miles in circumference, and was an asylum for fugitives and criminals."
With that first leg noted, it next says, "and the next day came to Neapolis." The name signifies "New City." This was a maritime city of Macedonia on the Thracian coast. It was about sixty-five miles from Samothrace and about ten miles from Philippi, it being the harbor of Philippi.
Life application: Without any recorded delay, the missionaries set out for Macedonia. They were ready and willing to go when called. Today, we generally have those we report to for our jobs, whether they are for secular or religious duties. We need to be prepared to do as we are asked if it is not in violation of the word of God or the set laws of the country in which we live.
As those under the authority of another, they are relying on us to fulfill our obligations accordingly. The missionaries were under the authority of the Lord, but we are as well. The Bible says elsewhere that we are to obey the ruling authorities of those governing us (Romans 13:1) as well as our masters (today we have employers as noted in Colossians 3:22, etc.).
As the word instructs us in this manner, it lays upon us the responsibility to do so. When we do, we will be working responsibly and honoring the Lord who has so instructed us through His word.
Heavenly Father, we have authority figures over us that we are responsible to. Help us to be obedient to Your word by being obedient to them. It isn't always easy but help us in this so that we will be model citizens and employees as we live out our lives in Your presence. Amen.