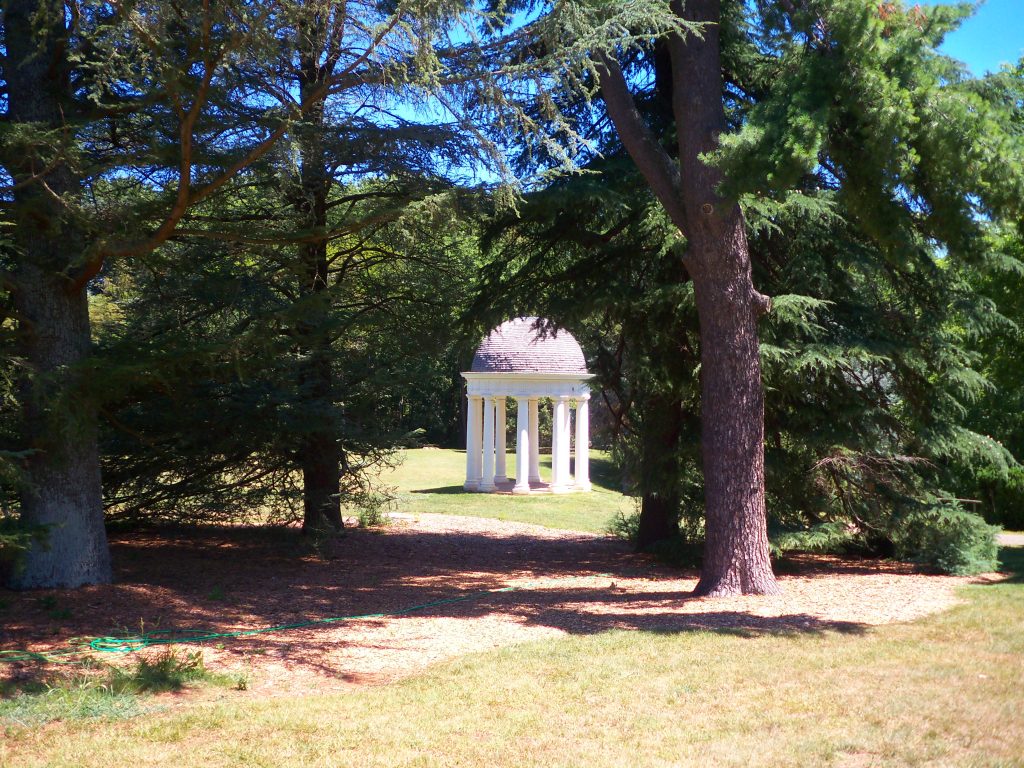 Domed thingy. Montpelier.
Friday, 7 April 2023
Now Barnabas was determined to take with them John called Mark. Acts 15:37
Note: You can listen to today's commentary courtesy of our friends at "Bible in Ten" podcast. (Click Here to listen)
You can also read this commentary, with music, courtesy of our friends at "Discern the Bible" on YouTube. (Click Here to listen), or at Rumble (Click Here to listen).
In the previous verse, Paul suggested to Barnabas that they go back and visit the brethren in all the places they had previously preached to them, desiring to see how they were doing. With that, it now says, "Now Barnabas was determined."
Using the word "determined" is agreed by many scholars to be too strong for the statement. The Greek word focuses on the planning of an action rather than the desire behind it. Thus, something like, "Now Barnabas was minded to," gives the sense.
It was his intention to take Mark. Based on what will be said in the next verse, this intention will turn into determination. But the initial act is what is being referred to here, and that intention was "to take with them John called Mark."
This is Barnabas' cousin who went with them on the first missionary journey but who then departed from the trip upon arriving at Perga in Pamphylia –
"So, being sent out by the Holy Spirit, they went down to Seleucia, and from there they sailed to Cyprus. 5 And when they arrived in Salamis, they preached the word of God in the synagogues of the Jews. They also had John as their assistant." Acts 13:4, 5
"Now when Paul and his party set sail from Paphos, they came to Perga in Pamphylia; and John, departing from them, returned to Jerusalem." Acts 13:13
This is all that was stated about John at the time. No reason was given for his departure, but the fact that he left the missionary work early will now become a source of contention between Paul and Barnabas.
Life application: Each person will find offense in different areas of life. What one might find trivial, another may find the same matter inexcusable. Some of this may be cultural, at times it may be how one is personally geared towards stress, forgiveness, honor (of self or for another), etc.
As an example of a cultural offense, one could make dinner plans with a family in Malaysia. If a time is set for 5 pm, an American will normally be ready at the scheduled time, awaiting his guests. When 5 pm comes around, and the guests don't arrive, he may be perplexed. By 6 pm, he may be worried. By 8 pm, he will consider that any chance for the dinner to come about will be gone. The food will be put away and the night will be over.
And yet, the family arrives at 9:30 pm with big smiles on their faces, ready for dinner while Andy American stands there in his night clothes wondering what has just taken place. No explanation is given by the family as to the delay. And they are as surprised at there being no food for them as the American is that they even showed up at such a late hour.
Who is in the wrong? It depends on the perspective of the one standing on either side of the door. The culturally accepted norm for an American is that when dinner is set for 5 pm, anyone showing up more than 10 minutes late and without an excuse and an apology is the offender. For a Malay, 5 pm really means 9, or 10, or even 11 pm. No excuse is needed, and no apology should ever be expected.
Paul and Barnabas will have an issue arise based on the events taking place in the verses now being analyzed. Who is right and who is wrong? What good or harm will come from what occurs? Take a broad view of what transpires and consider the matter from both sides as the words are evaluated.
Then take time to consider a similar event that may have occurred in your own life. Is there something that could have been done to avoid the outcome? Or did the outcome eventually lead to something good even though it was not a happy thing at the time?
Life is filled with events that we often cannot resolve, and which may turn out negatively. And yet, God can use them to bring about something good in another area. Think about such things and consider them. You may be surprised at what you eventually see has arisen.
Lord God, help us to consider things that occur in our lives that were either beyond our control or that we were unwilling to resolve. May we evaluate what eventually took place and try to see how You have brought something good out of what took place. When we do, we will surely find that Your guiding hand has brought about something far better than what first occurred. We know that You have a great plan that even includes our temporary failings. Thank You for Your guiding hand in all things. Amen.