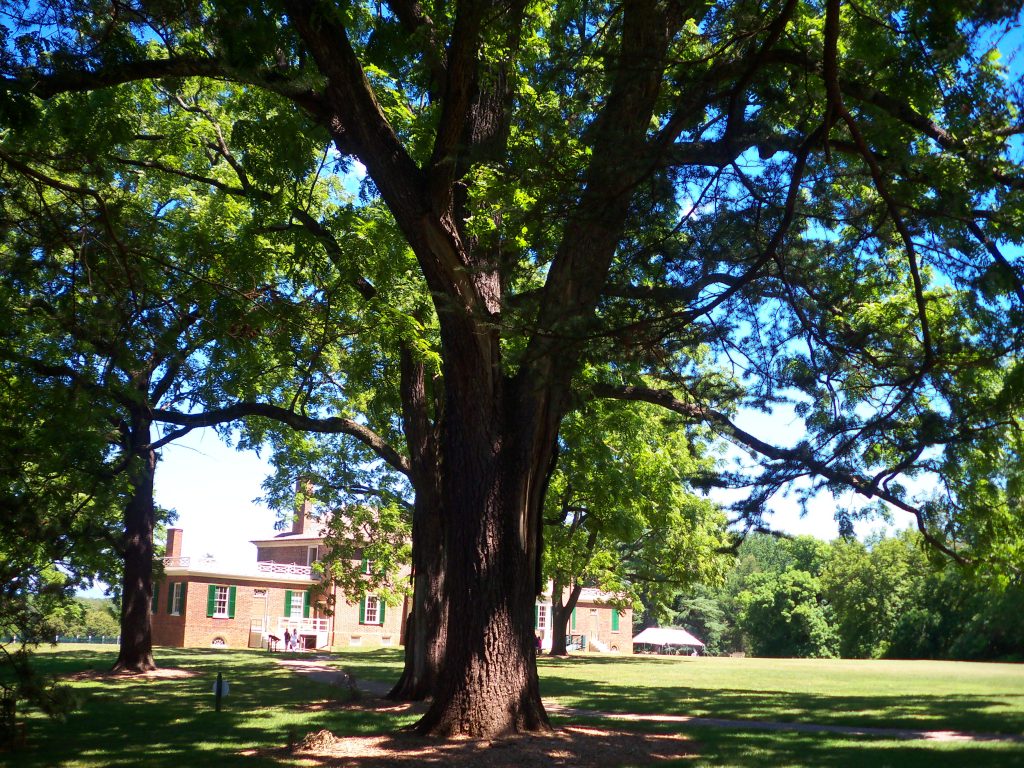 Trees and (I think) servant's quarters. Montpelier.
Thursday, 6 April 2023
Then after some days Paul said to Barnabas, "Let us now go back and visit our brethren in every city where we have preached the word of the Lord, and see how they are doing." Acts 15:36
Note: You can listen to today's commentary courtesy of our friends at "Bible in Ten" podcast. (Click Here to listen)
You can also read this commentary, with music, courtesy of our friends at "Discern the Bible" on YouTube. (Click Here to listen), or at Rumble (Click Here to listen).
The previous verse noted that Paul and Barnabas remained in Antioch, teaching and preaching the word. With them there, it next says, "Then after some days."
There is no indication of how long this is. Charles Ellicott notes, "The commonly received chronology of the Acts makes the interval between the Council of Jerusalem and St. Paul's second missionary journey somewhat more than a year." How this was determined is unknown, but it seems likely that the time is certainly more than a few months based on the word "remained" in the previous verse and "some days" in this one.
After this extended but indeterminate time, "Paul said to Barnabas." Paul is the one to initiate the idea and it is reflective of the type of man he was because he next says, "Let us now go back and visit our brethren in every city."
The Greek word is an aorist participle. Literally, "Having turned back, indeed, let us look upon our brethren in every city." Paul is concerned about those he previously evangelized wondering about their state and desiring to meet up with them again. This is all inclusive of the cities where the two of them had gone. Paul truly cared about these people and the churches that had been established among them because they were "where we have preached the word of the Lord."
Everything came back to the knowledge of Christ with Paul. It certainly burned within him that not only were converts made, but that they were living in accord with the word they had heard. To him, if their ministry were to be considered effective, it would mean that it continued to make new converts whose faith was based on the truth of the word. The Judaizers had followed along after them as they went to new locations. How much more could they infect the churches when there was a long interval without any teaching support! As such, he adds a final note, saying, "and see how they are doing."
The Greek is more succinct, "how they are." Taking the first clause and the last, the main focus of Paul is more clearly seen – "Having turned back, indeed, let us look upon our brethren in every city – how they are." He cared about the brethren who had received the word of God, and he cared about them in every city they had been to. His heart and desire were geared toward the converted lives in Christ to be established and flourishing. The thought is expressed throughout his epistles, a few examples of which are –
"For God is my witness, whom I serve with my spirit in the gospel of His Son, that without ceasing I make mention of you always in my prayers, 10 making request if, by some means, now at last I may find a way in the will of God to come to you. 11 For I long to see you, that I may impart to you some spiritual gift, so that you may be established— 12 that is, that I may be encouraged together with you by the mutual faith both of you and me." Romans 1:9-12
"…besides the other things, what comes upon me daily: my deep concern for all the churches." 2 Corinthians 11:28
"Therefore I also, after I heard of your faith in the Lord Jesus and your love for all the saints, 16 do not cease to give thanks for you, making mention of you in my prayers: 17 that the God of our Lord Jesus Christ, the Father of glory, may give to you the spirit of wisdom and revelation in the knowledge of Him, 18 the eyes of your understanding being enlightened; that you may know what is the hope of His calling, what are the riches of the glory of His inheritance in the saints." Ephesians 1:15-18
"I thank my God upon every remembrance of you, 4 always in every prayer of mine making request for you all with joy, 5 for your fellowship in the gospel from the first day until now, 6 being confident of this very thing, that He who has begun a good work in you will complete it until the day of Jesus Christ." Philippians 1:3-6
These, and other such verses, reveal the caring nature of Paul. He was not just an evangelist who passed through with the gospel. Rather, for those who heard and accepted it, he became a father to his children, a teacher, and a mentor. The connection to those he preached to remained, even after he had physically departed from them.
Life application: It is the job of an evangelist to evangelize. There is nothing wrong with a person sharing the gospel and moving on. Likewise, there are those who are geared toward remaining in the same place and who preach and teach, even if they have never gone out to evangelize the community in which they live.
There are those who establish a church, pass the reins on to another, and move on to establish another new church. There is nothing wrong with any of these approaches. We have all been given certain abilities that can be used to glorify God. Paul did all three of these examples just mentioned and so much more. Even if we don't do all of the things Paul did, we can still do our part and learn from his example. Above all else, the things he did were intended to glorify God through Jesus Christ.
If we can make that the main focus of what we do, our time will be well spent, even if it is simply checking people out at the grocery counter, fixing someone's plumbing, or writing out insurance policies. Whatever we do, it should become evident to those we encounter that we are people of integrity and caring because we are people in Christ. Let us have this attitude in all we do.
Lord God, may our lives be used as instruments of honor to the name of Jesus Christ our Lord. Help us to be willing to live in a manner that others can see the difference in us and want to know why we possess the joy that is in us. May it be so, to Your glory. Amen.