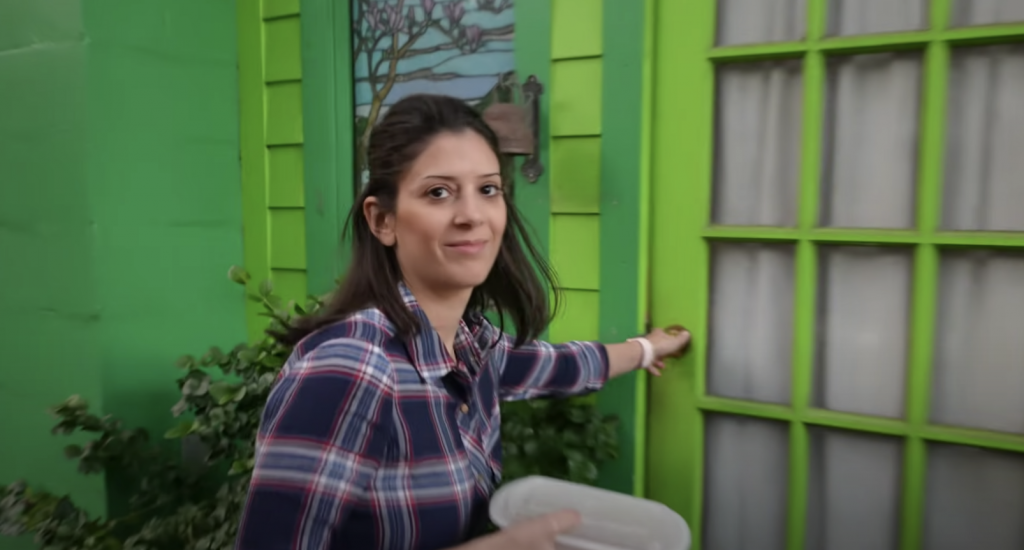 It's true! Here, I will show you. He's there!
Thursday, 1 December 2022
But they said to her, "You are beside yourself!" Yet she kept insisting that it was so. So they said, "It is his angel." Acts 12:15
Note: You can listen to today's commentary courtesy of our friends at "Bible in Ten" podcast. (Click Here to listen)
You can also read this commentary, with music, courtesy of our friends at "Discern the Bible" on YouTube. (Click Here to listen), or at Rumble (Click Here to listen).
Rhoda ran into the house and announced that Peter was outside. Now, Luke records the surprised gathering's response, saying, "But they said to her, 'You are beside yourself!'" The Greek implies someone who is crazy, which is exactly how we would state this today, "You're crazy."
The word is a verb, mainomai. One can see the root of the word maniac and mania. To get the sense of its meaning, it is also used twice in Acts 26 along with its cognate noun mania, signifying insanity –
"Now as he thus made his defense, Festus said with a loud voice, 'Paul, you are beside yourself! Much learning is driving you mad [insanity]!'
25 But he said, 'I am not mad, most noble Festus, but speak the words of truth and reason.'"
Hearing Rhoda's words, this is the only thing they could conclude. Otherwise, why didn't she just let him in when she went to the door? Despite their dismissal of her claim, Luke next records, "Yet she kept insisting that it was so."
Rather than "kept insisting," the word signifies confidence and more appropriately reads, "Yet she confidently affirmed." She was adamant that the person's voice was surely that of Peter. In response to this, and probably to rib her a little, we read, "So they said, 'It is his angel.'"
This may be a claim based on what is said in Hebrews 1:14 when referring to angels –
"Are they not all ministering spirits sent forth to minister for those who will inherit salvation?"
However, there is no reason to assume that those speaking to Rhoda actually believed that Peter's angel would come knocking at the door. It seems that they are poking fun at her because of her adamant affirmation that it was really Peter at the door.
Life application: While the debate as to whether Peter was standing at the door and knocking to come in was going on, Peter was… well, he was standing at the door. The simplest method of determining what the truth of the matter was would be to go to the door and open it.
Likewise, Jesus told the church of Laodicea that He stood at the door and was knocking –
"Behold, I stand at the door and knock. If anyone hears My voice and opens the door, I will come in to him and dine with him, and he with Me." Revelation 3:20
What is He talking about? He is noting that the person on the inside is not only given a knock to alert him that someone is outside, but this person has also been explicitly told who is outside. And more, Jesus is speaking about an individual as opposed to the entire church. While the church may be lost, the person can still be saved. In other words, the Lord is using these metaphors to relay a truth.
God wants fellowship with someone who has failed to come to Him. He initiates the action, alerting him that He is there, and He then identifies Himself so that there can be no doubt about who He is. When the heart of the person is willing, he opens the door – meaning he allows the Lord in. The terminology is simple and explicit.
Further, it shows the simplicity of the process. Opening a door takes little effort. The action occurs and the fellowship is realized. Faith is the key. When a favorable response is made, and the door is opened, the Lord then says that He will come in to him and dine with him. The words clearly demonstrate that the Calvinistic doctrine of "irresistible grace" is false. God does not regenerate people in order to believe, causing them to believe, which then saves them. That is not only an illogical doctrine, but also unbiblical.
Instead, when the response is favorable and the door is opened, the Lord promises that He will dine with that person. The imagery here is that of close fellowship and intimacy. To dine with someone brings a state of closeness that is almost unmatched in human experience. To further bolster this, Jesus notes that the person will also dine with Him.
In this, there is the idea of intimacy and fellowship that the Lord is conveying. It is something only possible with the Lord through receiving Christ, allowing Him into one's heart. The words in Revelation speak beautifully of the transmission of the gospel to a dead church. Who will respond?
Although it is fashionable to belittle those who say, "Christ is knocking on the door of your heart," this is the exact symbolism that is being conveyed. Christ initiated the process, He identifies Himself through the message, and if a response is made, salvation is realized.
But the point is that someone must convey this message to the person. Rhoda is trying to tell those inside that Peter is at the door. We need to tell others that Jesus is awaiting our response. Be sure to tell people that He is there, right there at the door. It will be up to them after that, but your job is to ensure they at least know this wonderful news.
Lord God, give us the strong desire to tell the good news about Jesus. Time is passing quickly, and our days are short. So, Lord, may we be willing to tell of this wonderful news of salvation while there is time. Yes, may it be so. Amen.