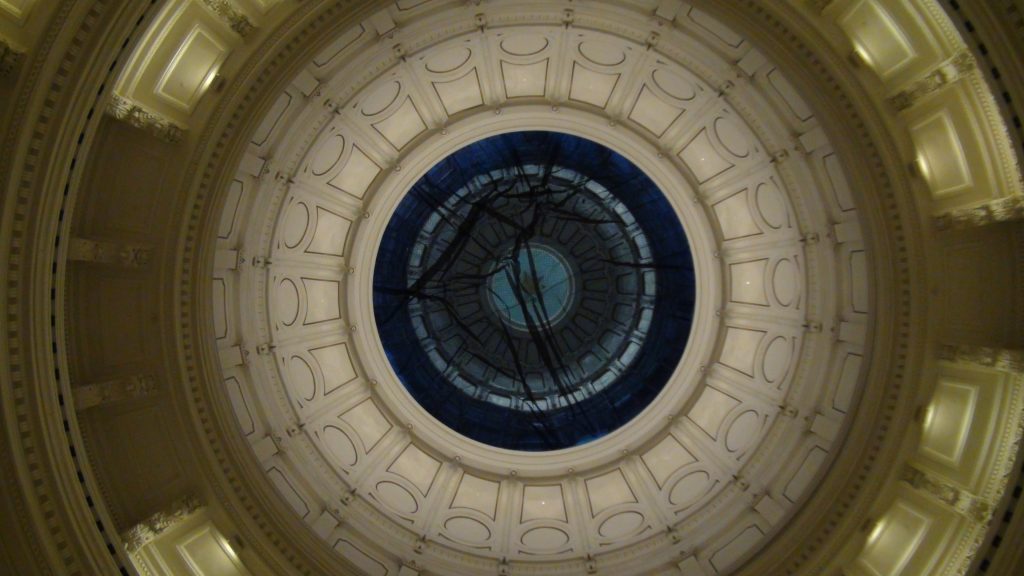 Looking up inside capitol dome. San Antonio, Texas.
Wednesday, 1 June 2022
and said, "Look! I see the heavens opened and the Son of Man standing at the right hand of God!" Acts 7:56
Note: You can listen to today's commentary courtesy of our friends at "Bible in Ten" podcast. (Click Here to listen)
You can also read this commentary, with music, courtesy of our friends at "Discern the Bible" on YouTube. (Click Here to listen), or at Rumble (Click Here to listen).
The previous verse contained Luke's words describing the situation surrounding Stephen. This verse now describes Stephen's own words about that situation. When taken together, they read –
"But he, being full of the Holy Spirit, gazed into heaven and saw the glory of God, and Jesus standing at the right hand of God, 56 and said, 'Look! I see the heavens opened and the Son of Man standing at the right hand of God!'" Acts 755, 56
It is Stephen who saw the glory of God, and Jesus standing at his right hand. With that vision, he exclaimed, "Look!"
The word can be variously translated depending on the surrounding words, but in this instance, it signifies "Behold!" His eyes so clearly saw the vision before him that he must have felt certain everyone else could see it as well, if they just directed their eyes in the same direction. To help them along, he then called out, "I see the heavens opened."
It was as if what he was looking at was right in front of him. There is no doubt that what he saw was as real as the council members he had been speaking to. And yet, only he would have had the vision. The door to this otherwise unseen realm had been opened wide for him to behold. With this heavenly sight before him, he then says, "and the Son of Man standing."
This is a term frequently used by Jesus when speaking of Himself. It is most commonly used in the books of Matthew and Luke, but all four gospels use it frequently. And yet, despite it being so commonly spoken by Jesus concerning Himself, this is the only time that the exact term is used outside of the gospels.
In Revelation, John uses the term twice without the article (a Son of Man rather than the Son of Man). Hebrews uses the term in a general way when citing the psalms as well. The term "the Son of Man" speaks more of Jesus' deity than His humanity, even though it refers to His humanity. In other words, it is a way of saying that despite Him being a human being, He is also fully God.
Hence, this is the reason for Stephen's proclamation now. He is telling the council just what Jesus had told them on the night before they crucified Him –
"'Hereafter the Son of Man will sit on the right hand of the power of God.'
70 Then they all said, 'Are You then the Son of God?'
So He said to them, 'You rightly say that I am.'
71 And they said, 'What further testimony do we need? For we have heard it ourselves from His own mouth.'" Luke 22:69-71
The council understood perfectly what Jesus was saying. In claiming that He was the Son of Man, they took it to mean that He is the Son of God – deity. The reference came from their own Scriptures –
"I was watching in the night visions,
And behold, One like the Son of Man,
Coming with the clouds of heaven!
He came to the Ancient of Days,
And they brought Him near before Him.
14 Then to Him was given dominion and glory and a kingdom,
That all peoples, nations, and languages should serve Him.
His dominion is an everlasting dominion,
Which shall not pass away,
And His kingdom the one
Which shall not be destroyed." Daniel 7:13, 14
Stephen now confirms this to the council, implying that the Man whom they crucified is also the Lord their God, and He now stood in a vision before Stephen "at the right hand of God!"
As noted in the previous commentary, God does not have parts. To say Jesus is at the right hand of God is to say that He is God, with all of His authority, position, and power. The Creator of all things, the One who breathed life into man, the Lord who spoke forth the law at Mount Sinai. And the Son of Man named Jesus, who this council had betrayed and sentenced to His death, is the Risen Messiah who stood from His position of authority to greet the man who would be His first of many martyrs.
Life application: As noted in the previous commentary, the care of the Lord Jesus for His people is wholly and perfectly evident in His standing up to receive Stephen's martyrdom. Stephen faithfully witnessed to what he knew was true, and he was willing to boldly speak out his words despite whatever the council would decide to do to him.
Are we willing to do the same for the witness of Jesus? How sure are you of your faith in Christ? And how capable are you of telling others about Him? If you received the gospel and were saved, was your life changed? That is a witness all by itself. It is something that testifies to the power of the gospel message.
And what about explaining the weightier matters of your faith? Can you accurately tell people why you believe Jesus is God? Can you explain difficult verses that people use against that notion? Stephen believed with all of his being that Jesus is God. He could not have said what he said otherwise.
Be ready to defend your faith. Be ready to tell others about the wonder that Jesus has brought about in your own life. And be ready to do so even if it will cost you your life. Your faithfulness will receive a full reward when you are brought before this wonderful, tender, caring Savior. He is Jesus.
Lord God, what a sure and blessed hope we possess! Thank You that our faith in Jesus is not dubious or unexplainable. We have a certain hope, and it is one that can be explained to any person, in any culture, and of any language. The gospel has a universal application because it speaks to the very heart of man. Thank You for this wonderful message of hope and reconciliation. Amen.