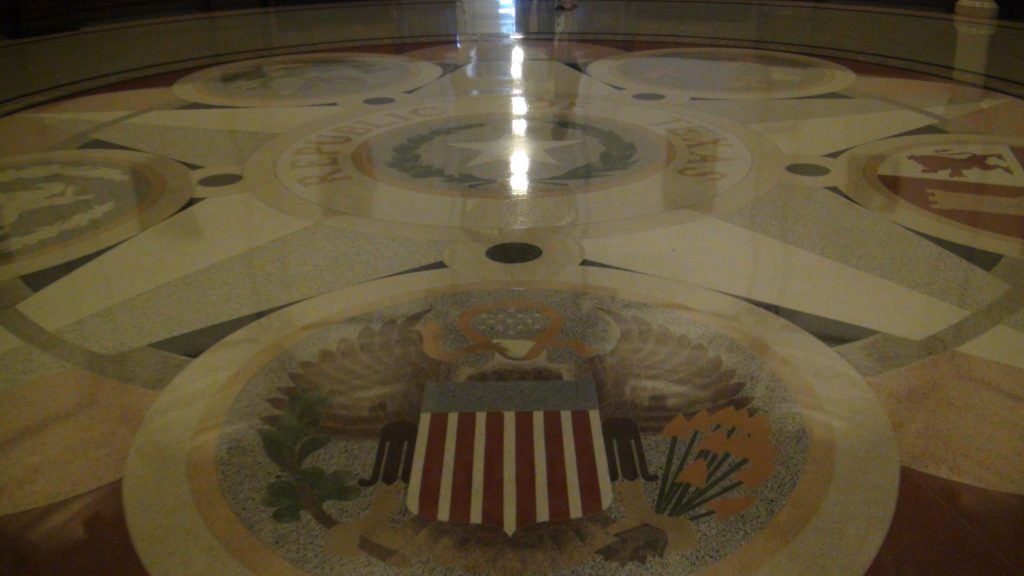 Floor seal under dome of Texas state capitol.
Tuesday, 31 May 2022
But he, being full of the Holy Spirit, gazed into heaven and saw the glory of God, and Jesus standing at the right hand of God, Acts 7:55
Note: You can listen to today's commentary courtesy of our friends at "Bible in Ten" podcast. (Click Here to listen)
You can also read this commentary, with music, courtesy of our friends at "Discern the Bible" on YouTube. (Click Here to listen), or at Rumble (Click Here to listen).
The words of the previous verse said that upon hearing the words of Stephen, those who heard them "were cut to the heart, and they gnashed at him with their teeth." With that said, Luke next notes, "But he."
It is referring to Stephen. He is set in contrast to those who were like enraged animals snarling at him. Instead, it says of him, "being full of the Holy Spirit."
This was just as promised by Jesus. First, it is a reminder that everything Stephen had said has been under the influence of the Spirit and in accord with His intents –
"Now when they bring you to the synagogues and magistrates and authorities, do not worry about how or what you should answer, or what you should say. 12 For the Holy Spirit will teach you in that very hour what you ought to say." Luke 12:11, 12
Also, it is an indication that Stephen was covered in the peace that can only come from being filled with the Holy Spirit –
"But the Helper, the Holy Spirit, whom the Father will send in My name, He will teach you all things, and bring to your remembrance all things that I said to you. 27 Peace I leave with you, My peace I give to you; not as the world gives do I give to you. Let not your heart be troubled, neither let it be afraid." John 14:26, 27
As this is so, it also confirms that this council of leaders did not have the Holy Spirit to guide them. Instead, they stood as enemies of God because of their rejection of Christ. Stephen had said, "You always resist the Holy Spirit" (Acts 7:51). This truth is borne out in the filling of Stephen, of whose words they rejected. As Jesus said –
"If you love Me, keep My commandments. 16 And I will pray the Father, and He will give you another Helper, that He may abide with you forever— 17 the Spirit of truth, whom the world cannot receive, because it neither sees Him nor knows Him; but you know Him, for He dwells with you and will be in you. 18 I will not leave you orphans; I will come to you." John 14:15-18
Next, in this state of being filled with the Holy Spirit, Luke says that Stephen "gazed into heaven." It is the natural reaction of someone who is at his wit's end. As humans, we may look away from something in disgust, we may look down in dejection, or we may look to heaven in hope of relief or to refocus our thoughts on higher things. It is the state that David wrote about –
"My voice You shall hear in the morning, O Lord;
In the morning I will direct it to You,
And I will look up." Psalm 5:3
Stephen, finding no reassurance in the reaction from the council, lifted his eyes unto heaven "and saw the glory of God."
It is the hope of the human soul. We look to heaven in hopes of discernment, relief, and stabilization of our thoughts, but we do so not really expecting to see anything but the roof of the building we are in or the expanse of the sky under which we stand. However, Stephen was given the relief for his soul that countless others of the past had hoped to find –
"Unto You I lift up my eyes,
O You who dwell in the heavens.
2 Behold, as the eyes of servants look to the hand of their masters,
As the eyes of a maid to the hand of her mistress,
So our eyes look to the Lord our God,
Until He has mercy on us.
3 Have mercy on us, O Lord, have mercy on us!
For we are exceedingly filled with contempt.
4 Our soul is exceedingly filled
With the scorn of those who are at ease,
With the contempt of the proud." Psalm 123
In his looking up and beholding the glory of God, we are then given an insight into the exaltation of the Lord Jesus through what Stephen saw. Luke records that he saw the glory of God "and Jesus standing at the right hand of God."
Several key points can be determined from this. One is that seeing the glory of God does not mean that a person has seen God. Both Paul and John confirm this –
"I urge you in the sight of God who gives life to all things, and before Christ Jesus who witnessed the good confession before Pontius Pilate, 14 that you keep this commandment without spot, blameless until our Lord Jesus Christ's appearing, 15 which He will manifest in His own time, He who is the blessed and only Potentate, the King of kings and Lord of lords, 16 who alone has immortality, dwelling in unapproachable light, whom no man has seen or can see, to whom be honor and everlasting power. Amen." 1 Timothy 6:13-16
"No one has seen God at any time. If we love one another, God abides in us, and His love has been perfected in us." 1 John 4:12
Stephen saw the glory that let him know that God is there, even if He cannot be seen. Another point we can learn from this is one that has already been revealed earlier in Acts where Peter said, "Therefore being exalted to the right hand of God, and having received from the Father the promise of the Holy Spirit, He poured out this which you now see and hear" (Acts 2:33).
To be at the right hand is not a physical location. God does not have parts. Rather, it signifies being at the position of all power and authority. It is a confirmation of the deity of Jesus. He is the physical manifestation of who God is. Through Him, the unseen God becomes knowable and understandable.
Thirdly, it says that this Jesus, who appears in the position of authority and power as He dwells in the glory of God, is standing. Acts has already said that Jesus is seated at the right hand of God (Acts 2:34). It is also recorded several times in the gospels, in Ephesians, and in Hebrews. This then reveals to us that a change has taken place. A potentate will sit on his throne as a sign of rule and authority. For him to rise to a standing position will signify the bestowal of an honor, such as the knighting of a person or the crowning of an authority figure under him. It may even occur as a sign of welcoming someone to whom the king is intimately connected –
"Bathsheba therefore went to King Solomon, to speak to him for Adonijah. And the king rose up to meet her and bowed down to her, and sat down on his throne and had a throne set for the king's mother; so she sat at his right hand." 1 Kings 2:19
Jesus, who is at the position of all authority and power, sitting at the right hand of God while dwelling in His glory, arose. It is a sign of welcoming family, of the closest friendship, and of honoring His subordinate. It is to confer a crown – the crown of life – upon him, and to welcome him into his new home. It is the mark of honor to the person whom Scripture will reveal is the church's first martyr.
Life application: If any set of verses in Scripture shows us the affection of the Lord for His people, it is these verses concerning the coming death of Stephen. The Lord rose to acknowledge the one who would be His first recorded martyr. He will rise again someday when the last saint of the church age is brought into the number to be saved. At that moment, the call will go forth, and the church will be brought to Him.
Jesus is aware of every single person who is His. The deaths of His saints are not only known to Him, but they are being carefully recorded and tallied. Each brings us one count closer to the moment that our faith in Him has promised will come –
"For the Lord Himself will descend from heaven with a shout, with the voice of an archangel, and with the trumpet of God. And the dead in Christ will rise first. 17 Then we who are alive and remain shall be caught up together with them in the clouds to meet the Lord in the air. And thus we shall always be with the Lord. 18 Therefore comfort one another with these words." 1 Thessalonians 4:16-18
For the Lord to descend from heaven, He must first arise from the place of His sitting. Arise, Lord! Come for Your people. Even so, come, Lord Jesus.
Heavenly Father, You have sent Your Son to complete a mission and to call Him back to Your throne in heaven. But someday, He will arise from that throne to gather His people together. We long for that day, and may it be soon. Until then, give us patience as we live out our lives in hopeful anticipation of that glorious day. Amen.