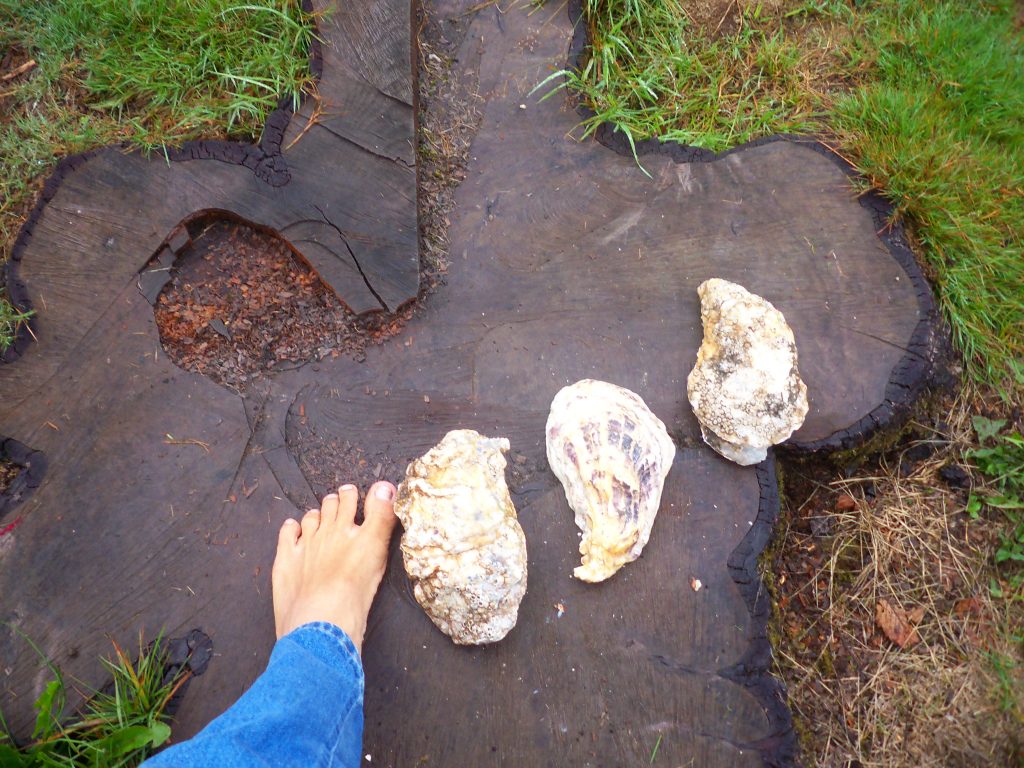 Them are some whopping oysters.
Sunday, 7 May 2023
 Suddenly there was a great earthquake, so that the foundations of the prison were shaken; and immediately all the doors were opened and everyone's chains were loosed. Acts 16:26
Note: You can listen to today's commentary courtesy of our friends at "Bible in Ten" podcast. (Click Here to listen)
You can also read this commentary, with music, courtesy of our friends at "Discern the Bible" on YouTube. (Click Here to listen), or at Rumble (Click Here to listen).
It was about midnight in the prison while Paul and Silas were praying, singing hymns of praise to God, as the other prisoners were listening to them. With that, it next says, "Suddenly there was a great earthquake."
Comments from scholars are divided on whether the earthquake was a divine occurrence or not. For example, the Jamieson-Fausset-Brown Commentary says of this event, "in answer, doubtless, to the prayers and expectations of the sufferers that, for the truth's sake and the honor of their Lord, some interposition would take place."
That actually makes no sense at all. Nothing was said of expectations from prayer. They were sitting in prison and singing to God. There isn't even a hint of anything like, "O God, get us out of here," or "Vindicate your servants, O God."
Earthquakes happen. They are a part of the natural cycle of things, and one simply occurred at a time when the Lord knew Paul and Silas would be in prison. Further, if release from prison is what they were praying for, then the events of the coming verses would not have taken place.
As for the coming of the earthquake, Luke continues with, "so that the foundations of the prison were shaken."
The point of these words is to show that this was not like the event that occurred in Acts 4:31 –
"And when they had prayed, the place where they were assembled together was shaken; and they were all filled with the Holy Spirit, and they spoke the word of God with boldness."
The event in Acts 4 was a localized occurrence and a sign to those in the house that God had heard and responded. The event in Acts 16 is a major earthquake that affected everything in the area. It shook up the very foundations of the prison. To assume that God had decided to send a cataclysmic earthquake to simply respond to the prayers of Paul and Silas would be no different than someone making the same claim today.
In other words, if an earthquake or other natural disaster affects an entire city, there will naturally be some seemingly miraculous events that take place. Within the past few months before typing this commentary, there was a massive earthquake in Turkey and the news was filled with such reports. As for the shaking of the prison, that leads to Luke's next words, "and immediately all the doors were opened."
In such a large quake, this would not be unheard of. As the foundations of the earth are moved, those things dependent on the foundations, such as doors, walls, etc., will be affected as well. Things became unhinged, loosened, and shaken free. This is what happened with the prison where Paul and Silas were held. Along with that, Luke next says, "and everyone's chains were loosed."
Depending on how the prison was set up, this is also not at all improbable. When one thing got out of place, anything connected to it may have also been affected. If the chains were attached to bolts set into the floor in a row, the floor would be weakened in a line where they were set. This is how stones are often cut into slabs. By drilling holes in a straight line and then exerting pressure in those holes, slabs are broken off. Likewise, in an earthquake, such a straight line of bolts could easily cause the floor to crack, releasing the bolts and thus the chains.
This is all speculation, but it is given to show that what occurred is not at all impossible. Of these events, Albert Barnes says, "The design of this was, doubtless, to furnish them proof of the presence and protection of God, and to provide a way for them to escape."
Again, this is really a stretch, especially considering what transpires in the coming verses. The miracle was not that there was an earthquake. However, it was certainly propitious and known to God that Paul and Silas would be in this prison when there was an earthquake. By using the two events that have aligned in this manner, God will be glorified through what transpires.
Life application: Natural disasters happen all the time. They come in the form of tornadoes, earthquakes, hurricanes, volcanoes, plagues, and more. In the recent earthquake in Turkey, dozens of seemingly miraculous events took place. People were saved under falling buildings, having just enough room to survive until rescuers could come. One guy, Hakan Yasinoglu, survived 278 hours before being rescued. Many such reports came out in the news.
This is true with natural disasters in countries all over the world. People are spared, and the reasons may be as simple as time and chance (Ecclesiastes 9:11). What we as Christians do with what happens is what is important. Paul and Silas will be faced with choices in their sudden release, and they will respond in the manner that is most appropriate to the situation.
Will we glorify God for our being spared? Like all events that happen in our lives, we are asked to be people of faith. When propitious events take place, we should glorify God for them. When disaster occurs, we should glorify God through it. We have lives to live. Let us live them in the constant awareness that we belong to the Lord and that whether through life or death, He is directing our steps.
Lord God, we cannot know why things happen as they do, but we can be faithful through whatever occurs, thanking You, praising You, or calling out in our mourning to You. Help us to always remember You as the events of our lives unfold. May it be so. Amen.