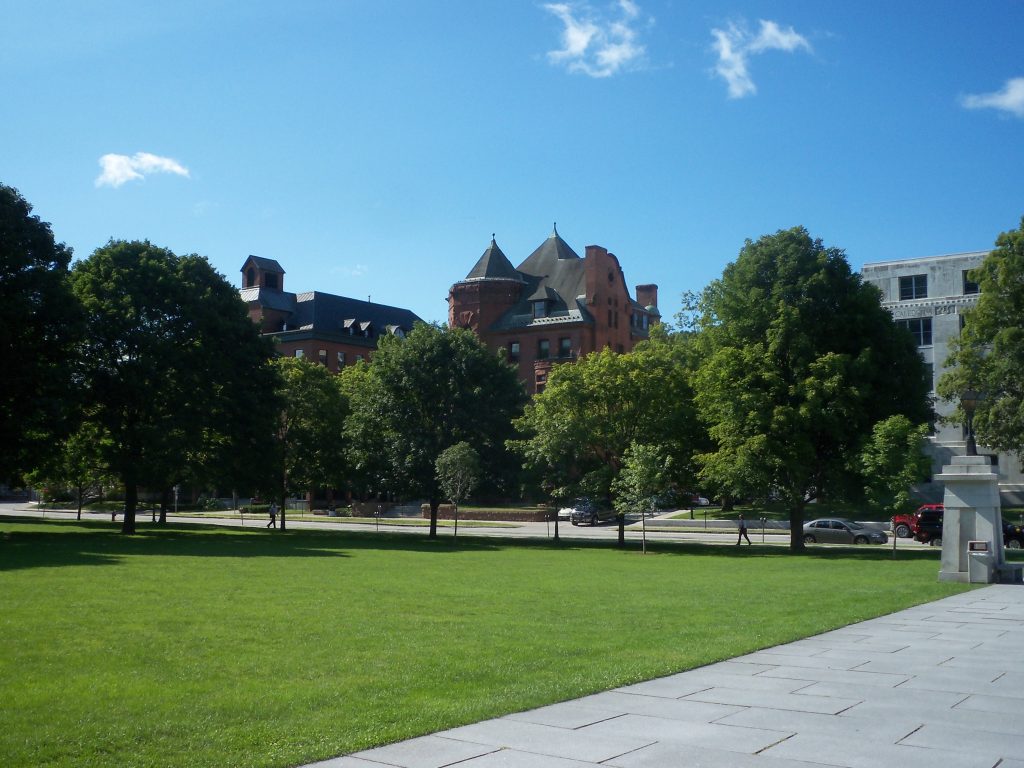 Interesting architecture across from the Vermont capitol building.
Sunday, 4 December 2022 
Then, as soon as it was day, there was no small stir among the soldiers about what had become of Peter. Acts 12:18
Note: You can listen to today's commentary courtesy of our friends at "Bible in Ten" podcast. (Click Here to listen)
You can also read this commentary, with music, courtesy of our friends at "Discern the Bible" on YouTube. (Click Here to listen), or at Rumble (Click Here to listen).
In the previous verse, Peter declared all that had occurred in bringing him out of prison. He then left the church house and departed to another place. Now, the narrative turns to events back at the prison, beginning with, "Then, as soon as it was day."
It is unknown how long it was from the time of Peter's being freed until the day came. All it said was that during the night Peter was sleeping when the angel came to deliver him. One would think if it was early morning, just before dawn, Luke would have stated this. Depending upon the times set for each watch, the guards may have been changed at midnight or three am. And so, it can be guessed that maybe Peter had several hours before the day came. All that is certain is that at daybreak "there was no small stir among the soldiers."
Imagine the chaos, the fear, the possible accusations, and so on that came upon the soldiers. Allowing a prisoner to escape was punishable even up to death, and that death would not be long coming. As such, there would be the greatest consternation "about what had become of Peter."
He was there in the cell. He was shackled. He was between two soldiers. Outside the cell were more soldiers guarding the door. That was followed by a second guard post and then an iron gate. The impossibility of an escape would have left those inside absolutely stunned at not finding him. And yet, he was not to be found.
Life application: Imagine you are suddenly facing the prospect of death within mere moments. If death was the penalty, these guards would probably not leave the prison before being executed. What if you were suddenly taken captive in a restaurant and the gunmen were executing everyone? What if you were on a ship that was sinking far out at sea, and you had only moments to live? What if you were in Hawaii and a volcano erupted, with lava completely encircling you and coming closer by the minute?
We have no idea about the future. Despite our attempts at controlling the events around us, there is no reason to assume we will be alive in an hour. All we have is the anticipated hope that it will be so. If the knowledge that our time is now up arrives, what will be our final thoughts? "I shouldn't have yelled at the children last night." "I wish I could have told dad I loved him." "I wish I had talked more about Jesus to those around me."
We cannot control every instance that arises, but we can be attentive to seeking peace with those around us. When we depart for work in the morning, we should be good to those we are leaving, just in case our time has expired. We should also attempt to be somewhat prepared for what will happen to our property and money. Otherwise, it could cause even more trouble for those we would otherwise want to spare such grief.
Time is fleeting, and our final moments shouldn't be filled with regret. So, from time to time, make a mental note to press yourself to do what is necessary to keep that regret from setting in, just in case. Above all, be sure to redeem the time and tell those around you about Jesus. You may be the one influence in their lives that can make an eternal difference in what happens to them.
O God, we can't be sure of even the next few moments of our lives. And so, Lord, as we continue on, help us to be about Your business. Help us to remember to tell those around us the good news that this temporary and futile life can be replaced with something eternal and joy-filled if only Jesus is included. Whenever our end comes, may it be with the knowledge that we did what we could to share this good news. Amen.