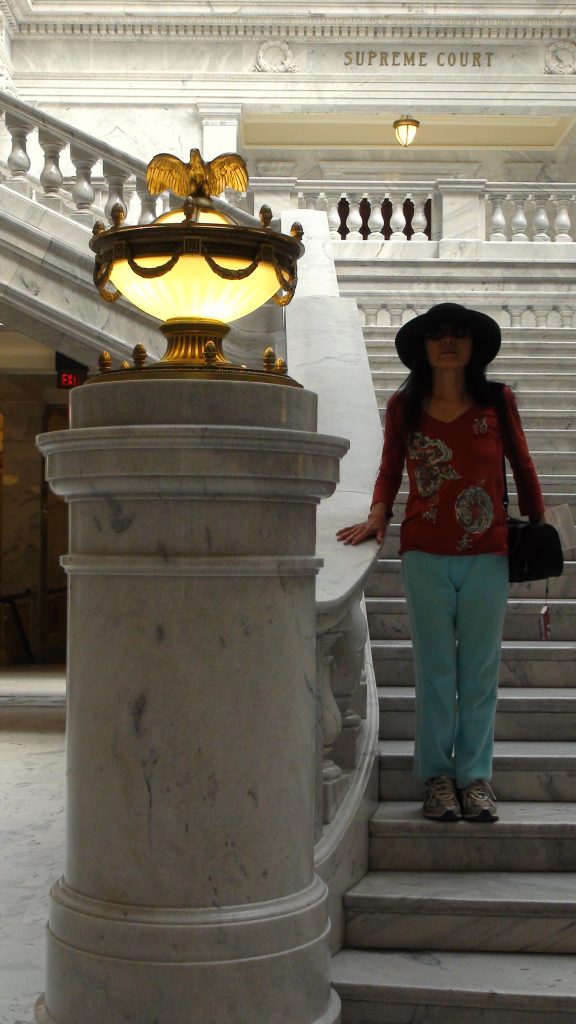 Special visitor outside of Utah Supreme Court.
Saturday, 8 October 2022
And we are witnesses of all things which He did both in the land of the Jews and in Jerusalem, whom they killed by hanging on a tree. Acts 10:39
Note: You can listen to today's commentary courtesy of our friends at "Bible in Ten" podcast. (Click Here to listen)
You can also read this commentary, with music, courtesy of our friends at "Discern the Bible" on YouTube. (Click Here to listen), or at Rumble (Click Here to listen).
The presentation concerning Jesus Christ by Peter to Cornelius continues with these words, saying, "And we are witnesses of all things."
Peter explains that those who were with Jesus now stand as witnesses to the events that occurred. This was what was stated by Jesus just prior to His ascension –
"But you shall receive power when the Holy Spirit has come upon you; and you shall be witnesses to Me in Jerusalem, and in all Judea and Samaria, and to the end of the earth." Acts 1:8
This is also a part of Paul's presentation of the gospel, noting it as a confirmation of the events that occurred –
"For I delivered to you first of all that which I also received: that Christ died for our sins according to the Scriptures, 4 and that He was buried, and that He rose again the third day according to the Scriptures, 5 and that He was seen by Cephas, then by the twelve. 6 After that He was seen by over five hundred brethren at once, of whom the greater part remain to the present, but some have fallen asleep. 7 After that He was seen by James, then by all the apostles. 8 Then last of all He was seen by me also, as by one born out of due time." 1 Corinthians 15:3-8
Peter acknowledges this fact to support his words concerning the life and work accomplished by the Lord. With that noted, he continues, saying, "which He did both in the land of the Jews and in Jerusalem."
The point of stating this is that Jesus' ministry clearly fulfilled the messianic expectation of the Jewish people. Peter was a Galilean and a large portion of Jesus' ministry, as recorded in the synoptic gospels, is focused on the area of Galilee. John's gospel gave a much greater amount of detail in the land of Judea and especially in Jerusalem.
Despite having been clearly presented to the Jewish people as their Messiah, they rejected Him. As Peter says, "whom they killed by hanging on a tree." The second verb is an aorist participle, and the clause more correctly reads, "whom they killed, having hanged upon a tree."
Two technical points about this clause should be noted. The first is that the KJV unjustifiably adds in the word "and," saying, "whom they slew and hanged on a tree." That causes it to read as two separate actions, something that is not supported by the text, nor by the gospels. However, some older manuscripts (and thus some translations) have the word "and" prior to the two actions, saying, "And they also put Him to death by hanging Him on a cross" (NASB 1977). In this, an increased force is placed upon the entire clause. As Vincent's Word Studies says, "They added this crowning atrocity to other persecutions."
In this, the KJV is to be wholly rejected as a failed translation, but the NASB and other such translations are quite possibly the correct renderings of the clause, assuming the Greek text they use is the original.
The point of either Greek text is quite clear though. Jesus was anointed by God with the Holy Spirit and with power. He went about doing good and healing all who were oppressed by the devil. There were sufficient witnesses concerning Him and His deeds in the land of the Jews and in Jerusalem to testify to the people of His rightful claim to being the Messiah. And yet, despite these things, they killed Him by hanging Him on a tree.
Peter has not yet explained what Jesus' death signifies, but he has stated it as a fact. If the account were to end there, Cornelius would have to say, "What a sad story. Another failed Messiah." But this is not the end of Peter's discourse. More is to come.
Life application: Crucifixion is how Jesus was killed. He did not die as the kings whom Israel fought in the book of Joshua. At times in that book, it says that they were put to death and then hanged. For example –
"And afterward Joshua struck them and killed them, and hanged them on five trees; and they were hanging on the trees until evening." Joshua 10:26
In Jesus' case, He died while being hanged on a cross. It is the instrument of His death. In that death, He fulfilled the final portion of the law and the prophets, setting it aside and ushering in the New Covenant. It is for this reason that Paul says –
"But God forbid that I should boast except in the cross of our Lord Jesus Christ, by whom the world has been crucified to me, and I to the world." Galatians 6:14
The cross death of Jesus was considered a shameful death. And yet, Paul says that it is his only point of boasting for righteousness. Let us consider that and remember it as we interact with others. We should be willing to bear the disgrace of Jesus' death so that others may bear the glory of His resurrection. May it be so today and always in our lives.
Lord God, surely the story of the cross of Jesus is the most wonderful story of all. Thank You for what transpired there and what it means to the people of the world. Today, we pray that we will be able to properly represent our Lord Jesus in all we say and do. Help us in this, O God. Amen.