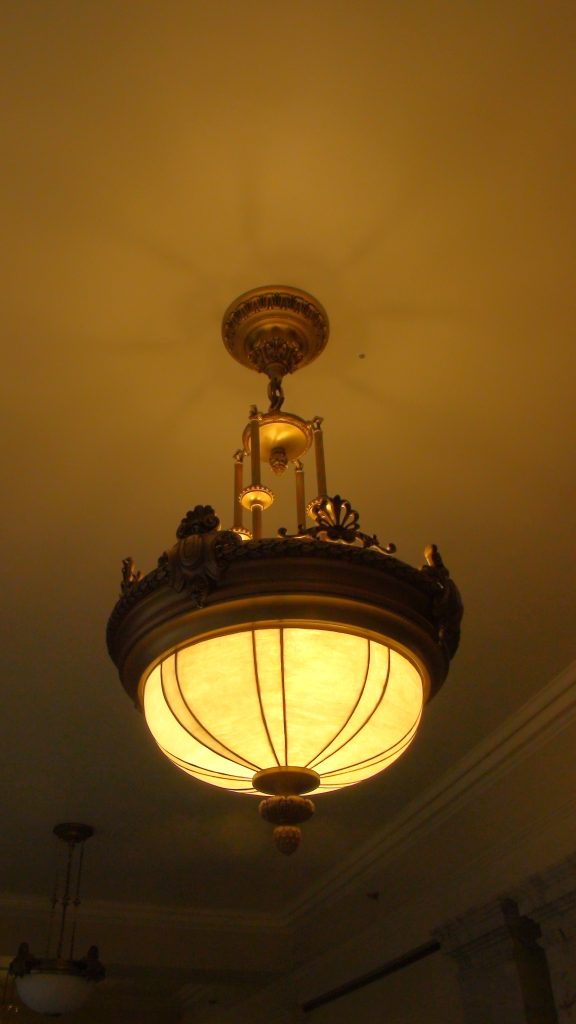 Nifty ceiling lamp. Capitol, Salt Lake City, Utah.
Friday, 23 September 2022
And as he talked with him, he went in and found many who had come together. Acts 10:27
Note: You can listen to today's commentary courtesy of our friends at "Bible in Ten" podcast. (Click Here to listen)
You can also read this commentary, with music, courtesy of our friends at "Discern the Bible" on YouTube. (Click Here to listen), or at Rumble (Click Here to listen).
Cornelius had just fallen before Peter. That was followed by Peter correcting him for doing that. From there, it now says, "And as he talked with him."
The contents are left unstated, but it was probably a general greeting accompanied by the normal personal things people say when they first meet. Being a present participle (literally: And talking with him), they engaged in conversation as they proceeded, such as, "We had a really nice trip. On the way, we stopped for the best falafel I've ever had. And now we are here to discover what the Lord intends for us to know." Whatever was said, it continued as "he went in."
This shows that Cornelius first met Peter outside of the house. Once Peter had raised him up, the conversation began, and they continued to talk even as they were entering. As they did, it notes that Peter "found many who had come together."
One can think of the verse that says, "But without faith it is impossible to please Him, for he who comes to God must believe that He is, and that He is a rewarder of those who diligently seek Him" (Hebrews 11:6).
Cornelius diligently sought after God (contrary to the Calvinistic idea about man being unable to seek after Him). When he received his vision, he then wanted to share it with as many of his family and friends as he could. In other words, one can imagine his words to them, "I have told you for years about our need to consider God in all our ways. Now, I have been told that He has a message to share with me from a man in Joppa. That man will arrive today, and I want you to be there to hear his message as well. Please, please come and hear what he has to say!"
This is the situation that now exists as Peter and Cornelius enter the house. Remembering that Peter is a Jew and that this would otherwise be considered culturally inappropriate, he will next inform this gathered audience of the reason he has nevertheless entered.
Life application: Peter has walked into the house of supposedly "unclean" Gentiles. A doctor will enter a room with sick people that others would not dare to enter. A fellow soldier will throw himself on top of a grenade that will surely kill him in order to save his brothers in arms. What exceptional thing are you willing to do to bring life to others? The examples of the doctor and the soldier may involve actions by those who are unbelievers, and yet they will risk their lives for others. This is their calling, and it is their honor to act.
We have a calling placed upon us that is intended to save, but it is not physical life we are considering. Rather, the message we possess – meaning that of the gospel – is the only message that can bring a person who stands already condemned before God (see John 3:18) to one who stands approved before God. And yet, are we too shy to share it? Are we embarrassed to share it? Are we too busy to share it?
What excuses do we need to drop in order to be obedient to the call that we have been given? Let us consider them, let us refine our thoughts, and then let us act by spreading this wonderful message. Cornelius called "many" to hear the message. Peter was willing to go into "many" despite the cultural barrier that would have otherwise prevented him from doing so. Consider this and redirect! Speak out the word of salvation!
Lord God, thank You for those who have been willing to accept danger in order to help save those who needed them in their time of distress. May they be a reminder to us that we can also help by bringing the saving message of Jesus to those who live out their lives in a permanent state of distress. We are all one heartbeat away from where eternity will place us. May we be willing to make a difference in where that eternity will be spent by them. Amen.