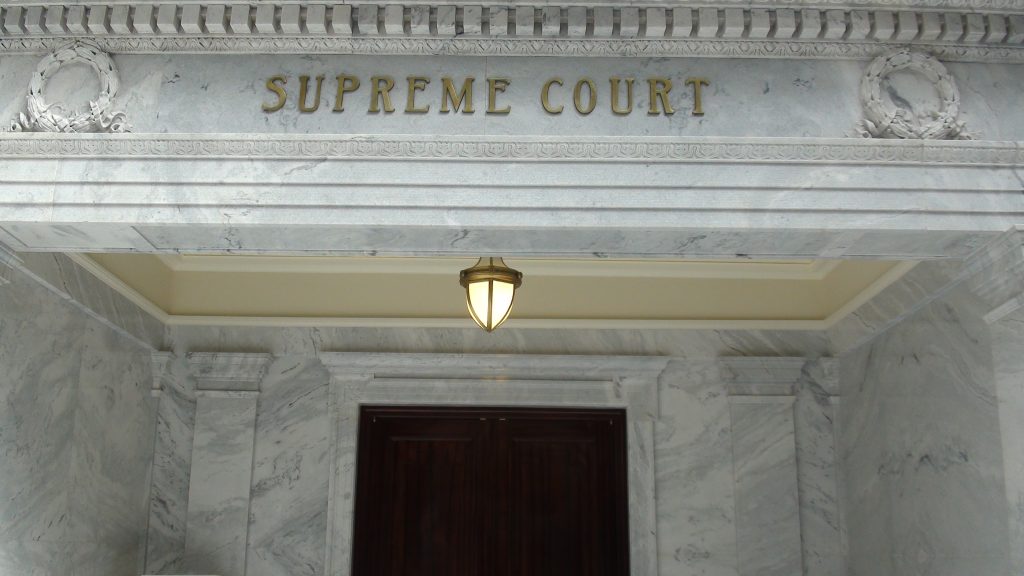 Utah Supreme Court. Salt Lake City.
Thursday, 22 September 2022
But Peter lifted him up, saying, "Stand up; I myself am also a man." Acts 10:26
Note: You can listen to today's commentary courtesy of our friends at "Bible in Ten" podcast. (Click Here to listen)
You can also read this commentary, with music, courtesy of our friends at "Discern the Bible" on YouTube. (Click Here to listen), or at Rumble (Click Here to listen).
In the previous verse, as Peter was in the process of coming into the house, Cornelius met him, fell down at his feet, and worshiped him. Peter would have none of this and corrected him immediately. As Luke notes, "But Peter lifted him up."
One can see him bending down and grabbing Cornelius by an arm, and carefully pulling him out of such a position. This is unlike Jesus who readily accepted such worship –
"When He had come down from the mountain, great multitudes followed Him. 2 And behold, a leper came and worshiped Him, saying, 'Lord, if You are willing, You can make me clean.'
3 Then Jesus put out His hand and touched him, saying, 'I am willing; be cleansed.' Immediately his leprosy was cleansed." Matthew 8:1-3
That was the first such recorded incident in Matthew (aside from the Magi worshipping him when he was a child). This continues time and again in the gospels, and it continued after the resurrection as is seen in Matthew 28 –
"Then the eleven disciples went away into Galilee, to the mountain which Jesus had appointed for them. 17 When they saw Him, they worshiped Him; but some doubted.
18 And Jesus came and spoke to them, saying, 'All authority has been given to Me in heaven and on earth. 19 Go therefore and make disciples of all the nations, baptizing them in the name of the Father and of the Son and of the Holy Spirit, 20 teaching them to observe all things that I have commanded you; and lo, I am with you always, even to the end of the age.' Amen." Matthew 28:16-20
The worshiping of Jesus continues after His ascension and it is explicitly noted that the angels of heaven worship Him in Hebrews 1 –
"But when He again brings the firstborn into the world, He says:
'Let all the angels of God worship Him.'" Hebrews 1:6
These recorded incidents have been given to show us the nature of Jesus the Man. In contrast to Him, Luke next records Peter's words, "saying, 'Stand up; I myself am also a man.'"
In this, Peter's words do not contrast himself to Jesus by indicating that Jesus is not a man, but to indicate the type of Man He is. Jesus is the God/Man, the Messiah. Cornelius does not yet know this, but he will be schooled on it in the verses ahead.
Life application: When the Jehovah's Witnesses translate Matthew 28:17, they say, "When they saw him, they did obeisance, but some doubted." As noted in the previous commentary, the word is proskuneó, and it can mean to do obeisance. But the context of Matthew 28:17 must come from an analysis of the rest of Scripture.
If it was common in the New Testament for people to be noted as paying obeisance to others, there might be a question about how to translate the word. But it is not a word that is carelessly tossed around in such a manner. It is plainly evident that the act recorded in Matthew 28 (and in Acts 1 after the resurrection) is an act of worship. The same word is found in Luke 4:8 –
"And Jesus answered and said to him, 'Get behind Me, Satan! For it is written, "You shall worship the Lord your God, and Him only you shall serve."'"
Jesus understood the act of worship being extended to Him, and He allowed it to continue because He is the Lord God. A right analysis of Scripture makes that perfectly clear. Hiding the word proskuneó by the translation "obeisance" does nothing to hide the truth of what is occurring. The context of the matter fully supports the idea that Jesus is God, that He allowed Himself to be worshiped, and the New Testament writers agreed with this.
We serve God when we serve Jesus, and we worship God when we do so through Jesus. He is the incarnate word of God who has come. Let us praise God for His goodness to us in the coming of Jesus Christ our Lord.
Lord God, the words of Scripture tell us the most wonderful story of all. How incredible it is that You have done what You have done to bring us back to Yourself. Thank You for the coming of Jesus Christ who has bridged the gap. We now are reconciled through Him! Thank You for what You have done, O God. Amen.