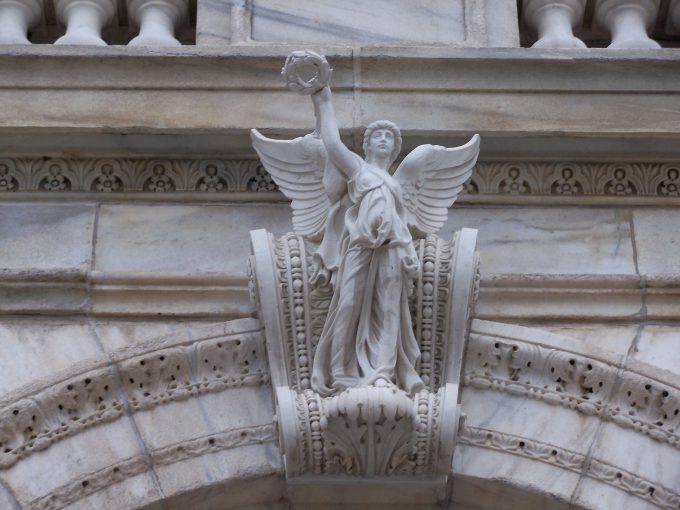 Thursday, 22 June 2017
For from you the word of the Lord has sounded forth, not only in Macedonia and Achaia, but also in every place. Your faith toward God has gone out, so that we do not need to say anything. 1 Thessalonians 1:8
The word "For" here supports his words of the previous verse which said that those in Thessalonica "became examples to all in Macedonia and Achaia who believe." He then says to them that "from you the word of the Lord has sounded forth."
The word for "sounded forth," exécheó, is found only here in Scripture. It indicates "to resound," and it carries the idea of propagating. They had not just received the word, but they had sent it forth as well, telling the good news which they had believed. They were as the trumpet of God, calling out the word. This is similar to what is seen of the word going out to Israel in the Old Testament –
"Cry aloud, spare not;
Lift up your voice like a trumpet;
Tell My people their transgression,
And the house of Jacob their sins." Isaiah 58:1
Likewise, Jesus' voice is said to be like a trumpet in Revelation 1:10. It is obvious that they possessed a desire concerning that which they had obtained. It was something they wished all others to believe in and grasp as well.
Paul then goes even further than his words of verse 7 by saying, "not only in Macedonia and Achaia, but also in every place." Paul could see that the conversion of those in Thessalonica was so strong, that wherever one of them traveled, they joyfully shared the good news, even in areas which were not culturally similar. They became, as it were, a missionary church. Just as Paul had gone as a missionary to them, they followed the pattern as they went forth from their home.
Paul then sums up the thought with the words, "Your faith toward God has gone out, so that we do not need to say anything." It is a statement of the surety of the faith of those in Thessalonica. Their faith toward God was valid, and it then conformed to the words of the Great Commission given by Jesus. He said that His disciples should go and make disciples of all nations, and this is what they were willing to do. In the genuineness of their faith, Paul says, "so that we do not need to say anything."
This is a phrase Paul will use three times in this epistle, but nowhere else. It is an indication that where those from Thessalonica had gone and told the good news, there was no need to go and re-tell it. The word went forth, it went forth correctly, and it had met its intended purpose. Paul could feel satisfied in the surety of what the recipients of the message from those at Thessalonica had heard.
Life application: How excited are you about the gospel you heard and received? Are you willing to open your mouth and speak it out? If you've lost the fire you once had, redirect! Your words may be the only chance precious souls will ever have to hear the good news about Jesus. Let the redeemed of the Lord say so.
Lord God, help each of us to be bold in our proclamation of the good news which we once heard. Help us never to keep inside that which can lead others to a restored relationship with You. Precious souls are going off to their final destiny, and our words may be the only thing they ever have to be granted the blessed salvation which is found in Christ Jesus our Lord. Help us to be bold and speak. Amen.