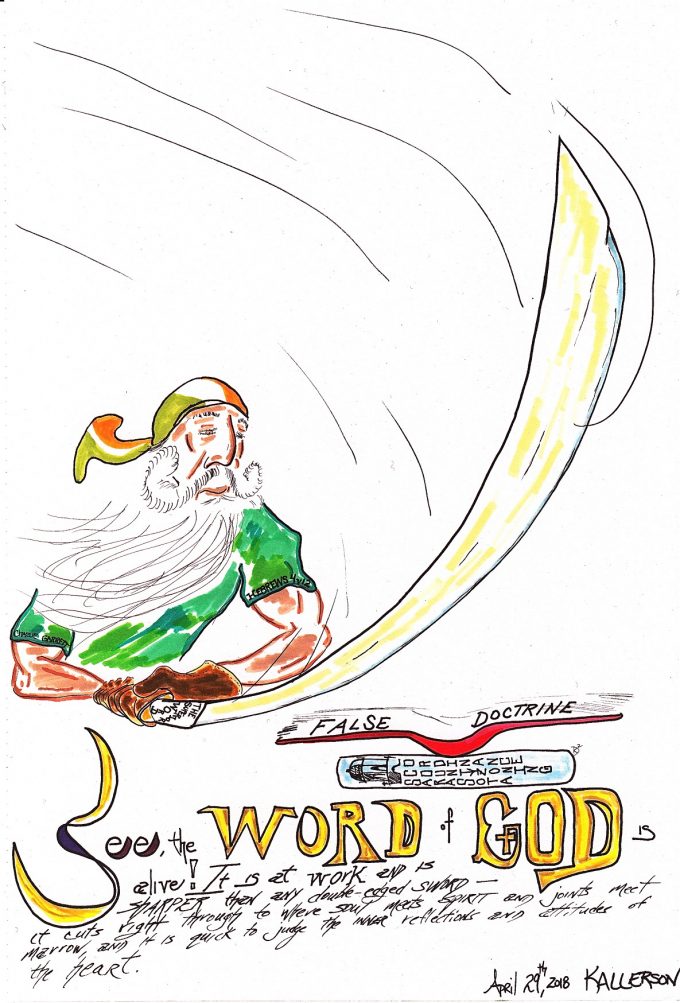 Sharper Than Katana
Sergio Voitenko
29 April 2018 
83% of all American people claim to be Christian (270 million), but if they were to be asked "Do you have spiritual peace or well-being?", one-third would say. "No"!
How is it that 60% of Christians are struggling with anxiety?
30% are struggling with loneliness.
10% with depression.
55% with overeating.
11% are addicted to alcohol or drugs.
Two out of three Christians are consumed by pornography, and almost a third of them say they suffer from it; they are addicted; they cannot stop.
These are the sad statistics according to the latest surveys conducted by LifeWay, Pew Research Center, and the Cambridge University.
The research also showed that denomination does not affect the statistics, or even furthermore, these numbers prevail among non-believers alike. It appears as if all mankind is struggling with the same flesh.
There is a high chance that someone is watching this right now who is facing an ongoing struggle that they just can't seem to overcome.
Did you ever ask yourself "Why do I do things which I do not wish to do?."
Do you feel like you keep losing the battles?
Yet deep down you still want to be closer to God, you want to walk with Him as Moses did, As Elijah, as the disciples did.
I know you might be thinking "I've heard that before., every pastor says the same thing, "do this," "don't do that," and you might say I've tried it all, it doesn't work." Well, I couldn't agree with you more, and that is precisely why I am here. You see, I am not a pastor. I am a follower, just like you.
I was among that 83 %. In fact, I was among the 11% of addicts. I struggled with this since I became a Christian.
And seven years ago I found a solution. This solution is actually what many pastors do, but not many teach. It is so because some pastors do not always realize that, this thing that they do, this solution, is the very thing that keeps them out of trouble. Well… most of them.
Just like Moses, Elijah, the disciples and so many more, walking daily with God is possible.
I've got nothing to gain from this testimony. If anything, it is to lose my reputation as I'm going to expose myself, in the hope that some might relate and find encouragement. If God could transform a sinner like me, then just imagine what he can do with you!]
BTW if the intro didn't peak your interest, I brought some fun sermon props with me. A big picture, paper with a hole, a magnifying glass, two goats in the backroom, and a Katana sword. So you might want to stick around to see how this pans out.
I grew up in a Russian-Jewish family in Israel. My parents believed in Jesus when I was still a lad, so I grew up in a Christian home, going to church every Sabbath. That's right, not Sunday, Sabbath, we lived in Israel after all.
I confessed my faith in Christ at the age of 13 and got baptized the same year. Interestingly enough, being baptized in the Jordan river, in the Holy Land, did not seem to have an extra spiritual advantage on me, and certainly not long-lasting, because by the age of 20 I backslid from faith as far as I possibly could.
I was struggling with pride, alcohol, pornography, and a host of other things that would not be even appropriate to mention in public. I heard so many sermons in my life, and had numerous Christian mentors, trying to help me and advise me what to do and what not to do. Every tip they gave seemed reasonable, and indeed it was helpful for them, but for some reason, it did not bring any lasting change in me. I kept on tripping over again and again. Every time I would fall into sin that stained my heart with guilt, I felt further separated from God. Feeling unworthy of His fellowship, unworthy to take communion, and at times it felt like God wouldn't even hear me if I prayed. And to cope with this reality, I became ignorant and in denial. I would still go to Church but I had long forgotten what fellowship with God looked like. I only knew what fellowship with other believers was, it was all about me.
My dual faced life came to its peak as I was sitting by the right-hand of my pastor in Nazareth, translating sermons to Russian while getting wasted drunk later in the nights, and brag about it to my friends in the military. I became self-centered, prideful, a user of people, and abuser of rules. And it was only the start of it.
After being released from the Israeli Air Force, I was hired by an American company and worked as a consultant for Hewlett-Packard, traveling the United States of America, driving luxurious cars, staying in top of the line hotels; an American Dream come true, I tell you. I thought I was Mr. Big Shot. But in reality, I was a nobody. My outward image may have enriched itself, but my inward soul was destitute.
I no longer desired to address my struggles, I embraced them, I said: "It's not that bad."
I got married and my ignorance started to fade away slowly as I saw the damage I was causing to the woman that I fell head over heels for.
She is the most wonderful woman in the world. And I got a billion reasons to prove to you why that statement is true. But only one reason is enough, and it rests on my finger, right here. The Lord had appointed me to love her. How? Just as Christ loved me and gave himself up for me, so should I give my desires up for her needs. But I failed miserably, from the very first day. I had no idea what love is, I only knew what she made me feel.
August 2011, one year into our marriage, despite still going to Church now and then, I came to my lowest point. Marriage no longer satisfied me, the alcohol did not fill me, pornography became an addiction, and I was on route to pour our marriage down the drain.
—
And then came along Grace Baptist Church. One sunny Sunday, in Aug 2011, we randomly picked a Church to attend, where a certain pastor, who does not like to take credit so I won't mention Charlie's name, was preaching that day. On that day, he just happened to give his testimony. His life before Christ seemed like complete havoc. But on that stage, I saw a new man, who had no resemblance to his earlier life. How did he do it?
He kept saying it was Jesus, it was Jesus. Jesus. But I also have Jesus, what is different? So as I kept on listening, I was struck by his passion for the Bible. He mentioned that he reads it daily, never missed a day, and in the past few years, he read it over 70 times. Cover to cover.
And then, it dawned on me. What do pastors and all of our spiritual mentors have in common? They preach. And to preach, they study the Bible. Most likely, on a daily basis.
And out of good intention, they relay to us what they learn, telling us what to do and teaching us what to look out for, what guard rails to set.
When we lived in Atlanta, we went to see Andy Stanley. His sermon was about "Guard Rails for a Christian". Have you ever seen it? He gives excellent advice. But even though, following the advice, the do's and dont's, can be very useful, they do not change our hearts nor do they transform our minds.
So what can transform our minds?
The book of Hebrews 4:12, says @:
"For the word of God is living and powerful, and sharper than any two-edged sword, piercing even to the division of soul and spirit, and of joints and marrow, and is a discerner of the thoughts and intents of the heart."
The Word of God! The Bible. It is living and active.
[Katana sword]
You know what is interesting?
Proverbs 5 talks about lust, it says there, that it is as sharp as a two-edged sword.
[put sword down]
But Hebrews 4:12 says, [pick up the Bible], the Word of God is sharper than any two-edged sword.
The Word of God, written by the hand of man, available for us today in almost every language, is sharper than any two-edged sword, even lust. It is living and powerful!
@ In Psalm 119, David asks a question: "How can a young man keep his way pure?"
And what is the answer? "by guarding it according to Your word."
And then he adds, "I have stored up your word in my heart, that I might not sin against you."
Going back to the story. In Aug 2011, I took a few days off work, I opened the Bible and started reading. I did not stop. Literally. I did nothing else but read his word, day and night.
When I got to the part where Jesus says "But I tell you that anyone who looks at a woman lustfully has already committed adultery with her in his heart," I started weeping uncontrollably. The damage I've done to my marriage dawned on me. I can't imagine how I must have hurt God with my actions. But I didn't stop reading. When I got to the book of Romans, chapter 6, I started crying uncontrollably again, but this time from joy.
@ Romans 6:1
"What shall we say then? Shall we continue in sin that grace may abound? Certainly not! How shall we who died to sin live any longer in it?"

How did I not see the past tense before? Died to sin. Not dying. Not will die.

For the first time in my life, I understood that my salvation does not depend on my action. I was bought with a price, and my righteousness is in Christ! There's nothing I can do to add to what Christ has done for me on the cross. I can only accept His precious gift of life.
But having been saved by grace does not help explain why do I keep doing things which I do not wish to do.
By the time I got to Ephesians chapter 2, I was swept away in His loving arms. Listen to what it says: @
"And you He made alive, who were dead in trespasses and sins, in which you once walked according to the course of this world, according to the prince of the power of the air, the spirit who now works in the sons of disobedience, among whom also we all once conducted ourselves in the lusts of our flesh, fulfilling the desires of the flesh and of the mind, and were by nature children of wrath, just as the others. But God, who is rich in mercy, because of His great love with which He loved us, even when we were dead in trespasses, made us alive together with Christ (by grace you have been saved), and raised us up together, and made us sit together in the heavenly places in Christ Jesus, that in the ages to come He might show the exceeding riches of His grace in His kindness toward us in Christ Jesus. For by grace you have been saved through faith, and that not of yourselves; it is the gift of God, not of works, lest anyone should boast."
Notice the terminology, it says we were dead in "trespasses and sins". Aren't those two synonyms? Or is there a difference?
Believe it or not, in the Old Testament, there is a distinction between the two.
For example, [pick up two goats] when a sin was committed, the Israelites were instructed to make two offerings. A sin offering and a trespass offering. Why two?
Let's take a look at the original Hebrew words.
@ A trespass is מעל (Maal). It has the same root as the word Above. Ma'al is sometimes translated as "act". And if you combine it with its root, it almost sounds like 'acting above', an act above the law.
@ While the word "sin" in Hebrew is חטא "Chetta". It means to wander away from something, to miss. To be in sin is to be separated from God. Like Proverbs 8:36 says חטאי חמם נפשו "He who wanders from me, injures his own soul".
A trespass is an act against the law set by God. Sin is the state of the soul.
And that's why we can be in a state of sin from our very birth, without ever committing a trespass. Just like one who is born in slavery is already a slave from birth, so were we born in slavery to sin. We were slaves to sin, but having believed in the Lord Jesus Christ, we have died to sin and can no longer live in it. This is because the state of our soul is marked with the stamp of God, the Holy Spirit; the guarantee of our salvation. So no matter how much we keep on trespassing, our soul is free from sin.
So let me try to put this into our modern day perspective.
Area 51 is a military zone with a fence around it and a sign that says @ "No Trespassing. Up to one year imprisonment and $5,000 fine". If one day I am led by my desire to meet up with E.T., put myself above the law, and trespass that territory, I would then commit a crime, and thus be a criminal. The trespass would be the act, and the result would be my criminal title. A title, I would never be able to clear. It's a title that stays for life. Oh, If only there was anyone who could take the charges in my stead.
After the book of Ephesians, as I progressed reading the Bible for the first time, the book of Colossians put the nail in the coffin. You gotta hear what Colossians, chapter 2, says in verses 13 and 14: @
And you, who were dead in your trespasses and the uncircumcision of your flesh, God made alive together with him, having forgiven us all our trespasses, by canceling the record of debt that stood against us with its legal demands. This he set aside, nailing it to the cross.
The trespasses that I committed were like a written record of debt that separated me from God. Just like a man in prison, separated from His family. But with Christ and in Christ, I am a free man. My trespasses are not counted against me, my record is clean. I can still trespass, but it is not counted against me.
So then I continue reading and get to 1 John. He takes that coffin with its nail and burns it up so that there is left zero doubt, and full confidence in Christ. Listen to 1 John 3:9, @
Whoever has been born of God does not sin, for His seed remains in him; and he cannot sin, because he has been born of God.
Wait wait wait.. I've heard that before.. 1 Corinthians 5:19 @
…God was in Christ reconciling the world to Himself, not imputing their trespasses to them…
My trespasses are not imputed to me! I am free from sin! Dead to sin! Alive in Christ!
So, the question remains then. Why am I still trespassing and doing stupid things, and how do I stop?
@ 1 Peter 2
Therefore, laying aside all malice, all deceit, hypocrisy, envy, and all evil speaking, as newborn babes, desire the pure milk of the word, that you may grow thereby, if indeed you have tasted that the Lord is gracious.
"Desire the pure milk of the Word"
Side-note: Isn't it interesting that the organ that has the taste buds is the same organ that can emit words that are bitter or words that are sweet. Praise the Lord, for His Word, is sweeter than honey. And the people in this Church have tasted it. You are consuming it like hungry lions.
Since the day I opened this book, I have not stopped reading it. I have not skipped a single day. And I have never gone back to my old habits, addictions or trespasses. It all went away overnight. I used to think that Job's covenant not to look at another woman lustfully was a myth, but I tell you it's a wonderful reality. If your mind is filled with the everlasting and ever fulfilling perfect Word of God, everything else in this world would not even look attractive. Since the very first days of reading the Word, my relationship with Rhoda had taken a drastic change to the good. My love for her had been increasing daily, it only gets better and better, with every day, even though I do not deserve even a millionth of it.
I am not saying all of this to boast in pride, but quite the opposite. I'm saying this as a testimony of my weak flesh. I can assure you, If I didn't set the highest priority on His Word today, then tomorrow you would find me in indulged in trespasses, avalanching down from the peak of the mountain of grace, into the abyss of addiction and malice. I am a weak man, and there's no strength in me other than Jesus Christ, who Is the Word that took on flesh and died for me! So I have no reason to boast, but in Christ Jesus, who saved me from eternal separation from God and left with me two things while I'm still breathing on this Earth – the Bible and the Holy Spirit to understand it. He gave them to each and one of us, so we can live a life worthy of the calling we have received.
—
I'd like to finish with these thoughts.
More than 80% of all churchgoers in America do not read the Bible on a daily basis. They might be saved, but they are missing out on an opportunity of a life filled with the richness of faith, in which words like loneliness, depression, and addiction are never to be heard.
If you are amongst the 80%, I do not judge you or condemn you. I'm hurting for you because I know what it's like to be in that place. And I want to tell you that there's a way for you to fellowship with God. The kind of fellowship Abraham had with God, the personal daily relationship like Moses had with God, face to face. I want you to have the heart of King David, the faith of Prophet Elijah, Apostle Peter, Apostle Paul, Beloved John, Rhoda Voitenko, Christian Postel, Aaron Goodwin, Chuck Wenger, Jim Dwyer, Charlie Garret and countless more. Such life is possible and it's beautiful.
I'm sure you have questions for God, and you might be praying to Him on a regular basis, but give Him the chance to speak back to you. His Word is not in the past, it is living and it is active. It will never pass. It will shape you and it will mold you. It will transform your mind and your entire life if you read it daily and do what it says.
So often I see Christians read a daily devotional as a substitute for Bible reading. Or just open the Bible, pick a few verses, and that's it.
And I don't blame them, because the chances are, there is just no one around to show them how powerful and effective the Word of God is.
You know I used to do that too. Pick verses here and there. Not even know the context.
(Optional Section)
Let me show you something. [Picture and a dot illustration].
I have a picture here. I'm going to cover it up with a piece of paper with a hole in the middle of it.
What do you see?
Can you tell me what this photo is about?
Do you ever look at photos in this way?
I didn't think so. You first look at the entire picture, and then you examine the details.
So why did I read the Bible verse by verse, pixel by pixel, before I looked at the entire picture?
That was me before, but then Aug 2011, I read the entire Bible for the first time, I saw the big picture. And it is marvelous!
Open the Bible, start reading, and don't stop. If you say "well, but I've got work.. kids.. wife… school… God gave them to me so I must take care of them first…"
I know it seems like you don't have the time, but the reality is that you just did not set the priorities right. You do your duties at your work and school, and you might be rewarded with money or some years of relationships, which is good for this life, but it's all going to be burnt up one day. Would you not rather seek the heavenly rewards first? What if God's Word was your first priority in your day, how would your life look like then?
One of my mentors was Chuck Wenger. He worked under Billy Graham and produced the Jesus Film that was translated to over 1400 languages. His daily schedule looked like this: He would wake up 4 AM, study the Bible for 4 hours, afterward make breakfast for his wife and children, and then head to the office. By the time he was done with his business, ministries, and spending time with family in the evenings, it would be midnight. He slept 4 hours a day. He did that for twenty years. And for what advantage? By setting God as his first priority, he made himself available for God to use him in incredible ways to change the world.
@ A Civil War chaplain, E.M. Bounds once said,
"The men who have done the most for God in this world have been early on their knees. He who fritters away the early morning, its opportunity and freshness, in other pursuits than seeking God will make poor headway seeking Him the rest of the day. If God is not first in our thoughts and efforts in the morning, He will be in the last place the remainder of the day."
Open the Bible, read it, memorize it, taste it and do what it says. Yes, doing is difficult, especially when we are struggling with habits developed over many years. But it is only difficult in the beginning. I promise you it gets easier with every right decision you take, with every taste of this wonderful Bread of life, the eternal Word of God.
I'll leave you with the Words that God told Joshua in chapter 1 verse 8: @
Keep this Book of the Law always on your lips; meditate on it day and night, so that you may be careful to do everything written in it. Then you will be prosperous and successful.
If you have accepted Jesus but have not found the spiritual peace yet, if you want to be free from problems that separate your heart from God, then make the Bible your first priority, always keep God's Word on your lips, think about it day and night, and do what it says.
Amen.
—
Next week Sermon (Hidden Treasures: Ancient Hebrew)