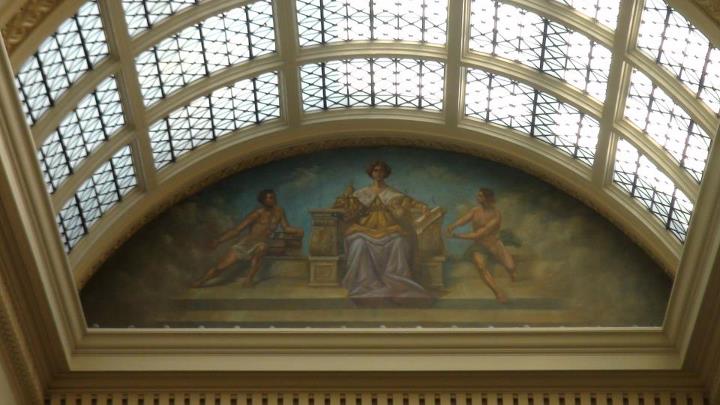 Wednesday, 13 March 2013
But now the righteousness of God apart from the law is revealed, being witnessed by the Law and the Prophets, Romans 3:21
After two chapters of laying out a defense against the possibility of man somehow being justified before God on his own merits, Paul now brings in words of amazing relief to the fallen soul. The word "but" is used to show the contrast between the case he has so meticulously laid out and the introduction of new evidence which can be submitted in man's defense. However, the new evidence is actually something "witnessed by the Law and the Prophets."
This term, the "Law and the Prophets" is used to indicate the entire body of Scripture known as the Old Testament. In other words this new evidence is not being introduced apart from Scripture, instead it has been continuously proclaimed throughout Scripture. The evidence is new to Paul's argument, not to the basis for it.
What he submits now is that "the righteousness of God apart from the law is revealed." The law has done its job; it has revealed man's fallen and condemned state before God. There is no hope of being justified before Him without something "apart from" it, but there is in fact something apart from it. The necessary righteousness has been revealed and so we are taken right back to Romans 1:17 –
"For in it the righteousness of God is revealed from faith to faith; as it is written, 'The just shall live by faith.'"
The faith is for "everyone who believes" the gospel of Christ (see verse 16). It is this act which brings the righteousness of God to fallen man. Now that this is understood, it is necessary to evaluate what this actually means. There is a sharp divergence of thought at this point between the ideologies of John Calvin and Jacob Arminius. Calvinism teaches that it is an imputed righteousness, whereas Arminius claims it is an imparted righteousness.
Imputation means to "ascribe" or "credit" something. This then would mean someone is counted as righteous, whether they actually are or not. Impartation signifies "to give" something. If righteousness is imparted, it would me that the believer is infused with righteousness; they actually "become" righteous. To understand more clearly perhaps it is best to turn these two into statements of declaration –
Imputation: I believe the gospel and therefore I am counted as righteous.
Impartation: I believe the gospel and therefore I am righteous.
The body of evidence is that Christ's righteousness is imputed to the believer actually at this time, but that Christ's righteousness is imparted to the believer potentially, being actually reserved for a future time. Man is justified before God by faith in Jesus Christ, but he is not actually righteous at this time. He continues to sin after salvation (a good example of this in Peter is found in Galatians 2:13-16 and in Paul see 2 Corinthians 11:29).
However, Paul indicates that in God's mind we are both glorified (Romans 8:30) and seated in the heavenly places in Christ (Ephesians 2:6) even though we are actually still on earth and living out our lives. What has been accomplished in the eternal state is still future to us in our temporal reality. Hebrews 11:39, 40 is another set of verses which show us that this is so –
"And all these, having obtained a good testimony through faith, did not receive the promise, God having provided something better for us, that they should not be made perfect apart from us."
These things may seem like hair-splitting, but they are of great importance when thought through. Our current relationship with God, our ability to lose our salvation, our rewards and losses are all contingent on such issues. Having incorrect ideas concerning these things can only lead us down unhappy avenues in our Christian life and so it is good to get them right.
Life Application: Are you now righteous because of Christ's work, or are you counted as righteous because of Christ's work? Others are evaluating you and making their decisions about Christianity based on your attitude, and this is reflected in what you believe to be true. Don't think more highly of yourself than you should lest you fall and bring discredit upon Jesus' name.
O God, I know that even now, even after having called on Jesus as Lord, I am unrighteous in and of myself. My thoughts stray, my actions often belie the Name I bear, and I fail you continuously. And yet in Your rich goodness to me, You have counted me as righteous because of the work of Jesus. Help me to be conformed to His image more and more each day so that I reflect the goodness You have already lavished upon me. Amen.