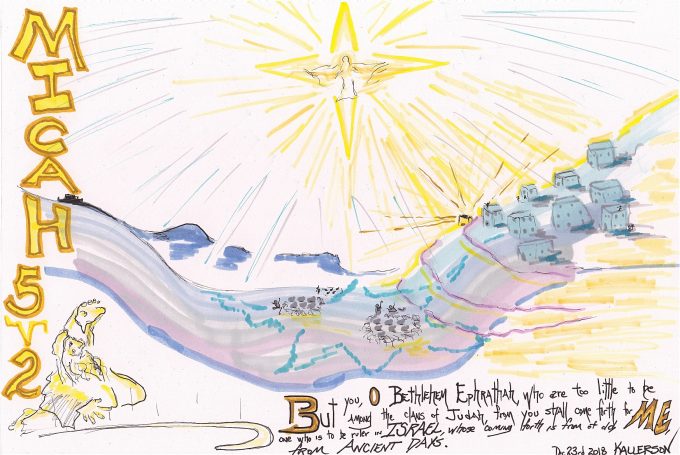 Micah 5:1-5
The One to Be Ruler in Israel
Each year at this time, those who believe in Christ Jesus gather together to celebrate His coming. And it is appropriate that we do so. It is true that Jesus wasn't born on 25 December, at least not born from the womb. According to Scripture that actually occurred in the September/October time frame. However, by knowing this, we can know, with all certainty, that Christ was born in the womb at this time of year.
And that fact is the true miracle of Christmas. The incarnation occurred in the womb of Mary, and it represents the most pivotal moment in all of creation. God created all things by His spoken Word, and then on that first Christmas, God united to that creation through that same Word. This is what Micah prophesied of long before it came to pass. Isaiah prophesied of this event as well.
Taking what the prophets say about the coming Messiah, a clear picture begins to develop. Though the words seem impossible, they are either true, or the word we read and cherish isn't the word of God. Isaiah first says –
"Therefore the Lord Himself will give you a sign: Behold, the virgin shall conceive and bear a Son, and shall call His name Immanuel." Isaiah 7:14
People have attempted to diminish the reality of what is written there as not meaning what it says. In other words, it is claimed in the Hebrew, the word "virgin" doesn't necessarily mean "virgin." But the Greek translation of the passage, and the New Testament which cites what is stated here, which is also in Greek, shows that "virgin" absolutely means "virgin." When we take that, and then add in the words of our sermon text from Micah, we are left with no other possibility than the birth of Christ is more than just a supernatural event, but it is THE supernatural event. As incredible as the creation of the universe itself, is the incarnation of God in the Person of Jesus Christ – even more so.
Text Verse:  "Let this mind be in you which was also in Christ Jesus, 6 who, being in the form of God, did not consider it robbery to be equal with God, 7 but made Himself of no reputation, taking the form of a bondservant, and coming in the likeness of men. 8 And being found in appearance as a man, He humbled Himself and became obedient to the point of death, even the death of the cross. 9 Therefore God also has highly exalted Him and given Him the name which is above every name, 10 that at the name of Jesus every knee should bow, of those in heaven, and of those on earth, and of those under the earth, 11 and that every tongue should confess that Jesus Christ is Lord, to the glory of God the Father." Philippians 2:5-11
The Christmas Child didn't just come and set up a kingdom to demonstrate His great power over the people of the world. Rather, He came in humility, He lived in obscurity, and He died in obedience to the will of His Father for an unimaginable purpose. It is something so incomprehensible, that the words of David are needed to help us adequately see the reality of the matter. In Psalm 144, David asked, "Lord, what is man, that You take knowledge of him? Or the son of man, that You are mindful of him?"
That is what we should ask when we consider what God did for us in Jesus Christ. Because what He did was for us is actually beyond our ability to mentally grasp. It was the Father's will that Christ would come into this futile stream of time, live out a perfect life, and die in our stead. Knowing that should make us realize one thing, and ask another. It should make us realize that we have value to God, and it should make us ask Him, "What is it about us that You find of any value at all?" Yes, David's question is perfectly relevant to what occurred in the coming of the Christmas Child and how it relates to us.
I have thought about it for many years, and I am no closer to an answer than I was when I first asked the question. But the fact is that it is true. Man has great value to God. It is a truth which is revealed in His superior word. And so let's turn to that precious word once again and… May God speak to us through His word today and may His glorious name ever be praised.
I. From Eternity Past (Micah 5:1-5)
Now gather yourself in troops,
O daughter of troops;
The book of Micah is dated at somewhere between 750 and 686 BC. This places him as contemporary with Isaiah. The prophet foretold the coming fall of Samaria, the capital of the northern kingdom, and he also spoke of the future destruction of the southern kingdom of Judah. Micah 5 begins with a picture of war being waged against Judah, even to the point where it would come to its destruction and a subsequent and continuous external rule over it from that time on.
The city of Jerusalem, the capital of Judah, is told to gather herself into troops. In Micah Chapter 4, a scene of misery is prophesied against her in verses 9 and 11. The prophet returns to that thought here. Things will be so bad within the city that the people will have to muster themselves as a band of defenders. Babylon is coming, and the siege will require every capable person to be mustered in defense of that great, terrible horde.
However, there must be more to this than the Babylonian invasion. Verse 4:10 says that the people would go to Babylon, but they would be delivered from there. And in fact, Jerusalem was rebuilt after the exile. But it was always under foreign rule. There was the later deliverance of the people under the Maccabees, and there was also the siege and desolation of the city under the Romans. The temple was destroyed in AD70 and Israel, God's chosen, was dispersed among the nations, seemingly forever abandoned to obscurity in punishment.
During each of these incidents, the people gathered themselves together into troops, sometimes finding temporary deliverance, but also eventually finding destruction. The prophecy of verse 2 will show that each of these is centered on One to come who would be put in contrast to the people and the ruler of the city. Where they were placing their hope of life was (and remains to this day) misdirected.
1 (con't) He has laid siege against us;

Here, the prophet identifies himself with those who were being besieged by saying "against us." Prophetically, he is of the people who were to be attacked, destroyed, and dispersed. Therefore, he intimately identifies himself with the future coming upon them. This future would include…
1 (con't) They will strike the judge of Israel with a rod on the cheek.
The "judge of Israel" spoken of here is its leader. He is set in contrast to the Lord, Yehovah, who is called their King in verse 2:13. It may even be a sort of pun that the prophet is relaying. The King of Israel is Yehovah who breaks forth before the people. But the judge of Israel is a man in a city-besieged and who is struck with a rod on the cheek. It is the greatest of insults to be so struck. Time and again, a strike on the cheek in Scripture indicates this.
This was first fulfilled in Zedekiah, Judah's king at the time of its destruction by Babylon. He was captured, his sons were killed before his eyes, and then his eyes were put out. From there, he was bound and carried captive to Babylon, imprisoned, and remained so until his death. But, what is subtly being hinted at is that they would continue to suffer terribly at the hands of their foes until the coming of Messiah. The rulers of the land cannot protect the people apart from Him. With Israel returned to her land in modern times, but still being in a state of rejection of Christ Jesus, the prophecy actually continues to be fulfilled in modern Israel. They trust in a human ruler who will inevitably be humiliated, but there is One who can end this, once and for all…
2 "But you, Bethlehem Ephrathah,
Though you are little among the thousands of Judah,

Jerusalem is now contrasted to Bethlehem, Ephrathah. Both names indicate the fertility of the location. Bethlehem means, "House of Bread." Ephrathah signifies "Fruitfulness." The reason for including the name Ephrathah, is because there were actually two Bethlehem's in Israel. The other was located in the north, in the tribe of Zebulun, about six miles north of Nazareth. It is named only once in the Bible, in Joshua 19:15.
To ensure that the southern Bethlehem, the one in Judah, was more specifically identified, both names are given here. As it is contrasted to Jerusalem, the great city of kings is shown to be lesser than this little, and even insignificant, town of Bethlehem. It is noted, not because of its size or fame in weaponry, but because of One who will come forth from her…
2 (con't)Yet out of you shall come forth to Me
The One to be Ruler in Israel,
The words are formed in such a way as to show motion leading to an outcome. There is a contrast between what was said and what is now stated. In Jerusalem, there is a great city. In Jerusalem, there is a multitude of people. In Jerusalem, there is the judge of Israel. But coming forth to the Lord, out of an insignificant and backwater town, there is One coming who would be a mashal, or ruler, in Israel. The word signifies to have dominion over.
The Lord's name is not stated here, but it is implied. The prophet is not speaking of himself, but the One who is speaking through him. The Lord has proclaimed the birthplace of Messiah, but He next throws the thought into confusion for those who refuse to see…
2 (con't) Whose goings forth are from of old,
From everlasting."
The coming Ruler was to have a beginning. This is evident from the idea that He would come forth out of a location. Because the location is a part of creation, it could not have existed into eternity past. Because it has a name, it was identified as a location at some point after it came into existence at the creation. But, at the same time, the One who is coming forth from that location has motsaah, or "goings forth," which are miqedem, or "from the east." It is an idiom meaning, from the absolute forepart. In other words, from eternity itself.
Just as – from man's perspective – the sun rises from nowhere, so this ruler would also come from the eternal past. There is no beginning to His coming. Instead, it simply is. The author then further defines this by saying mime olam, or "from the vanishing point," meaning from the place where nothing is known of it.
The motsaah, or "goings forth" is a plural construct in the Hebrew, and signifies the eternal and continual generation of the Son from the Father. There is no time that it did not occur, and it shall occur for all eternity.
Charles Ellicott says of this, "The nativity of the governor of Israel is evidently contrasted with an eternal nativity, the depth of which mystery passes the comprehension of human intellect: it must be spiritually discerned." And so this is true. Israel could not, and indeed still does not, discern this. The veil remains when the law is read. What the words here clearly imply is that because He was before the creation, He must be the Creator, because only the Creator can exist before that which is created.
3 Therefore He shall give them up,
Until the time that she who is in labor has given birth;

The words here have long been misconstrued by most scholars. And yet, lone voices of understanding have arisen, even going back hundreds of years. Adam Clarke rightly states that, "Jesus Christ shall give up the disobedient and rebellious Jews into the hands of all the nations of the earth, till she who travaileth hath brought forth." It is obvious that "He" is speaking of the One described in the previous verse. It is also obvious that Israel is the subject who is being given up.
Therefore, this is not speaking of something occurring before the coming of Messiah, but after. The coming One, this eternal Ruler, would give up Israel, until a specific point in time which Micah says is when "she who is in labor has given birth." It is a reference to what Micah's contemporary, the prophet Isaiah wrote about –
"Before she was in labor, she gave birth;
Before her pain came,
She delivered a male child.
8 Who has heard such a thing?
Who has seen such things?
Shall the earth be made to give birth in one day?
Or shall a nation be born at once?
For as soon as Zion was in labor,
She gave birth to her children." Isaiah 66:7, 8
Zion, the woman in labor, would once again give birth to a male child, and so Israel was prophesied to be brought forth once again. That occurred on 14 May 1948, and the time prophesied has now arrived. The Messiah had given up His people, turning His love and affection upon a people who were not a people. Now, that body of believers has almost reached its fullness. When that day arrives, and with Zion once again prepared to resume her role in redemptive history, the church will be taken to glory, and…
3 (con't) Then the remnant of His brethren
Shall return to the children of Israel.
The prophet speaks of a remnant of His brethren. The only two times a remnant is mentioned in the New Testament, it is speaking of Israel. Paul, in both Romans 9 and Romans 11, refers to the fact that only a very small portion of Israel would survive what lies ahead, and that only a very small portion of them would be saved in belief before that time. That has proven true throughout the history of the church age. And it is a history which is quickly catching up to the events prophesied in these ancient verses.
At a future date, probably not far off from our time now, something will occur among them that has been anticipated since the time of the words of the prophet. Most translations say that this remnant "Shall return to the children of Israel." However, the word "return" can also be interpreted as "convert." And this is how the Latin translation states it – "they shall be converted to the children of Israel." And so the meaning is that either the saved remnant shall return with the Savior when Israel is saved, or that the remnant of survivors of Israel, shall be converted at the end of the tribulation period. The latter is more likely based on Jesus' words to Israel –
"O Jerusalem, Jerusalem, the one who kills the prophets and stones those who are sent to her! How often I wanted to gather your children together, as a hen gathers her chicks under her wings, but you were not willing! 38 See! Your house is left to you desolate; 39 for I say to you, you shall see Me no more till you say, 'Blessed is He who comes in the name of the Lord!'" Matthew 23:27-39
Jesus says that they will call out to Him as the One who comes in the name of Yehovah. This is exactly what Micah is speaking of, and it is what Jesus says will occur. When Israel is converted, they will call to Him as the Lord, Yehovah. Peter's words to the Jews then further confirm this –
"But you are a chosen generation, a royal priesthood, a holy nation, His own special people, that you may proclaim the praises of Him who called you out of darkness into His marvelous light; 10 who once were not a people but are now the people of God, who had not obtained mercy but now have obtained mercy." 1 Peter 2:9, 10
Israel had been set aside, but Peter, writing to the Jews of the end times, shows that though they had been set aside, they will once again be the people of God. That this is correct, is based on the words of the next verse…
4 And He shall stand and feed His flock
In the strength of the Lord,
v'amad v'raah b'oz Yehovah – "And shall stand and shall shepherd in the strength of Yehovah." There is dual meaning in these words. The first is that He shall stand as a King and yet he shall do so in the tender lovingkindness of a Shepherd over His people.
The symbolism permeates Scripture, but the 23rd Psalm is sufficient to set the example – Yehovah roi –"Yehovah is My Shepherd." John 10:11 is then sufficient to explain the meaning – "I am the good shepherd." Messiah, meaning Christ Jesus, is the embodiment of Yehovah, and it is He who will, in kingly splendor, stand and tenderly shepherd in the strength of Yehovah. And yet, there is more. He shall shepherd…
4 (con't) In the majesty of the name of the Lord His God;
bigon shem Yehovah elohav – "in the excellency of the name of Yehovah His God." The Shepherd of Israel, will possess all the majesty, and indeed, all the excellency of the name of Yehovah His God. The dual nature of the Man, who is God, is revealed in the words of the prophet.

4 (con't) And they shall abide,
The word here – v'yashavu, is rendered v'yashuvu in many manuscripts of antiquity, including three Hebrew, as well as the Syriac, the Chaldee, and the Latin Vulgate. Instead of "and they shall abide," it would then say, "and they shall be converted." Considering that Messiah gave up Israel until the time of their return to the land – and that because of unbelief – this is the more likely rendering. Israel shall be converted, and Israel shall be saved. And the purpose of this is that the Lord shall be magnified among His people, as is next stated…
4 (con't) For now He shall be great
To the ends of the earth;
ki attah yigdal / ad aphse arets – "For now He is great, to the ends of the earth." The words, though speaking of the distant future by the prophet, are written as if it is already accomplished. Translators are not wrong to state this in the future tense, but it is only future to what we know in relation to the state of the world as it now exists. However, in the mind of God, the outcome is as if it has already happened. In that, time is simply catching up with what has occurred in His mind. The thought here is that from among His people, who are now converted, even to the ends of the earth, the Messiah will be known for who He is.
The words here are directly tied to the final conversion of Israel in the knowledge of who He is. Until that happens, it cannot be said that He is great even to the ends of the earth. When His own people do not recognize Him for who He is, there is a lack. The lack is not in Him, but in the knowledge of Him. However, when they finally realize what even the ends of the earth have come to know, then the knowledge of His greatness will be universal. And in that universal knowledge, there will be a new order of things…
*5 And this One shall be peace.
v'hayah zeh shalom – "and shall be this One peace." Here, peace is personified, because this One is the personification of peace. He is the Author and Provider of it. In Isaiah 9:6, one of the titles of the coming Messiah is Prince of Peace. The Hebrew there is sar shalom. Sar signifies a leader, a captain, or an officer. It is someone who is in charge of something. In the case of the Messiah, He is the Prince of Peace. He is the one in charge of it. He grants it to those under Him.
Where there was strife and enmity with God, He now brings peace. Where there was the fear of death, there is in Him the eternal hope of life. Where there was only groping in heavy darkness, in Him is found the confident stride of walking in eternal light. He bestows all blessings, and from Him flows all prosperity and goodness. He is complete in all ways and this wholesome state of completeness will be transmitted to all things and to all of His people. He will be the lamp through which the radiance of God will illuminate New Jerusalem for all eternity – absolute peace flowing in pure light.
In Him, there will be no desire left unfilled because He is the Creator of all things, and thus the Source of all blessings. These things bring shalom, or peace, because He is our Shalom, our Peace. And this is how Paul describes Him in his letter to the Ephesians. When speaking of what is occurring in Micah, meaning the conversion of Israel to the conversion already found by the Gentiles, Paul says this of Christ Jesus –
"For He Himself is our peace, who has made both one, and has broken down the middle wall of separation, 15 having abolished in His flesh the enmity, that is, the law of commandments contained in ordinances, so as to create in Himself one new man from the two, thus making peace, 16 and that He might reconcile them both to God in one body through the cross, thereby putting to death the enmity. 17 And He came and preached peace to you who were afar off and to those who were near. 18 For through Him we both have access by one Spirit to the Father."
In darkness I groped, darkness of the deepest night
Looking for life that would last, but it could not be found
But then came the most marvelous Light
And with it came the heavenly chorus, a glorious sound
Through the tender mercy of our God
With which the Dayspring from on high has visited us
There is now light on the path that we trod
The everlasting light of our resplendent Lord Jesus
Now there is a new hope for us, a hope eternal
To those who sit in darkness, and in death's shadow
There is salvation from hell's pit so infernal
There is from the Lamp of God, Christ's eternal glow
II. But Who Do You Say I Am?
A prophecy about a coming Savior is only as good as the fulfilling of that prophecy. Unless a prophecy is to actually occur, the words written out are no better than the countless predictions of the rapture which come and go year by year. Such "prophets" are proven false, and their words quickly wither away. This is why, if you must speculate on the date of the rapture, or make any other prediction, you should never say, "The Lord says." When your prediction is proven wrong, you have not only made yourself look stupid, you have also brought shame on His immeasurably great name.
In the case of the words of Micah, the Jews of Israel believed what he had written was true. They accepted that his words were inspired by God, and they trusted that they would come to pass, even if they didn't understand all of what was being said. That is why, after Jesus' birth – which, by the way, happened to be in Bethlehem, as recorded in Scripture – we read the words of Matthew 2:1-12.
These fellows show up and asked where the Messiah would be born. The account doesn't say that the chief priests and scribes had to stop and look it up. Rather, it was common knowledge. They simply said, "Bethlehem of Judea." We know they didn't bother looking it up because they then cited the words of Micah, but instead of citing it exactly from the scroll, they gave a paraphrase from memory. This is how common the knowledge was. But even more than this, it was common knowledge to all of Israel. In John 7, we read this –
"Therefore many from the crowd, when they heard this saying, said, "Truly this is the Prophet." 41 Others said, "This is the Christ."
But some said, "Will the Christ come out of Galilee? 42 Has not the Scripture said that the Christ comes from the seed of David and from the town of Bethlehem, where David was?" 43 So there was a division among the people because of Him. 44 Now some of them wanted to take Him, but no one laid hands on Him." John 7:40-44
The prophecies were read openly from Scripture in the synagogues, and from there, the story went out to even the people who may not have attended a synagogue. It was commonly held knowledge.
The thing about this prophecy is that Bethlehem is still there. The same location from before still exists today. But the Jews of today don't look to the words of Micah and expect that their Messiah will come from there. And even if they did, they couldn't prove Davidic ancestry. Those records were destroyed 2000 years ago. And even if DNA could someday prove this, their supposed Messiah would still have to be born of a virgin. And even if a virgin could be artificially inseminated in order to bear a child, could it be said of that child, without really stretching the intent of the Hebrew, that his goings forth were from of old, even from everlasting?
And suppose they could somehow accept that, they would then need to accept that they were – at that time – going to be given up by this supposed Messiah for an unknown duration of time. Would they be willing to accept this? From this one short prophecy of Micah, which was commonly accepted as the reliable truth of God by Israel 2000 years ago, there are several impossible dilemmas concerning the identification of a coming Messiah in modern day Israel.
If we were to add in the countless other prophecies of this coming Christmas Child, the absolute impossibility of anyone in human history fulfilling all of them is seen. That is, with but one exception. The person who claims that the Bible is true is faced with one, and only one, possible conclusion – Messiah has come, He fulfilled every prophecy concerning His first coming, including that Israel did to Him exactly what Scripture prophesied they would do. Thus, that only possible One is JESUS.
In all honestly, the only other explanation is that the Bible isn't true, and Israel of today is an aberration, exactly as most of the people of the world claim. And if that is true, then Israel actually has no basis for who they claim to be, for the land they claim to possess, and for the claim that they are the chosen people of God. There is a terrible disconnect, a national cognitive dissonance, between Israel's identification with who they are, and with what they believe concerning the basis for who they are.
And all of this stems from one thing, and from one thing alone. That is in answering, "Who is Jesus?" That question was asked of the disciples 2000 years ago, and their response is recorded for all to accept or to dismiss –
"'"When Jesus came into the region of Caesarea Philippi, He asked His disciples, saying, "Who do men say that I, the Son of Man, am?"
14 So they said, "Some say John the Baptist, some Elijah, and others Jeremiah or one of the prophets."
15 He said to them, "But who do you say that I am?"
16 Simon Peter answered and said, "You are the Christ, the Son of the living God."'" Matthew 16:13-16
What happened to Israel over the past 2000 years is because of how they responded to the question. What will happen to them in the days ahead, is because of how they continue to respond to that same question. And the eternal destiny of every person on this planet, whether they are aware of it or not, is tied up in the answer to that same question.
The Bible shows us that after much suffering and great loss, Israel will someday call out to this wonderful Child of Christmas, barukh haba b'shem Yehovah – "Blessed is He who comes in the Name of Yehovah." When they do, they will be saved. For them, there is both an individual salvation, and a national salvation. For each of us, there is only individual salvation or condemnation. The Messiah has come, He has performed His work, and we are asked to respond to that in faith that what He has done is sufficient to save. That is all He asks of us.
And so today, here on this marvelous celebration of the incarnation of God in the Person of Jesus Christ, I would ask you to consider well what you believe. Jesus, through His word, is asking the question, "But who do you say that I am?" Is it possible that Micah's words are true? Could the eternal God really reveal Himself to the people of the world as a helpless Baby in a manger? Could He come without pomp and ceremony and walk the hills of Israel, telling His people about the completion of all things being found in Him? Could He really be the same Person who wept in agony over the punishment He was about to face for sins He did not commit? And could He – this perfect Lamb of God without spot or blemish – really go forth by the will of the Father to His death by crucifixion on a wooden cross?
As for me, I am fully convinced of this truth. I believe that the eternal God took on our nature and assumed the punishment that I deserve in my place. He died in my place, and He rose again by the power of God, cleansing me from all unrighteousness. I believe this with every fiber of my soul, because it is the only thing that actually makes any sense in this otherwise confused and worthless existence. Without Jesus Christ, nothing matters. But with the Child of Christmas having come, everything makes complete sense. The times are reaching their end, and Christ will be here to collect His people soon. I hope and I pray that you will be on board that express line to glory. Have your ticket ready. Have Christ in your life now, and climb aboard.
Closing Verse: "For unto us a Child is born,
Unto us a Son is given;
And the government will be upon His shoulder.
And His name will be called
Wonderful, Counselor, Mighty God,
Everlasting Father, Prince of Peace.
7 Of the increase of His government and peace
There will be no end,
Upon the throne of David and over His kingdom,
To order it and establish it with judgment and justice
From that time forward, even forever.
The zeal of the Lord of hosts will perform this." Isaiah 9:6,7
Next Week: Numbers 11:16-35 You may get it and even more… (Be Careful What You Ask For) (21st Numbers Sermon)
The Lord has you exactly where He wants you. He has a good plan and purpose for you. He was willing to put on a body of flesh and to dwell among us despite all the pains He had to endure in the process. If He did that for you, think of how much more lies ahead when we walk with Him in glory! So follow Him and trust Him and He will do marvelous things for you and through you.
The Child of Glory
The Lord spoke to Ahaz and thus He said
Ask a sign for yourself from the Lord your God
Ask it either in the depth, or in the height above your head
Ask it from the heavens under which you trod
But Ahaz said, I will not ask, nor will I test the Lord
I will not be presumptuous and speak another word
Then he said, "Hear now, Oh house of David!" I want to know
Is it a small thing for you to weary men?
But will you weary my God also?
Is this how to live in iniquity's hidden den?
Therefore the Lord Himself will give you a sign
Behold, the virgin shall conceive
And she shall bear a Son, by my glorious design
His name shall be Immanuel, hear now and believe
And you, Bethlehem Ephrathah, I know that you agree
You are little among the thousands of Judah, it is so
Yet out of you shall come forth even unto Me
The One to be Ruler in Israel, My word is true you know
His goings forth are from of old
From everlasting, thus you have been told
Praise God O Israel, For unto us a Child is born
Praise the Lord Land of Judah, For Unto us a Son is given
And the government shall upon His shoulder be worn
And through Him shall man's sins be forgiven
And His name will be called Wonderful
The Counselor and Mighty God is He
Everlasting Father, Prince of Peace, pure and white as wool
Of the increase of His government and peace no end shall we see
Upon the throne of David and over His kingdom's realm
To order it and establish it with judgment and justice
From that time forward, even forever, He at the helm
The zeal of the Lord of hosts will perform this
The scepter shall not depart from Judah
Nor a lawgiver from between his feet
Until Shiloh comes and we shout Hallelujah
And to Him the obedience of the people shall be sweet
Do not be afraid, for behold
I bring you good tidings of great joy
Which will be to all people, forever told
The wondrous story, the birth of a Boy
For there is born to you this day
In the city of David a Savior, it is He
Who is Christ the Lord, to whom heaven's hosts obey
The Messiah has come, and now you may go and see
And this will be the sign to you:
You will find a Babe wrapped in swaddling clothes
Lying in a manger, a glorious view
The Christmas Child whom our Heavenly Father bestows
A Child like no other has come to dwell among us
He shall lead us in paths of righteousness for His name's sake
And His name is called out, His name is Jesus
Come, and of the Heavenly Child partake
He is God's gift and heaven's treasure
He is Immanuel, God with us
And He bestows upon us grace without measure
The Christmas Child, our glorious Lord Jesus
This helpless Baby lying in a manger
Will rule the world in everlasting peace
Through Him will come security with no danger
And the rule of His glory shall never, never cease
All praise to our stupendous Lord of Glory
Yes, all honor to this precious King
Praising God for the wondrous Christmas story
Let all the Lord's redeemed shout aloud and sing
Hallelujah and Amen…