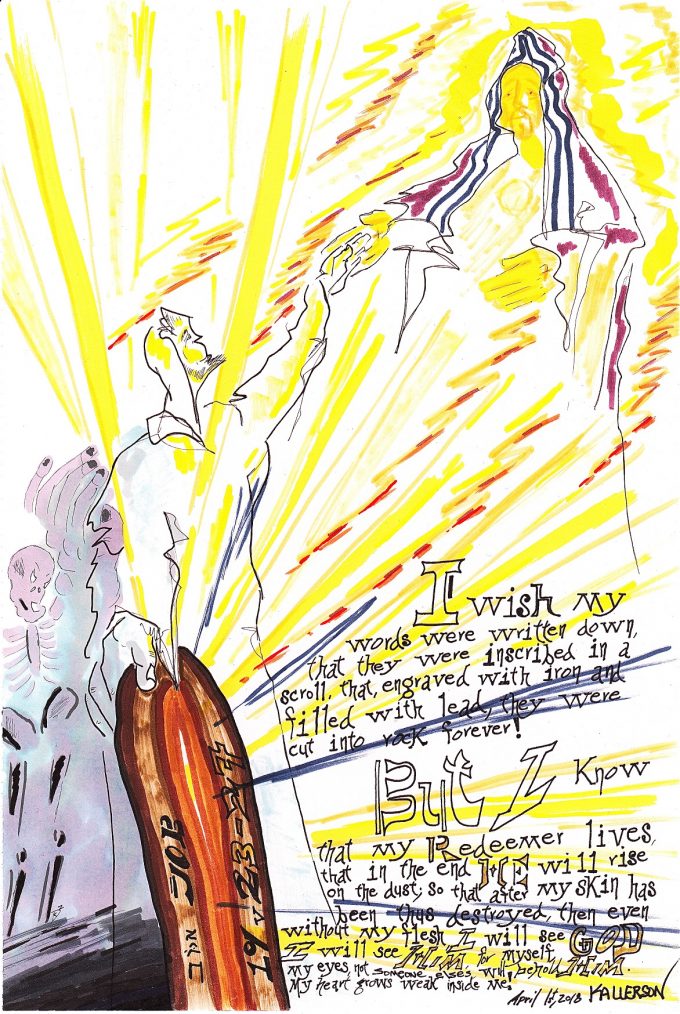 Job 19:23-27
In My Flesh, I Shall See God
"Oh, that my words were written!
Oh, that they were inscribed in a book!
24 That they were engraved on a rock
With an iron pen and lead, forever!
25 For I know that my Redeemer lives,
And He shall stand at last on the earth;
26 And after my skin is destroyed, this I know,
That in my flesh I shall see God,
27 Whom I shall see for myself,
And my eyes shall behold, and not another.
How my heart yearns within me!" Job 19:23-27
Right at the beginning of the book of Job, Job is described as a man who was blameless and upright, and one who feared God and shunned evil. In the same chapter, the Lord acknowledges that "there is none like him on the earth, a blameless and upright man, one who fears God and shuns evil."
From there, Satan, with the permission of the Lord, did his best to cause Job to trip up and to sin against God. He failed. But there is, in the character of Job, a flaw nonetheless. Job, wanted to do right, and he did right, but it becomes evident that he felt that he somehow merited to know why evil occurred to him when he had been a man of justice and integrity.
In other words, Job thought fearing God, was actually working his way to heaven. One can fear God without really having faith in God. I can know He is there, and that I need to be good, but if He says that being good isn't enough, and that I need to trust in Him alone to be considered good, then is my doing good really good if I am not trusting in Him in the process? Or is my doing good only good when it is done in faith of His provision and not mine.
That may sound like double-speak, but it isn't. To God, a good deed, not done in faith, is not really a good deed. This is what James tells us. But people misunderstand what he is saying. They assume that he means that we merely need to do good things after having faith. That is not at all what he is saying. He is saying that our good deeds must be deeds in faith. Job misunderstood this as well. He assumed that his righteousness allowed Him to question God when things went bad.
But God owes us nothing. Job was given a lesson in this, and in the end, he discovered what so many people, even people of Israel today, and even people in the church today, have failed to understand. The only truly good deed is a deed of and in faith. Otherwise, it is self, and not God, who is the recipient of the satisfaction for what is done. Paul explains this in many ways in his writings, but it becomes as clear as crystal to us when he cites David, a man under the law, who intuitively understood this…
Text Verse: But to him who does not work but believes on Him who justifies the ungodly, his faith is accounted for righteousness, 6 just as David also describes the blessedness of the man to whom God imputes righteousness apart from works:
7 "Blessed are those whose lawless deeds are forgiven,
And whose sins are covered;
8 Blessed is the man to whom the Lord shall not impute sin." Romans 4:5-8
David said, "Blessed is the man to whom the Lord shall not impute sin." But David was under the law. If he sinned, under the law, how can sin not be imputed? It is because sin could be atoned for through a substitute. But substitution in this way, by its very nature, involves faith. The deed isn't undone, but one has faith that it is forgiven. With no faith in the sacrifice, then God does not forgive.
This is what Paul then uses to explain the work of Jesus for us. Jesus died for all people. All sins are potentially forgiven in His sacrifice, but not all sins are actually forgiven. Only when faith in what He has done is brought into the equation are those sins potentially-forgiven then actually forgiven. Job was not wrong in doing good things, but he thought that what he did gave him a special relationship with God that exempted him from trouble, or at least that it allowed him to question God as to why the things happened. God showed him otherwise. His story, like all of Scripture, points us to our need for Jesus Christ. Either looking ahead to Him, or looking back on Him, all people need Christ Jesus. It's all to be found in His superior word. And so let's turn to that precious word once again and… May God speak to us through His word today and may His glorious name ever be praised.
I. The Record of our Lives
23 "Oh, that my words were written!
Oh, that they were inscribed in a book!
24 That they were engraved on a rock
With an iron pen and lead, forever!
Job was not only a tested man, but he was – at the point of this verse – a frustrated man. He had gone through the most difficult of trials, the greatest of loss, and the sadness of his situation was immeasurable. But despite this, his three friends who had come to comfort him instead spent their time correcting him. They questioned his righteousness, and they insinuated that his troubles stemmed from the conduct of his life and actions. The voice of these three was consistent as he received the same accusing words from each. In the chapter preceding his words here, certainly one of the shortest people in the Bible, Bildad the Shuhite (he being only height of a shoe!), pierced him with more words of condemnation –
He is driven from light into darkness,
And chased out of the world.
19 He has neither son nor posterity among his people,
Nor any remaining in his dwellings.
20 Those in the west are astonished at his day,
As those in the east are frightened.
21 Surely such are the dwellings of the wicked,
And this is the place of him who does not know God." Job 18:18-21
Words such as this must have broken Job's heart. He defended his righteousness, stating he had done nothing deserving of the misery inflicted upon him. And yet, the barbs of his friends kept coming. Immediately following these words of Bildad, Job resumed his defense. By verse 21, he is almost beside himself with the misery of his treatment, and he cried out –
"Have pity on me, have pity on me, O you my friends,
For the hand of God has struck me!
22 Why do you persecute me as God does,
And are not satisfied with my flesh?" Job 19:21, 22
It is at this low and miserable state that he moans forth the first words of our sermon text today.
"Oh, that my words were written!
Oh, that they were inscribed in a book!
24 That they were engraved on a rock
With an iron pen and lead, forever!
In his hopes for a defense, he lamented, wishing that his words, meaning the conduct of his life, had been written down. If only they had been meticulously noted and compiled, even into a book, then it could be referred to. It could be opened. It could stand as a witness to the care he had put into his walk in the presence of God. Surely that would stand as a testimony to his friends of the error of their accusations! And even better than a book which could burn up or corrupt away by mold, or be eaten by a goat or bugs, if only they were engraved on a rock! The permanence of his deeds would be noted, and stand forever as a witness to his actions. Instead of a short note on a gravestone, Job desired that his entire life would be carved deeply into rock to shout out to these unfaithful friends that he was righteous.
Understanding that even rock will wear out though, he adds in words of permanence, "With an iron pen and lead, forever!" The iron would cut deeply. Even the erosion of weather could not wear out that which had been so deeply cut, and which was then filled with lead to seal what had been etched, and to highlight the letters of his life for all to see. It is this; this which Job desired. As he sat in the mire of misery, he held fast to his righteousness, desiring that all could see it and approve of his life and actions.
Job sat in the land of Uz at a time in history believed to be around that of Abraham. At this place, and at this point, he only had a minimal knowledge of the Holy One. But he did have a knowledge of Him, and so he lived his life in a pursuit of righteousness. But his life wasn't recorded, and so what profit was that righteousness except to God who knows all things? This much he understood. "I have a life, and it is known to God." Later the Bible will confirm this. The very birthplace of each person is, in fact, recorded –
And of Zion it will be said,
"This one and that one were born in her;
And the Most High Himself shall establish her."
6 The Lord will record,
When He registers the peoples:
"This one was born there." Selah Psalm 87:5, 6
Those born in Zion would be recorded as such, by the Lord Himself, when He registered the peoples. If this is true of those born in Zion, then the Lord is aware of those not born in Zion. If He is aware of the place of their birth, and thus records it, then He – by default – must also be aware of the time of their birth. And if so, then He must know to whom a person is born. As He is aware of all births in this manner, then the entire genealogical record of humanity is known to Him and recorded by Him. One simple statement about the record of those born in Zion logically follows through to the birth record of all humanity. The Lord knows, and His knowledge is recorded.
At least Job could access this from the library of infinite record. But that would not be enough to place in front of his unfriendly friends. He would need more to defend himself before them, and before the accuser, Satan, who had done him so wrong. And he could then question the Lord satisfactorily as to why He allowed His poor faithful servant Job to come to such disaster. But there is more on record than just genealogies. Job didn't know the words of the 56th Psalm. If he did, he would have had more comfort for his broken heart…
"You number my wanderings;
Put my tears into Your bottle;
Are they not in Your book?" Psalm 56:8
In fact, Job's wanderings – where he had gone and what he had done – these were recorded as well. The all-seeing eye of his Creator had watched his steps and recorded them. And each woeful tear of Job's streaming eyes had been captured and safely secured away in a book of remembrance.
His wealth was gone, his children were destroyed, and his nagging wife was left behind to increase his misery. The tears flushed forth like a torrent streaming through the dry wadis of the desert, but the Lord had marked them all down. Such actions were, in fact, recorded in the book of his life. Though the words may be lacking, he could present this evidence to the miserable physicians who had come not to heal, but to open already infected wounds, and to allow them to fester even more. The movie of his life may be a silent one, but the care of his daily walk, and the emotion of his desolation, would surely bring them to repentance of their misdiagnosis and mistreatment of this admission into the hospital of sackcloth and ashes. Oh! If only the words accompanied the scene! Then, surely then, they would know – with all certainty – that he was righteous, and that his petition to God for his ill treatment was just and justifiable.
But Job, sitting on his heap of mourning, lacked the words of the Redeemer whom he was sure was out there. It would be many generations until He came, but when He did, we are told by Him that what Job desired with such longing was already true. It wasn't just genealogies, wanderings, and tears that were recorded. The knowledge of the Holy One didn't go to a certain point and … stop. No, His knowledge is infinite, and His record is complete. Nothing is hidden from His eyes, and all the ways of man are known to Him. And the ways of man, including the inclination of the heart, and the very words he speaks are known. What Job longed for, was, in fact, to be waiting and available…
 "Either make the tree good and its fruit good, or else make the tree bad and its fruit bad; for a tree is known by its fruit. 34 Brood of vipers! How can you, being evil, speak good things? For out of the abundance of the heart the mouth speaks. 35 A good man out of the good treasure of his heart brings forth good things, and an evil man out of the evil treasure brings forth evil things. 36 But I say to you that for every idle word men may speak, they will give account of it in the day of judgment. 37 For by your words you will be justified, and by your words you will be condemned." Matthew 12:33-37
Job longed for his words to be recorded. He wanted them recorded permanently, and he wanted them highlighted for all to see. His accusers could shut up as he presented them openly and with delight. And the God who had wronged him would surely feel remorse and apologize to him for his ill treatment. Job would be vindicated in all ways. Or so he thought would be the case.
Oh, that my words were written!
Oh, that they were inscribed in a book!
That they were engraved on a rock so smitten
With an iron pen and lead, forever to gaze upon and look
All that I have said and done
That it could be there to vindicate me
I am the man pleasing to God! Yes that one!
If only my words were written, He could see
Wouldn't He then say that I was right?
That I was righteous in and of myself
The trial would be a marvelous sight
As my record was taken down from the shelf
Is this how it shall be?
Will God truly in this manner favor me?
Time will tell, and we shall see
II. The Plan Already in Motion
25 For I know that my Redeemer lives,
And He shall stand at last on the earth;
Words of confidence! Words of surety! Job knew that his Redeemer lived. What this actually meant, in all its finer detail, was not his concern. He was aware of the ancient promise, and he knew that God was faithful and true to keep it. After the fall of man, a Redeemer was assured. He would come and restore that which was lost. He would crush the accuser, that vile serpent, that brought all of this misery and woe into his life.
Before it came, Job lived faithfully and righteously. He was blameless and upright, he feared God, and he shunned evil. As the priest of his household, he sacrificed for the sins of his family. He didn't allow his great wealth or position to interfere with his walk before God. Instead, he maintained his integrity, and he held fast to righteousness. But in this, he also thought that he deserved a trial when things went bad. God must have had erred in allowing his life to be destroyed, and he wanted a trial to bring about his vindication.
His Redeemer would do so, and He was alive and waiting eagerly to do so. Job was certain, "My Redeemer lives." He certainly wasn't thinking of the human Jesus. He was thinking of God who redeems. His theology was lacking, but only because of his time and place, not because of his desire to know.
And so with a voice of confidence, he exclaims, "And He shall stand at last on the earth!" Job is thinking of God, but God doesn't have parts. God is Spirit. However, in his prophecy, he uttered true words nonetheless. His lack concerning the knowledge of God was not allowed to interfere with the prophecy from God. Somehow, His living Redeemer would stand upon the earth.
Then! Then he would receive his vindication. It might not be now, and it might not be soon enough to restore the pains of his heart during his earthly walk, but he knew that it was coming. At that time, he could present his case, have the errors corrected, and stand vindicated for his life of integrity. The wrongs would be admitted, and the Lord would… Oh certainly He would!, admit that Job had been mistreated and wronged unjustly.
The record of his life, from birth through tears, and even to death itself – it was all recorded. He didn't know that, but he was certain that his life proved that what happened to him was in error. Several times in the psalms, David specifically asked for vindication as well. In the 26th Psalm, he asked for vindication because of the life of integrity he had lived. His words there are similar to Job's cries.
In the 35th Psalm, David cried out, "Vindicate me, O Lord my God, according to Your righteousness." David understood that the Lord is righteous, and that the trials he faced were known to the Lord. Surely He would vindicate him. Again, the words are similar to the pleas of Job. In the 43rd Psalm, David pleas for vindication, asking the Lord to plead his cause against an ungodly nation. Job's plea was similar. The words of his accusers were ungodly and incorrect. He had been just and righteous, and they accused him of having received his just desserts for unrighteousness. In the 54th Psalm, David again appeals for vindication, claiming that God was his helper. Job on the other hand felt that God had somehow wronged him. He cried out for vindication from the error which had been made. It is the flaw in Job's theology which most needed correction. We can misunderstand things about God because we lack the full revelation of who He is, but we can never impute wrongdoing to Him. This is especially so when we compare His righteousness to our own, and His workings to ours.
I know that my Redeemer lives!
And that He at last shall stand upon the earth
I will receive every blessing He gives
Eternity will be filled with joy and mirth
But will it be that He is pleased with me?
Is my redemption secured because of the things I've done?
Or is there something else I need to see
In order to have my victory won?
What does the Lord have in store?
Is my life pleasing now in His sight
Is anything lacking? Is there anything more?
That will ensure things come out right?
What is Your plan for me, O God?
Reveal it to Your servant, as in this life I trod
III. The Resurrection
26 And after my skin is destroyed, this I know,
That in my flesh I shall see God,
27 Whom I shall see for myself,
And my eyes shall behold, and not another.
How my heart yearns within me!"
Job knew that a day of reckoning for all men lay ahead. Life is lived, man makes his decisions with the information available, he conducts his life in whatever way suits him, and for whatever most motivates him, and then he expires and returns to the earth. In this passing, corruption sets in, the body breaks down, and the elements return to dust. Eventually, even that is picked up and swept away by the winds or rains. Not even a pile is left as a testament to the man who once existed and lived out his life under the sun.
Nobody remembers, no name is left upon the wind for ear to hear, no reflection of him remains in a mirror. It is as if he never existed at all. It is the eventual end for everyone. Though we build monuments to our existence, even they fall into rubble and disappear. The vanity of this futile existence is repeated in the vanity of obscurity. None of it mattered apparently. Such is the state of man as far as time and remembrance are concerned.
Except of course, for those who have not lived only under the sun, but under the heavens. They have the knowledge that God is there, that He is a Rewarder of those who seek Him, and that this life is not all there is to existence. Job knew this, and he, with absolute certainty, proclaimed –
And after my skin is destroyed, this I know,
That in my flesh I shall see God.
There would be a renewing of the man. From what was once dust itself, he would be gathered again into a physical suit. The flesh destroyed by corruption, time, and natural force would be reclaimed, and a body would be created for the soul which had departed it. The two would be reunited, and in this body, God would be beheld. Job knew this, because he believed that the Lord is true to His word. What little he knew about the record of man was enough to convince him that he had to act justly, walking in integrity, and conduct his affairs in righteousness. He knew that sacrifices were needed to cover wrongdoing, and that he would be held accountable for the life he lived. Someday, the elements would regather to support this truth.
Isaiah prophesied about this as well. From time to time, you might hear a preacher or teacher say that the ancients had no idea about a resurrection. It is as if they have had their heads held under water a bit too long. The deprivation of oxygen kept them from either reading, or actually taking in, the words of the Old Testament. Even a cursory reading of it, including the words of Job, show that this has always been known to man. Isaiah, simply confirms what was already commonly accepted –
"Your dead shall live;
Together with my dead body they shall arise.
Awake and sing, you who dwell in dust;
For your dew is like the dew of herbs,
And the earth shall cast out the dead." Isaiah 26:19
The dwellers of the dust would be aroused to walk upon it once again. The spot of their interment would become the place of the soles of their feet. The earth will cast forth the dead, and the dead shall live. The daisies which feed the mule would no longer be nourished by the sons of Adam. Instead, revitalization of the inanimate would occur, and those who dreaded death while alive, will live again.
But for every such action, there is a reason. This gathering of humanity from the dust of the earth serves a purpose that goes beyond eternal life. It divides that eternal life into two separate avenues. Job knew it would come, Isaiah confirmed that it is coming, but Daniel explains why it will be so –
"And at that time your people shall be delivered,
Every one who is found written in the book.
2 And many of those who sleep in the dust of the earth shall awake,
Some to everlasting life,
Some to shame and everlasting contempt.
3 Those who are wise shall shine
Like the brightness of the firmament,
And those who turn many to righteousness
Like the stars forever and ever." Daniel 12:1-3
There is to be a dividing line as to what will happen to the reanimated seed of Adam. A judgment lies ahead, and it will be based upon what is written down. The very thing that Job longed for, is exactly what is already prepared. Every birth, every step, every tear, and every word… all of it has been compiled for a day of reckoning, evaluation, and judgment.
The ancients knew this to be true, and the Lord slowly continued to reveal the truth throughout the ages. Eventually, it became so well known, that even the women of the land, who were never held by those in the east of being the scholarly sort, were fully aware of what had been revealed. Jesus, before His crucifixion, and resurrection, meaning during Old Covenant times, had an encounter with Martha at the tomb of her brother Lazarus. We have the privilege to sit in on what happened, and what was said…
So when Jesus came, He found that he had already been in the tomb four days. 18 Now Bethany was near Jerusalem, about two miles away. 19 And many of the Jews had joined the women around Martha and Mary, to comfort them concerning their brother.
20 Now Martha, as soon as she heard that Jesus was coming, went and met Him, but Mary was sitting in the house. 21 Now Martha said to Jesus, "Lord, if You had been here, my brother would not have died. 22 But even now I know that whatever You ask of God, God will give You."
23 Jesus said to her, "Your brother will rise again."
24 Martha said to Him, "I know that he will rise again in the resurrection at the last day."
25 Jesus said to her, "I am the resurrection and the life. He who believes in Me, though he may die, he shall live. 26 And whoever lives and believes in Me shall never die. Do you believe this?"
27 She said to Him, "Yes, Lord, I believe that You are the Christ, the Son of God, who is to come into the world." John 11:17-27
Martha already knew that there would be a resurrection. It was so well known among the people by this time, that a girl from an obscure little village was fully aware of what lie ahead in the resurrection at the last day. What she didn't know was that the Resurrection stood before her. The Life of man itself had been revealed; the One who had breathed the breath of life into man four thousand years earlier; stood right there ready to comfort her misery, calm the mournful soul, and confirm the power which rested in His hands. The Redeemer had not yet redeemed, but He would show that He was capable of doing so. The time was not far away when it would come about. It is this One, known to Job, and yet unknown by Job, about whom he called out his words of hope –
Whom I shall see for myself,
And my eyes shall behold, and not another.
Job prophesied that he would see God. But God cannot be seen except in the manner in which He reveals Himself in creation. Job may not have known this, and yet his prophecy was not incorrect. He would see God as far as God can reveal Himself to His creatures. He revealed Himself in a burning bush to Moses. He came in a pillar of cloud by day, and a pillar of fire by night to the children of Israel. Later He revealed His back while Moses was secreted away in the cleft of the rock.
He came in awesome splendor to others, such as Ezekiel. What Ezekiel saw was so dramatic that the word "like" is used time and time again. Something that is "like" something is not what is described. Rather, it is the pitiful prophet's poor pronouncement that what he sees is "like" something else. He tried to use something understood to describe that which is not understood.
But apart from all of the stunning representations of the Lord to prophets like Isaiah, and Daniel, and others, there is one presentation of the Lord which is found interspersed throughout the Old Testament – that of a Man. He walked up to Abraham with two others. He stood before Joshua with a sword drawn. He appeared to Gideon. He came to the mother of Samson first, and then to both her and her husband.
To these, and others, the Lord appeared as a Man. If this is so, then it should not be so impossible for Job to assume that he would stand before God as well. The Lord is God, and the Lord has appeared as a Man. It was for this appearance before the God/Man – whether or not he recognized that this is how He would appear – that he cried out with his words of surety, anticipation, and hoped for vindication… "How my heart yearns within me!"
The heart of Job yearned to stand before his Creator, but Job's hope was one of somewhat misdirected anticipation. He hoped for a chance to be vindicated in his righteousness and have the error of his calamity explained and exposed. His friends were wrong; Job did not deserve what happened to him, as if it was divine recompense for wickedness. But Job was also wrong in assuming that the God owed him an answer for what had happened to him.
And so to correct his faulty arrogance, the Lord came to Job. He had expected to hear from God at some distant point in the future, but his ears were tuned into the words of the Divine earlier than anticipated. And rather than being comforted, apologized to, and given an explanation for his misery, we read something entirely different…
Then the Lord answered Job out of the whirlwind, and said:
2 "Who is this who darkens counsel
By words without knowledge?
3 Now prepare yourself like a man;
I will question you, and you shall answer Me." Job 38:1-3
After this, the Lord filled the ears of Job with question after question of matters far too weighty for Job to furnish with an answer – "Where were you when…?" "Who accomplished this…?" "Have you commanded…?" "Have you seen…?" "Can you do…?" Again and again, the Lord reveals to Job that there are mysteries far greater than he could ever imagine. If this is so, then the course of his unfolding life is also a part of the mysteries of God, known to Him, but kept from Job.
As if the questioning was through, the Lord stopped and abruptly charged Job to respond. And immediately Job did, but no longer was there an air of arrogance in his voice. He was humbled and laid low by the piercing interrogation of the all-wise Divine voice he heard…
 Moreover the Lord answered Job, and said:
2 "Shall the one who contends with the Almighty correct Him?
He who rebukes God, let him answer it."
3 Then Job answered the Lord and said:
4 "Behold, I am vile;
What shall I answer You?
I lay my hand over my mouth.
5 Once I have spoken, but I will not answer;
Yes, twice, but I will proceed no further." Job 40:1-5
Job was done and he was O so glad that the interrogation was over. But the Lord wasn't done. Just as He controls the creation, so He controls the counseling. And thus, the questioning resumed once again…
Then the Lord answered Job out of the whirlwind, and said:
7 "Now prepare yourself like a man;
I will question you, and you shall answer Me:" Job 40:6, 7
The Lord's words and questions, like arrows swiftly fired by the finest archer, kept coming until the target lay vanquished. When His words ended, there was nothing left of the pride of Job. He may have possessed more integrity that any other man who ever lived, but even that could not bear up to the scrutiny of the Almighty. And so he uttered his awestruck words for the ears of the Lord to hear…
Then Job answered the Lord and said:
2 "I know that You can do everything,
And that no purpose of Yours can be withheld from You.
3 You asked, 'Who is this who hides counsel without knowledge?'
Therefore I have uttered what I did not understand,
Things too wonderful for me, which I did not know.
4 Listen, please, and let me speak;
You said, 'I will question you, and you shall answer Me.'
5 "I have heard of You by the hearing of the ear,
But now my eye sees You.
6 Therefore I abhor myself,
And repent in dust and ashes." Job 42:1-6
The dust and ashes in which he already sat were a sign of mourning for his poor, pitiful state – for the loss of those he loved, and for the life which was taken from him. But that same bed of dust and ashes became an altar of repentance for the arrogant assumption that he had a right to know what was reserved for God alone to know.
Job knew still that he would be resurrected. He knew still that he would stand before God. He knew still also that His Redeemer lived and would in fact redeem. And at this point, his heart within him certainly yearned for that to come to pass. But the yearning now was a yearning converted and renewed. What he sought was not his own vindication, but God's glory. And with that as his hope and treasure, he could rightly yearn for that awesome and terrible Day when men's souls will be judged before the One who holds the power of eternity itself in His hand.
Job had his conversion before the Lord. Just as Abraham believed in the Lord, and He counted it to him for righteousness, Job too believed in the Lord. The righteousness that Job possessed as a man, was elevated to a righteousness that was the gift of God. He had moved from the earthly to the heavenly. It is the Lord alone who can grant such a hope to man, and as Job discovered, it is entirely external.
It is the same Lord today who provides the same redemption to man. But it is now received in a more specific manner. As the Lord reveals, His requirement for harmony, fellowship, and reconciliation with Him elevates to that new level of revelation. A person can no longer look to the Lord as Abraham, Moses, or Job did and find the same declaration of righteousness as they found. Their hope was in One to come. Our hope must be in the One who has come.
Yes, it is the same Lord, but His self-revelation has been elevated, and so our acknowledgment of Him must meet that heightened level as well. What does this mean? It means that we must come to Jesus, the Author and Finisher of our faith in order to be saved. When He spoke to the Jews at the Feast of Dedication in Jerusalem, He told them that He and the Father are one.
The apostles missed the importance of those words, and so again with them on the night before His crucifixion, He said "He who has seen Me has seen the Father." How can this be? Is Jesus the eternal Father? No. Jesus is the eternal Son of the Father. He is the One who reveals the infinite Father to us in a manner in which we can comprehend. Just as the Lord appeared to Abraham in a manner in which he could understand, so the Lord appeared to the world.
This is the message of love which the Father has sent unto us. That God so loved the world that He gave His only begotten Son, that whoever believes in Him should not perish but have everlasting life. There, in Christ Jesus, the eternal and Divine united with His creation in order to redeem that which had been lost. But that redemption could only occur if there was death involved in the process.
The sin exists, the law of God exists, and the standard of that law is published. God cannot arbitrarily forgive sin as if it was of no consequence. One sin, by one man, disrupted the workings of the entire created universe. That one sin of man has also been continuously transferred from father to child since. Each human being has received his father's error, and all are separated from God because of it. The deal is done, and the fate is sealed. There is nothing we can do to undo it, because we are moving ahead in time. It cannot be undone. It exists in us, and it condemns us.
What we need is a new birth; one apart from sin. Jesus said that unless one is born again, he cannot see the kingdom of God. But in order to be born again, we must first die; die to sin. This is what Jesus came to do. He, born of a woman, but not of a man, was born without sin. His Father, being God, transferred no sin to Him.
He was then qualified to redeem man. But was He also capable? This is what we have come here today to find out, to accept, and to adore. God's law was written, and He was born under that law, being of Israel. Whereas Adam had one law, and that in the negative, to obey; Christ had as we are told 613 to obey. Some were negative, "You shall not." Others were positive, "You shall." And this vast law, so heavy and burdensome, carried with it a promise; if a man does the things of the law, he shall live by them.
This is the purpose of the gospels. They tell us of Christ Jesus' birth without sin, and His life without sin. He was qualified, and He is capable. But… was He willing? In order to redeem man, He also had to die. The new birth was as far from us as the east is from the west without the death of the Lamb of God.
Job's heart yearned within Him to see his Redeemer. Anyone who wants to see God should long to see Him as well. But to gaze upon the Redeemer means to gaze upon the crucified Christ. The sin that we bore demanded His death before He could give life. The answer is, "Yes, He was willing."
"Therefore My Father loves Me, because I lay down My life that I may take it again. 18 No one takes it from Me, but I lay it down of Myself. I have power to lay it down, and I have power to take it again. This command I have received from My Father." John 10:17
He had the power to lay it down, and He used that power, of His own accord, to grant new life to those He came to save. The sinless Christ was nailed to the cross of Calvary, bearing all the sin of the world. Every evil deed – from Adam's pride, to David's adultery, to our theft, hatred, disobedience, and failure to love God with all our heart, soul, mind, and strength – all of it, was cast upon the Lord Jesus Christ. The wrath of God was completely and sufficiently poured out on His own Son in order to remove the guilt we bear.
And to prove that Christ's qualified, capable, and willing sacrifice was complete and sufficient, He raised Him from the dead. Without sin of His own, death could not hold Him, and with our sin removed through death, the new birth is now available. In Christ, there is now a choice for all men to make. Will we receive the sufficiency and completeness of God's wrath poured out on Him for our sins, or will we test God and stand on our own before Him in our own supposed righteousness.
Job repented in dust and ashes for his arrogance. Each of us must be willing to put self aside and trust… simply trust that God has done it all, and that it is all done. We are here today as a group of believers to worship the risen Christ. But we are also here to remember the crucified Christ. My Creator… our Creator, was willing to accept the torturous punishment of Roman crucifixion on the tree of Calvary to make all things new. The question I have to ask, and I ask it often is, "What manner of love is this?" Thank God for Jesus Christ our Lord.
Closing Verse: So when this corruptible has put on incorruption, and this mortal has put on immortality, then shall be brought to pass the saying that is written: "Death is swallowed up in victory."
55 "O Death, where is your sting?
O Hades, where is your victory?"
56 The sting of death is sin, and the strength of sin is the law. 57 But thanks be to God, who gives us the victory through our Lord Jesus Christ. 1 Corinthians 15:54-57
Next Week: Leviticus 26:40-46 In times ahead, this will become completely evident… (I Will Remember the Covenant) (50th Leviticus Sermon)
The Lord has you exactly where He wants you. He has a good plan and a purpose for You. Though Paradise was lost, He offers access to it once again through the death, burial, and resurrection of Jesus Christ. So call on Him, and trust Him, and He will do marvelous things for you and through you.
A Celebration of the Resurrection of Jesus Christ
This is the gospel which was preached to you
It is also the one you received and on which you stand
It is the gospel of salvation, providing life that's new
And which will carry you to the promised Holy Land
What is delivered to you is what was before received
That Christ died for our sins according to God's word
He was buried and He rose, and so we have believed
And many witnesses testify to this message you have heard
Now if Christ is preached that He is risen from the dead
How can some among you say the resurrection isn't true?
If there is no resurrection after Christ was crucified and bled
Then our faith as well as yours is certainly askew
And if so, we are found false witnesses of God
Because we have wrongly testified of this mighty deed
And our faith is futile, no heavenly street's we'll trod
And we are still dead in our sins; fallen Adam's seed
Even more, those who have fallen asleep in the Lord are gone
And we are the most pitiable creatures
———-the world could ever look upon

But indeed Christ is risen from the dead
He is the Firstfruits of those who have fallen asleep
And as death came through one Man, Adam our federal head
So Christ will make all alive; our souls He will keep
But there is an order to the Resurrection call
Christ was first, the pattern for the rest when He comes
When He does, He will make a shout out to us all
And we will rise as if to the sound of heavenly battle drums
Then comes the time, when He delivers the kingdom to the Father
When all rule, authority, and power have come to an end
The last enemy to be destroyed is death, never more to bother
Then the Son will to the Father eternal rule extend
But you ask, what will we be like after our time of sleep
After we have been buried in corruption's pit so deep
Our body is sown in dishonor, but it will be raised in glory
It is sown in weakness, but raised in power – the resurrection story
The first man Adam became a living being, it's true
The last Adam became a life-giving Spirit, life to me and you
And as was the man of dust, created so long ago
So are those likened unto Him, also made of dust
And as is the Man, the Lord from heaven, you know
That we shall bear His image for eternity just as we've discussed
Flesh and blood cannot inherit the kingdom of God
Nor can corruption inherit that which in incorrupt
Be we shall all be changed, and so heavenly streets we'll trod
In the twinkling of an eye, the change will be abrupt
When the last trumpet sounds we will be taken to glory
We shall all be changed, completion of the gospel story
Where O Death, O where is your sting
When Christ our Savior, us to Himself does He bring
Where O Hades, O where is your victory
When Christ translates His children to eternal glory
The sting of death is sin, and the strength of sin the law
But thanks be to God who gives us victory through our Lord
My beloved brethren be steadfast in all you've heard and saw
And cling confidently to God's eternal word
Know for certain that your labor is not in vain
Be of good cheer, Christ is coming again
Hallelujah and Amen…