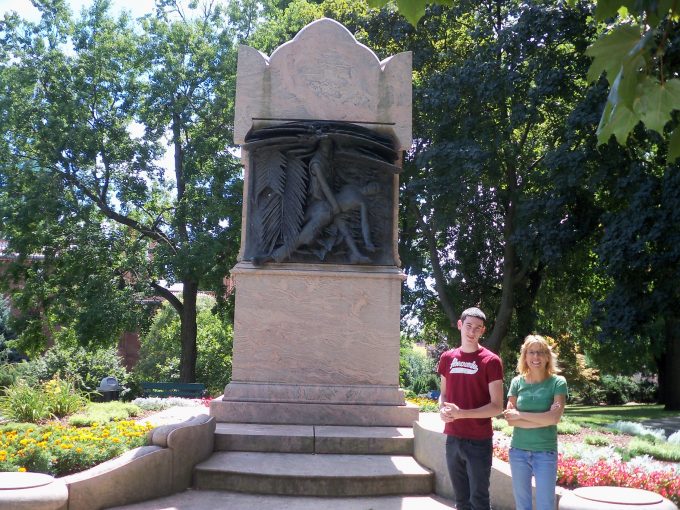 Monday, 20 May 2019
Therefore by Him let us continually offer the sacrifice of praise to God, that is, the fruit of our lips, giving thanks to His name. Hebrews 13:15
The words should state, "through Him," not "by Him." It is through Christ Jesus that God's people are to "continually offer the sacrifice of praise to God." This is a direct link to the thank (also known as "fellowship") offerings that were offered under the Law of Moses. The same word is used in the Greek translation of the Old Testament in Leviticus 7:12 where that offering is named. It was through such an offering that such praises were ordained. Later, it is then used in Psalm 50:14 (and elsewhere) in the sense of giving praise to God –
"Offer to God thanksgiving,
And pay your vows to the Most High."
Unlike the sacrifices for sin and trespass, which looked to restoration between God and His people, a peace offering was made for the preservation of the relationship. People would make these offerings. A portion of them was burnt upon the altar to God, and a portion was eaten by the offerer. In this, there was a meal being enjoyed between the two. This is somewhat analogous to our taking of the Lord's Supper now. The author is showing that in praising God through Jesus, we are offering "the fruit of our lips."
In this, similar terminology is found in the Proverbs and Hosea –
"A man's stomach shall be satisfied from the fruit of his mouth;
From the produce of his lips he shall be filled." Proverbs 18:20
&
"Take words with you,
And return to the Lord.
Say to Him,
'Take away all iniquity;
Receive us graciously,
For we will offer the sacrifices of our lips.'" Hosea 14:2
The idea of the "fruit of the lips," or the "sacrifice of the lips," is that which is produced through the lips. When one speaks something vile, that is what is produced. When one speaks praises to God, that is what is produced. To praise God, through Jesus, is considered as a peace-offering to God in that it is pleasing to Him. This is then acknowledged as "giving thanks to His name."
In properly worshiping the Creator in this way, it is showing reverence for the plan which He orchestrated for the redemption of man, and which He alone has credit for. As this is through the giving of His Son, it is an acknowledgment that He ordained the plan, He set it in motion, He participated in it, and He carried it through to its completion – all through Christ. As Paul says –
"Now all things are of God, who has reconciled us to Himself through Jesus Christ, and has given us the ministry of reconciliation, 19 that is, that God was in Christ reconciling the world to Himself, not imputing their trespasses to them, and has committed to us the word of reconciliation." 2 Corinthians 5:19
All the glory goes to God, and therefore all the praises are to go to Him in acknowledgment of that. Whereas all sacrifices and offerings mandated under the Law of Moses are complete, the praises of God, which the peace offering symbolized, will never cease. The praises of God will ring forth for all eternity.
Life application: Here we have several huge concepts.
1) In order to please God, we praise Him through Jesus. This is not an idea unique to this verse, but is repeated throughout the New Testament. It clearly and unambiguously means that no other avenue of praise to God is meaningful. We cannot praise Him through Mary or the saints; through Buddha, Allah, or Vishnu; nor can we do it directly without a mediator. Instead, it is through Jesus that praise is acceptable to God.
2) Praise isn't meant for a specific time of the week – a Sabbath, a single day of worship, or a specific location. Instead, praise is something to do continually. If you hurt yourself – say a badly stubbed toe – you can call out, "Thank You Jesus that it wasn't a broken hip." In other words, we can – even in the most trying times – praise God for the greater trial that didn't come.
3) God looks at praise as a sacrifice! We don't need to fast, give money to a cause, spend excessive time helping others, or be creative with our skills in order to be pleasing to God (although we can also do these things for His glory). Instead, God looks at our true praises as sacrifices in and of themselves. As the 54th psalm says –
"I will freely sacrifice to You;
I will praise Your name, O Lord, for it is good." Psalm 54:6
And again, as a means of repaying the kindness of our salvation, the psalmist says –
"What shall I render to the Lord
For all His benefits toward me?
13 I will take up the cup of salvation,
And call upon the name of the Lord." Psalm 116:12, 13
There is truly no other thing we can do to "repay" God. Paul says as much in Romans 11:35. Instead, we sacrifice to God through our praises. I'll bet a jillion dollars that if you spend your time finding reasons to praise Him at all times, you'll be healthier, happier, and more filled with heaven than you can imagine. In all things, remember to praise the Lord.
Praise the LORD. Praise God in His sanctuary; praise Him in his mighty heavens. Praise Him for his acts of power; praise Him for his surpassing greatness. Praise Him with the sounding of the trumpet, praise Him with the harp and lyre, praise Him with tambourine and dancing, praise Him with the strings and flute, praise Him with the clash of cymbals, praise Him with resounding cymbals. Let everything that has breath praise the LORD. Praise the LORD. Hallelujah and Amen!