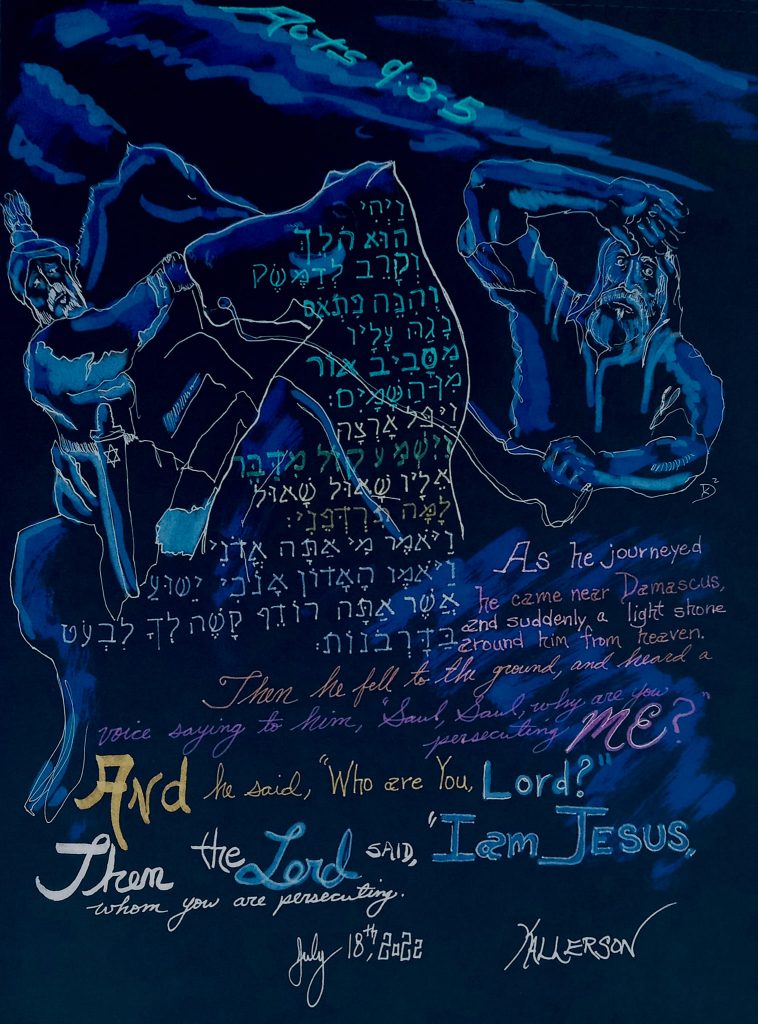 Artwork by Doug Kallerson.
Tuesday, 19 July 2022
Then he fell to the ground, and heard a voice saying to him, "Saul, Saul, why are you persecuting Me?" Acts 9:4
Note: You can listen to today's commentary courtesy of our friends at "Bible in Ten" podcast. (Click Here to listen)
You can also read this commentary, with music, courtesy of our friends at "Discern the Bible" on YouTube. (Click Here to listen), or at Rumble (Click Here to listen).
The previous verse told of the light from heaven that shone around Paul as he was nearing Damascus. Now, a voice accompanies that brilliant light. The NKJV is not very precise in its translation. Comparing a more literal translation will show its weakness –
Then he fell to the ground, and heard a voice saying to him, "Saul, Saul, why are you persecuting Me?" (NKJV)
"And having fallen upon the ground, he heard a voice saying to him, 'Saul, Saul, why do you persecute Me?'" (CG)
With that noted, the verse can be looked over, beginning with, "And having fallen upon the ground."
Some suppose that this means Paul was on a horse, mule, donkey, or camel. But there is nothing to suggest this. Jesus is said to have fallen upon the ground in Mark 14:35 while in the Garden of Gethsemane. The same words are used in that account as now in Acts, and it is clear that he was walking with the disciples at the time.
And so, whether on horse or simply walking by foot, Paul was overwhelmed with the brightness of the glory that shone around him and he fell to the ground. The sentiment is not at all uncommon in either testament. In the Old Testament, for example, when Daniel was confronted with the glory of the Lord, it says –
"And I, Daniel, alone saw the vision, for the men who were with me did not see the vision; but a great terror fell upon them, so that they fled to hide themselves. 8 Therefore I was left alone when I saw this great vision, and no strength remained in me; for my vigor was turned to frailty in me, and I retained no strength. 9 Yet I heard the sound of his words; and while I heard the sound of his words I was in a deep sleep on my face, with my face to the ground." Daniel 10:7-9
In the New Testament, Peter saw a miracle of the Lord and it overwhelmed him –
"But Simon answered and said to Him, 'Master, we have toiled all night and caught nothing; nevertheless at Your word I will let down the net.' 6 And when they had done this, they caught a great number of fish, and their net was breaking. 7 So they signaled to their partners in the other boat to come and help them. And they came and filled both the boats, so that they began to sink. 8 When Simon Peter saw it, he fell down at Jesus' knees, saying, 'Depart from me, for I am a sinful man, O Lord!'" Luke 5:5-8
Peter's encounter was one of seeing the effects of the Lord's power, and yet in comprehending the scope of the miracle, he fell down before the Lord who had performed it. Other such encounters are noted in Scripture. In Paul's case, as he lay on the ground, it says, "he heard a voice."
In Paul's personal recounting of the event, he says, "I heard a voice speaking to me and saying in the Hebrew language." As a side note, the word used to describe the language can mean Hebrew or Aramaic. It would have been the common language of the land at the time which was quite different than the Hebrew found in the Old Testament. This is evident from various other passages in the gospels and elsewhere in Acts. Regardless of that, Jesus spoke to Paul in his native tongue "saying to him, 'Saul, Saul, why do you persecute Me?'"
The repetition of the name is a way of showing emphasis and also, at times, personal affinity. Such repetitions are found throughout Scripture in both Testaments. An example from each –
"Then they came to the place of which God had told him. And Abraham built an altar there and placed the wood in order; and he bound Isaac his son and laid him on the altar, upon the wood. 10 And Abraham stretched out his hand and took the knife to slay his son.
11 But the Angel of the Lord called to him from heaven and said, 'Abraham, Abraham!'
So he said, 'Here I am.'" Genesis 22:9-11
"And the Lord said, 'Simon, Simon! Indeed, Satan has asked for you, that he may sift you as wheat. 32 But I have prayed for you, that your faith should not fail; and when you have returned to Me, strengthen your brethren.'" Luke 22:31, 32
The Lord is making a personal, emphatic, and targeted call to Saul. It is personal by calling him by name. It is emphatic because he calls it twice. And it is targeted because of the accusation leveled at him, "Why do you persecute Me?"
The One, as yet unknown to Saul, directly accuses him of persecution, and He indicates that it is a persecution against His own being. He does not say, "Saul, Saul, why are you persecuting My people?" Rather, he says, "Me." If thought through, it is another clear indication of eternal salvation. The people of the Lord are "in" the Lord. An attack against them is an attack against Him. And alignment with Him brings the believer into union with Him in a permanent covenantal relationship.
Life application: It is important to understand the relationship that existed between Saul (Paul) and Jesus until this point. He was a law-observant Pharisee. Not only that, he was one while the temple still stood, and the rites and sacrifices for purification from sin were still being practiced. And yet, Paul was an enemy of Jesus because he had not come to participate in the New Covenant established in Jesus' blood.
Hebrews 7:18, 8:13, and 10:9 indicate that the law is set aside, obsolete, and annulled in Christ. Colossians 2:14 tells us that the law is nailed to the cross. Obviously, nobody walked up to Jesus' cross and nailed a copy of the law to it. Rather, the words of Paul are given in metaphor. Christ is the embodiment and fulfillment of the law. Jesus was crucified on the cross. The law (Jesus' fulfillment of it) was crucified on the cross. Jesus died on the cross. The law was made obsolete (abolished – Ephesians 2:15) in His death.
If Paul was an enemy of Jesus Christ (the only way to salvation – John 14:6), and yet he was a law-observant Jew living within the framework of the rites of the law, then it tells us – clearly and unambiguously – that no person can be saved by adherence to the law of Moses. But this is what the doctrine of dual covenantalism teaches.
It is a doctrine held by the Roman Catholic Church and various figures within Christianity today. Roman Catholicism's statement on this says, "From the Christian confession that there can be only one path to salvation, however, it does not in any way follow that the Jews are excluded from God's salvation because they do not believe in Jesus Christ as the Messiah of Israel and the Son of God" (Source: The Gifts and the Calling of God Are Irrevocable (Rom 11:29) by Commission for Religious Relations with the Jews).
Likewise, there are innumerable sects and cults within Christianity that espouse partial or total adherence to the Law of Moses as the means of salvation, ignoring the finished work of Jesus. Be sure to think about what is presented in the church you attend and consider the words of the pastor or leadership. This includes attending through videos or livestream. Such teachings are not a part of the gospel, and they must be identified so that they can be rejected.
Hold fast to the truth that God has sent His Son into the world, that He has established a New Covenant in His blood, and the only way to be saved is through belief in what He has done. Be ready to both teach this and defend this truth.
Lord God, it should not be surprising to us that there is only one way to be reconciled to You. It should be overwhelming to our minds that there is even one way. We are fallen, we have disobeyed, and we are the sinners. And yet, while we were enemies, You sent Christ into the world to save us. Thank You that there is a path to reconciliation with You. Thank You for Jesus Christ our Lord. Amen.