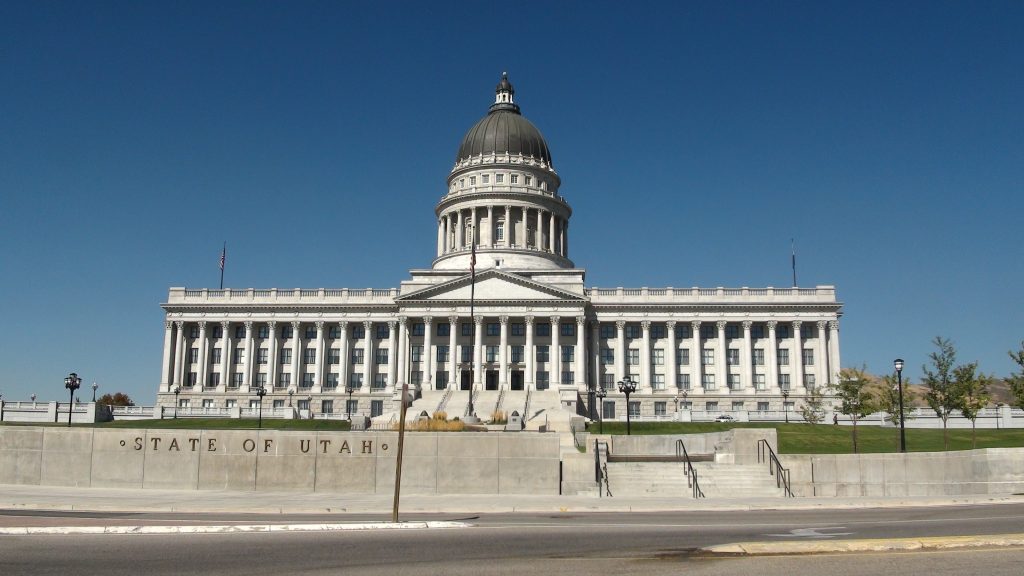 Utah Capitol.
Saturday, 20 August 2022
At Joppa there was a certain disciple named Tabitha, which is translated Dorcas. This woman was full of good works and charitable deeds which she did. Acts 9:36
Note: You can listen to today's commentary courtesy of our friends at "Bible in Ten" podcast. (Click Here to listen)
You can also read this commentary, with music, courtesy of our friends at "Discern the Bible" on YouTube. (Click Here to listen), or at Rumble (Click Here to listen).
While Peter was still in Lydda, Luke now brings a new development into the narrative at a new location, beginning with, "At Joppa."
Joppa (Hebrew: Yafo) is a port city found four times in the Old Testament and ten in the new. The name comes from yaphah, to be fair or beautiful, and so it means Beautiful. It is the city from which Jonah went in order to obtain a ship going to Tarshish. For the city today, Wikipedia says of this location –
"Jaffa, in Hebrew Yafo (Hebrew: יָפוֹ, Yāfō (help·info)) and in Arabic Yafa (Arabic: يَافَا) and also called Japho or Joppa, the southern and oldest part of Tel Aviv-Yafo, is an ancient port city in Israel. Jaffa is known for its association with the biblical stories of Jonah, Solomon and Saint Peter as well as the mythological story of Andromeda and Perseus, and later for its oranges. Today, Jaffa is one of Israel's mixed cities, with approximately 37% of the city being Arab."
Today, the population of Joppa is about 46,000. It is in this location that Luke continues, saying, "there was a certain disciple named Tabitha." This is an Aramaic name coming from a word meaning "gazelle." Hence, her name means "Gazelle." Of her, Luke next says, "which is translated Dorcas."
Dorcas (Greek Dorkas) means the same thing, Gazelle. That comes from a Greek word meaning "to see clearly," because the gazelle is an animal with bright, large eyes. Having two names is not uncommon in the Bible. In her case, being in Joppa which was a port town, there would be many Greek-speaking people. Therefore, to accommodate both, she was probably known by either her Aramaic name (the language of Israel at the time) or by her Greek name (the standard language of trade and commerce in the Roman Empire at the time). Of her, Luke next says, "This woman was full of good works."
The meaning is obvious, but Charles Ellicott gives insight into Luke's writing style by saying this of her –
"The form of the expression may be noticed as characteristic of St. Luke, and his favourite formula for conveying the thought of a quality being possessed in the highest degree possible. So we have 'full of leprosy' in Luke 5:12, 'full of grace' and 'full of faith' in Acts 6:5; Acts 6:8. (Comp. also Acts 13:10; Acts 19:28.)"
In the case of Tabitha, Luke uses the word agathos to describe her works. It is a common word signifying that which is intrinsically good. It is what finds its origin in what is provided by God, and it finds its empowerment from Him. For example, Jesus speaks of a tree that bears "good fruit." One can see the root of the modern name Agatha in it.
Along with this, Luke continues, saying of her, "and charitable deeds which she did." The verb is imperfect showing that her good deeds were ongoing – "which she was doing." It wasn't that she was known for something good that she had done, but she was known for her constant doing of good things. The Greek word used to describe these good deeds signifies beneficence or alms. They were deeds of charity that defined her as a person who was doing what she did without any strings attached.
Life application: Luke is careful to refer to Tabitha in two ways: full of good works and charitable deeds. One can be full of good works that are self-serving, and one can be full of charitable deeds that are sloppy or not well thought out. However, when one does good things and is charitable as well, it shows a person who is careful, methodical, and who is generous simply because it is his or her nature.
The Bible's inclusion of this description of Tabitha tells us that her conduct was right in the eyes of Luke, but it also tells us that it is right in the eyes of God who inspired Luke to write these things. She was being evaluated and the record of her life has been documented.
Likewise, we are also being evaluated, and the attitude and conduct we put forth are being remembered. Someday, we will have our life and actions judged –
"Now if anyone builds on this foundation with gold, silver, precious stones, wood, hay, straw, 13 each one's work will become clear; for the Day will declare it, because it will be revealed by fire; and the fire will test each one's work, of what sort it is. 14 If anyone's work which he has built on it endures, he will receive a reward. 15 If anyone's work is burned, he will suffer loss; but he himself will be saved, yet so as through fire." 1 Corinthians 3:12-15
"Therefore we make it our aim, whether present or absent, to be well pleasing to Him. 10 For we must all appear before the judgment seat of Christ, that each one may receive the things done in the body, according to what he has done, whether good or bad." 2 Corinthians 5:9, 10
If our purpose for doing things is amiss, our rewards will be diminished. And if the quality of our works is shoddy, the same will be true. Let us strive with our hearts set on the Lord in order to perform well and to produce that which is exemplary. In this, the Lord will be pleased and will return to each of us a full reward.
Heavenly Father, help us to be faithful and careful stewards of the time and talents You have given to us. And Lord, we are flesh and bone. Give us strength to meet our desire to perform and give us the inner drive to meet the strength You have provided. May there be a full display of careful attention to our deeds and actions before You. Amen.