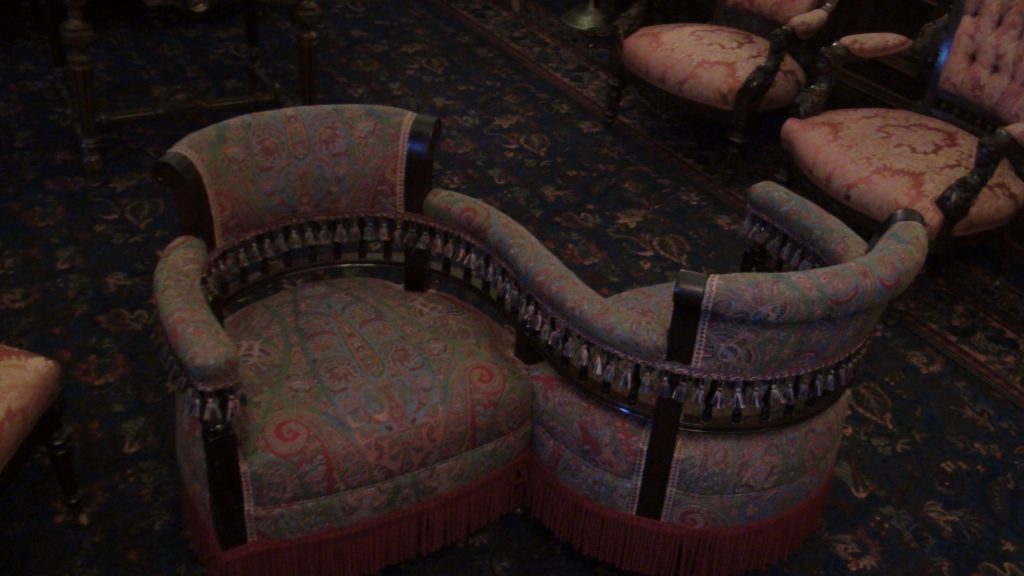 Fancy chair. Texas Capitol.
Monday, 20 June 2022
who, when they had come down, prayed for them that they might receive the Holy Spirit. Acts 8:15
Note: You can listen to today's commentary courtesy of our friends at "Bible in Ten" podcast. (Click Here to listen)
 You can also read this commentary, with music, courtesy of our friends at "Discern the Bible" on YouTube. (Click Here to listen), or at Rumble (Click Here to listen).
It was previously noted that the apostles in Jerusalem heard that Samaria had received the word of God. When this occurred, it says "they sent Peter and John to them." Peter and John have been the focus of attention already in Acts. Going together, they play a key role in the events now, but the brunt of the attention is on Peter. As for them being selected and then traveling together, Luke says, "who, when they had come down."
The "who" is referring to both of them. The words, "when they had come down," are referring to the trip from Jerusalem to Samaria. It doesn't matter what direction one travels from Jerusalem, nor what the elevation of the area is, a trip from Jerusalem is always said to be "down," and a trip to Jerusalem is always said to be "up."
This is to acknowledge that Jerusalem is the exalted place where the Lord's attention is focused. It is an earthly type of the greater New Jerusalem mentioned elsewhere in Scripture. Understanding this, they went down to Samaria and "prayed for them."
Peter and John are said to have prayed. This is telling us that there is a petition to God for something that they cannot obtain, convey, possess, etc., on their own efforts. In other words, in the act of prayer, it is an acknowledgment that what is prayed for must be obtained from God in whatever way applies to the particular prayer. In this case, it is "that they might receive the Holy Spirit."
The word "they" means those who have believed in Samaria. The words "might receive" indicate that they had not yet received what is prayed for. Further, it is something beyond the ability of the apostles to provide. And more, it is an indication that because what they are praying for has not yet been received, it is unsure whether it is something that will be given. In other words, this is something new and the apostles are clearly looking to determine what will be the outcome of their prayer.
In praying that they might receive "the Holy Spirit," it is asking for the intimate bond that indicates that God has accepted a person as His own. It is the surety of the covenant, the New Covenant, that comes through the work of Christ. The apostles surely remembered the words of Jesus that were spoken in this same location –
 "Jesus answered and said to her, 'Whoever drinks of this water will thirst again, 14 but whoever drinks of the water that I shall give him will never thirst. But the water that I shall give him will become in him a fountain of water springing up into everlasting life.'" John 4:13, 14
"Jesus said to her, 'Woman, believe Me, the hour is coming when you will neither on this mountain, nor in Jerusalem, worship the Father. 22 You worship what you do not know; we know what we worship, for salvation is of the Jews. 23 But the hour is coming, and now is, when the true worshipers will worship the Father in spirit and truth; for the Father is seeking such to worship Him. 24 God is Spirit, and those who worship Him must worship in spirit and truth.'" John 4:21-24
They would also have remembered Jesus' words in Acts 1:8, saying, "and you shall be witnesses to Me in Jerusalem, and in all Judea and Samaria, and to the end of the earth." As such, the apostles are certainly trying to determine exactly what it means to be a true worshiper of God the Father and what witnessing to those in Samaria fully meant. These people have put their faith in the gospel of Jesus. Now, what does this exactly mean? This is the purpose of the apostles being sent and the reason for the prayer now.
Life application: Until this point in the narrative, the things that are occurring detail a story of heading into the unknown. Each step of the process is new to the apostles. They have the commission, but they do not fully understand what the expected outcome is as they carry it out.
This was true in Acts 2, it has been true as things have continued to unfold, and it will continue to be true as new events come before God's chosen ministers who are carrying out His commands.
However, and this is key to understanding our lives before the Lord now, such things are no longer unknown to us. The book of Acts has been written. What was unknown with each step that was taken is now known based on past precedent. Further, along with the recording of Acts, the epistles are now written which give clear and explicit instruction concerning matters that were left unclarified in Acts.
Some of those epistles were written during the time that Acts was being written. Others are written after the period of Acts is over, but by those who were still alive – thus during the apostolic era.
Understanding this, Acts describes what occured, it sets a baseline of precedents that are generally to be followed unless explicitly redefined or explained in the epistles, but the Acts accounts are descriptive in nature and are not to be considered as normative in the details of individual accounts.
Instead, these individual accounts are to be gathered into a whole picture of what occurred concerning any given issue (such as baptism), and then it is to be determined from them the overall message that is being conveyed, and why the individual accounts were given, why they differ, and what is the common denominator between them.
In following such an interpretive method, there will not be a "pick-and-choose" theology that arises from Luke's descriptions of individual events that were never intended to set church doctrine.
Lord God, what a treasure Your word is! It is so filled with interesting details that we can spend a lifetime contemplating them. Reading it again and again, we always find new insights into the marvelous things You are revealing to us. Thank You for this wonderful and precious word. Amen.