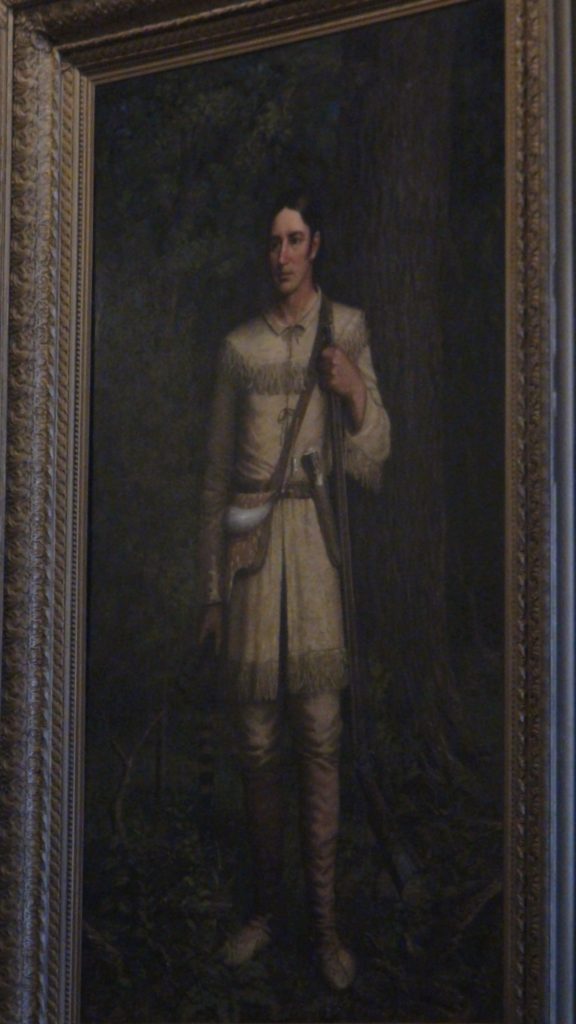 Davy Crockett. Texas Capitol.
Thursday, 26 May 2022
Has My hand not made all these things?' Acts 7:50
Note: You can listen to today's commentary courtesy of our friends at "Bible in Ten" podcast. (Click Here to listen)
You can also read this commentary, with music, courtesy of our friends at "Discern the Bible" on YouTube. (Click Here to listen), or at Rumble (Click Here to listen).
Stephen is in the process of quoting Isaiah 66:1, 2. He will finish his citation with this verse which is only the first clause of Isaiah 66:2. His entire citation says –
"Heaven is My throne,
And earth is My footstool.
What house will you build for Me? says the Lord,
Or what is the place of My rest?
50 Has My hand not made all these things?" Acts 7:49, 50
With this context remembered, he finishes with, "Has My hand not made all these things?" The Hebrew is very close, saying, "For all those things My hand has made."
The previous words spoke of the position of authority and the state of having all of the earth in a state of subjection. The words now bring in the fact that not only is this so, but that the Lord is the Creator of them as well. What is implied in this is that if He is the Creator of them, then He is also the Sustainer of them. This is stated explicitly in the continued words of Isaiah (not cited by Stephen) that say, "And all those things exist."
They came into being because of Him (existence from creation), but they remain now only because He purposes it to be so (continued existence). This concept is mentioned by Paul and by the author of Hebrews –
"And he is before all, and all things subsist together by him." Colossians 1:17 (Darby)
"…has in these last days spoken to us by His Son, whom He has appointed heir of all things, through whom also He made the worlds; 3 who being the brightness of His glory and the express image of His person, and upholding all things by the word of His power." Hebrews 1:2, 3
As these things are so, then it must be that a temple fashioned by human hands is both insufficient to contain Him, and that what occurs at that temple is actually for our benefit, not His. He needs nothing as all things are from Him and all things belong to Him. Further, true righteousness and holiness cannot come from such a temple and its rites and rituals. Rather, they are intended to school those to whom they are given that only such a state can come from the work of God.
What man does is already tainted with unholiness. The thought of what Stephen is saying through the words of Isaiah is that a right standing before God will come through what God does. That is actually seen in the finishing words of Isaiah 66:2 –
"But on this one will I look:
On him who is poor and of a contrite spirit,
And who trembles at My word."
The word of God is a reflection of who He is. It is true that the rites and rituals used in the worship of the temple were set forth by the Lord, but they are only types and shadows of what is more perfect. To demonstrate this, the Lord's word prophesied the coming of the Messiah who would perfectly fulfill all things that Israel imperfectly lived out. This will be seen as Stephen continues. He has clearly set forth his case, and he will show how Israel failed to recognize the time of their visitation.
Life application: In worshipping Jesus, we are worshipping the fullest expression of who God is in a form that we can understand. The Holy Spirit intends for us to see God revealed in Christ. The influence of the Spirit on the prophets was for them to prophesy. The overshadowing of Mary so that she would conceive was given to bring forth the incarnate Word of God. The influence of the Spirit on the apostles was to remind them of the work of the Lord and to testify to it. The sealing of the Spirit now is given as an acceptance of faith (belief in) the gospel of the Lord Jesus.
Everything is centered on Christ Jesus. Let us fix our eyes on Him as we await the wondrous day when we are brought into the presence of God and of the Lamb for all eternity. Let us thank God for His favor, His grace, and His mercy towards us in Christ.
Lord God, all praise, glory, and honor belong to You. We give You our hearts and our devotion as we await the day when You renew all things and bring us into the pure and undefiled state that will allow us perfect union with You for all eternity. Glory to You in the highest! Amen.