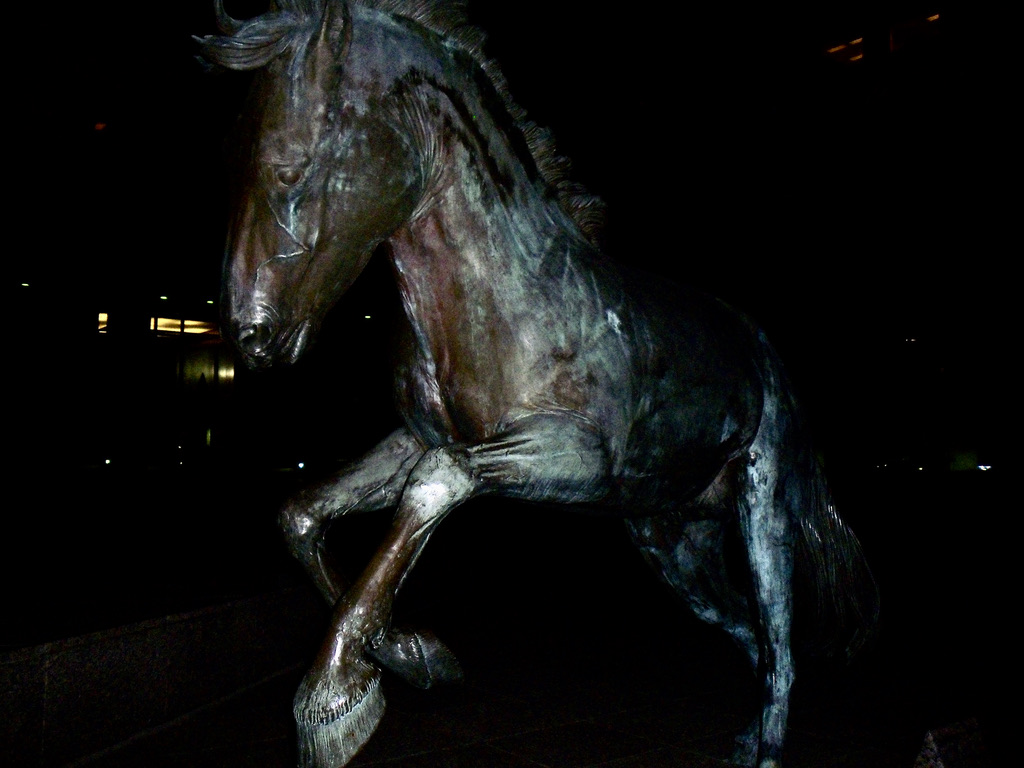 Horses at Las Colinas, Texas.
Monday, 28 March 2022
whom they set before the apostles; and when they had prayed, they laid hands on them. Acts 6:6
Note: You can listen to today's commentary courtesy of our friends at "Bible in Ten" podcast. (Click Here to listen)
You can also read this commentary, with music, courtesy of our friends at "Discern the Bible" on YouTube. (Click Here to listen), or at Rumble (Click Here to listen).
The previous verse saw the selection of the seven men who were to be responsible for the daily distribution, with the selection complete, it next says, "whom they set before the apostles."
The choice had been made by the multitude, deciding that these seven met the requirements of being of good reputation and full of the Holy Spirit. To confirm the selection, the men were brought before the apostles and were set there awaiting their consecration. With that complete, it says, "and when they had prayed."
It can be assumed that this is the apostles, but it may be praying by all – both those to be ordained and the apostles who would ordain. Assuming it is the apostles praying over them, it next says, "they laid hands on them."
This is the first time this act is noted since the establishment of the church. It is something that occurred when Paul was commissioned in Acts 9 –
"And Ananias went his way and entered the house; and laying his hands on him he said, 'Brother Saul, the Lord Jesus, who appeared to you on the road as you came, has sent me that you may receive your sight and be filled with the Holy Spirit.'" Acts 9:17
It is also something Paul refers to concerning the establishment of authority elsewhere as well, such as when Timothy was consecrated –
"Do not neglect the gift that is in you, which was given to you by prophecy with the laying on of the hands of the eldership." 1 Timothy 4:14
Also, Paul says this to Timothy concerning the continuance of such a practice –
"Do not lay hands on anyone hastily, nor share in other people's sins; keep yourself pure." 1 Timothy 5:22
This act is a symbolic one of both petitioning God through prayer as well as the transferring of authority through the laying on of hands. Ultimately, it is the Lord who recognizes or rejects a person, but there is to be an open acknowledgment of the transfer of authority to others in this manner. This remains the case to this day because of the inclusion of the practice in Paul's pastoral epistles. Hebrews 6 also notes this practice, calling it a doctrine of elementary principle –
"Therefore, leaving the discussion of the elementary principles of Christ, let us go on to perfection, not laying again the foundation of repentance from dead works and of faith toward God, 2 of the doctrine of baptisms, of laying on of hands, of resurrection of the dead, and of eternal judgment." Hebrews 6:1, 2
Life application: Though the book of Acts is descriptive, the noting of the practice of prayer and the laying on of hands by Paul tells us that it is something that is expected throughout the church age. As such, it is not something to be ignored. Further, those in the congregation have a right to know how and where the person who pastors them was so ordained.
This is especially important because anyone can buy an ordination certificate right on the internet for a few dollars. No qualifications are needed except to give someone else your money. This is not a suitable way of recognizing or establishing authority. Rather, a dignified process should be in place to monitor candidates, evaluate their abilities, and then proceed with the ordination process.
Having said this, there is not an "unbroken line of succession" from the apostles in any particular denomination. The Roman Catholics, Anglicans, and so on claim that the same line of those ordained by the apostles still exists in their ordination process. As such, they claim a special calling rests upon them. If that were so, these denominations wouldn't be filled with perverts and miscreants.
Ordination does not mean "holy." It is simply an act by which authority is conferred. That authority may be completely tainted. Despite this, it is still an act that should be performed by any church that faithfully follows Jesus, holds to the word of God, and wants to continue its line of authority in another generation of faithful servants.
Lord God, You alone decide who is a faithful and just servant of Yours. And yet, You have given us the right to choose men who will carry on in positions of authority in Your church. And so, may we be faithful to carefully evaluate those we consider, and then when they are ordained, pray for Your blessing and for their endurance in the arduous task that they have been called to. May it be so to Your glory. Amen.