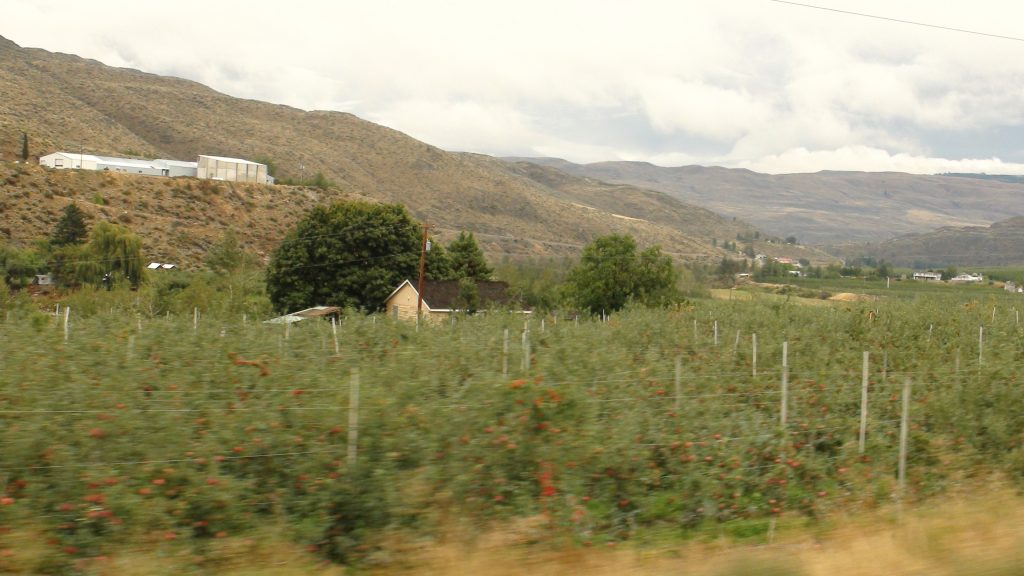 Houses in eastern Washington State
Saturday, 16 September 2023
We sailed from there, and the next day came opposite Chios. The following day we arrived at Samos and stayed at Trogyllium. The next day we came to Miletus. Acts 20:15
Note: You can listen to today's commentary courtesy of our friends at "Bible in Ten" podcast. (Click Here to listen).
You can also read this commentary, with music, courtesy of our friends at "Discern the Bible" on YouTube. (Click Here to listen), or at Rumble (Click Here to listen).
The words are difficult to directly translate, but they can be more closely rendered as, "And thence having sailed the following day, we arrived opposite Chios. And the other day, we cast-aside at Samos, and having remained in Trogyllium, the adjoining day we came to Miletus" (CG).
In the previous verse, Paul was taken aboard. They then sailed to Mitylene. Now, the voyage continues, saying, "And thence having sailed the following day." Here and in the final clause, Luke will use present participles to describe the passing of time. This time, it is from the verb epiousa, or next. Being a present participle, "following" gives the needed sense. From one day leading to the next, they have gone from Mitylene where Luke next says, "we arrived opposite Chios."
Chios is about halfway between Lesbos and Samos. It is an island about five miles off the coast. They would have sailed through this narrow straight but stopped on the eastern side for the night, opposite Chios on the mainland.
The name Chios is found only here. Its meaning is uncertain. Also, the word antikrus, or opposite, is also found only here. It means opposite, over against, or off when used in a nautical sense. Luke next says, "And the other day, we cast-aside at Samos."
Using a different word, heteros, or "other," Luke describes the next day's travel where they neared Samos. This is an island south and east of Chios, also mentioned only this one time. Abarim says that most commentators state that the name means "high place" because it has Greece's fifth highest place, being 1434 meters high.
The word translated as "cast-aside" is paraballó. It is also a unique word found only this once. It is directly translated as "cast aside." In other words, they neared there, merely bringing the ship alongside the island. From there, they crossed over to Trogyllium. As it says, "and having remained in Trogyllium."
This clause is not found in some manuscripts, rather simply noting the journey going from Samos to Miletus. However, it is likely Trogyllium was included in Luke's original words. Trogyllium is "the rocky extremity of the ridge of Mycale, on the Ionian coast, between which and the southern extremity of Samos the channel is barely a mile wide" (Speaker's Commentary).
Of the name Trogyllium, Abarim says, "To an average Greek speaker, the name Trogyllium probably sounded like Place For Things To Nibble On or The Hole That Gobbles Up." Of this location, Hastings Dictionary of the New Testament says –
"Trogyllium was a promontory formed by the western termination of Mt. Mycale, on the coast of Asia Minor, about equidistant from Ephesus and Miletus. It runs out into the sea just opposite the island of Samos, from which it is separated by a channel less than a mile wide (Strabo, XIV. i. 12, 13). Its present name is Santa Maria."
Concerning which manuscript is right, Hastings continues, saying –
"This in itself is likely to have happened. … The reason for their omission may have been either the mistaken idea in the mind of the copyists that the text located Trogyllium in Samos, or the difficulty of imagining two night-stoppages, one in the harbour of Samos and another at Trogyllium, which is only 4 or 5 miles from Samos. But a night spent at Samos is quite imaginary, for the nautical term παρεβάλομεν [parebalomen] does not mean 'arrived at' (Authorized Version) or 'touched at' (Revised Version). All that it implies is a crossing from one point to another; and, while Samos was merely sighted and passed, Trogyllium was the resting-place. An anchorage just to the east of the extreme point of Trogyllium now bears the name of 'St. Paul's Port.'"
With this understood, Luke finishes the verse with, "the adjoining day we came to Miletus." Luke again uses a present participle, coming from the verb echó, to describe the day. It means to have, hold, or possess. In this case, "adjoining" gets the point across. The days adjoin. Thus, they hold together.
Miletus is further south and east of Trogyllium. It is on a large promontory in modern Turkey. The area they landed at is now called Gundogan. The name Miletus is from an uncertain origin. Thus, it is not known what it means.
Life application: As has been seen, Luke has used a variety of terms in this one verse to describe the travels. It is inexcusable to not at least attempt to translate them in a variety of ways so that the reader can get the flavor of what is being said. However, the Pulpit commentary says the following concerning the King James Version's failure in this regard –
"The A.V., [meaning the King James Version] which often gives a varied English for the same Greek, has here for varying Greek given the same English [next] three times over."
If translators are not going to at least attempt to rightly translate a verse, they shouldn't be translating. The word is so rich and varied, and yet so much is lost when the necessary time and effort is not put into giving the flavor of what is being conveyed.
For this reason, be sure not to get captivated by a single translation. Refer to several or many. Also, be sure to read commentaries on the things that pique your interest. You will get out of your studies what you put into them.
Thank You, O God, for the wonderful detail and delight that is found in Your precious word. May we be careful to attend to it daily, reading it, studying it, and cherishing its contents. In doing so, we will be blessed in so many ways. Yes, Lord, thank You for this marvelous word! Amen.