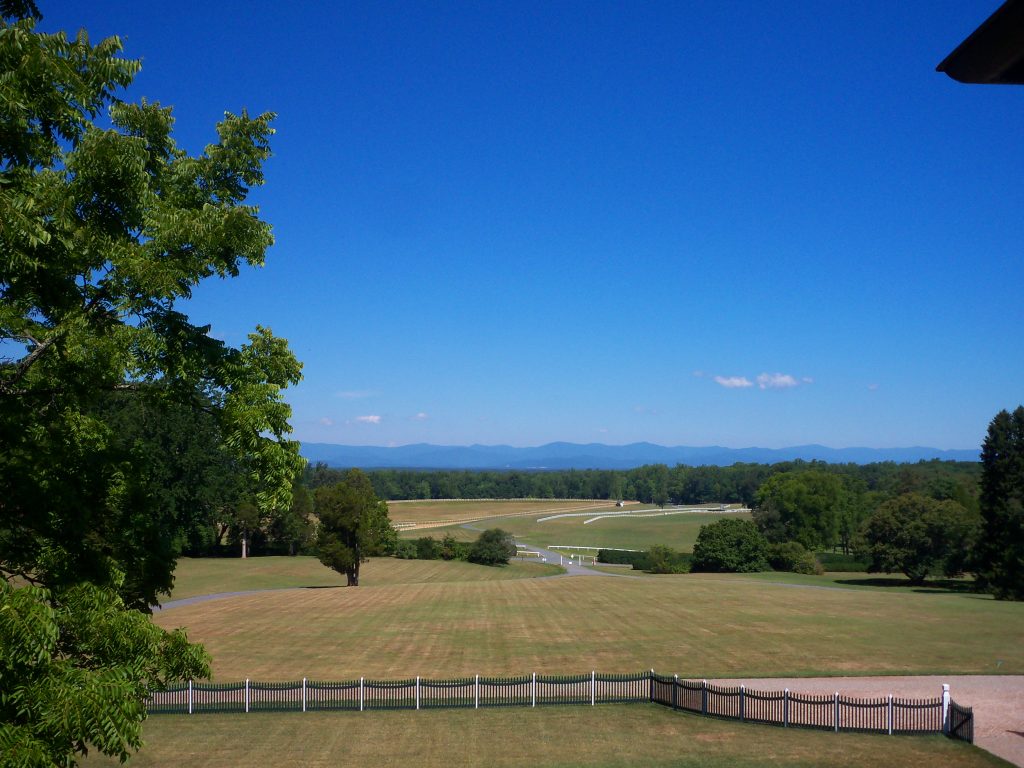 Virginia countryside as seen from Montpelier.
Saturday, 1 April 2023
When they had read it, they rejoiced over its encouragement. Acts 15:31
Note: You can listen to today's commentary courtesy of our friends at "Bible in Ten" podcast. (Click Here to listen).
You can also read this commentary, with music, courtesy of our friends at "Discern the Bible" on YouTube. (Click Here to listen), or at Rumble (Click Here to listen).
In the previous verse, it noted that the letter from the council at Jerusalem was delivered to the multitude who had gathered from the church at Antioch. With that, it next says, "When they had read it."
Those of the church were certainly excited about what decision had been made and their ears would have been open and alert as each word was read off the scroll. Upon its completion, they certainly would have been quite relieved for several reasons. First, and simply from a human perspective, the prospect of going through the pain of circumcision was now removed.
But more, it meant that, as Gentiles, the circumcision they had received, meaning that of the heart, put them on the exact same level as the Jews without ever having to join the Jewish nation, giving up their own unique culture and identity in the process.
It also meant that they had a freedom that Israel under the law had never previously possessed by not being brought under the yoke of the law. By this time, Paul would have instructed the Gentiles that the entire period of the law was simply a tutor to lead people to Christ. Instead of law, they needed something better, they needed Christ. But they already had Christ. How could it be that they should need to go back to that which never truly profited Israel?
This is the lesson that Paul later had to explain in detail to those at Galatia in his epistle to them. But those at Antioch had certainly been with Barnabas and Paul long enough to already know this fundamental truth.
Because of these reasons, and certainly many others, it says that "they rejoiced over its encouragement."
Here, a pun is most likely being conveyed by Luke. In Acts 15:22, it said, "Then it pleased the apostles and elders, with the whole church, to send chosen men of their own company to Antioch with Paul and Barnabas, namely, Judas who was also named Barsabas, and Silas, leading men among the brethren."
With these words, Barnabas is placed before Paul and the chosen men who were sent with Barnabas and Paul. Therefore, it is likely (though still supposition) that Barnabas was the one who stood reading the letter from the council. The pun is in his name and in the word translated as "encouragement." Both are from the Greek word paraklésis. As such, Barnabas, the Son of Encouragement (Acts 4:36), is living out his name toward those at Antioch as their hearts were encouraged by the contents of the letter he bore and read to them.
Life application: Of the meeting of the council in Jerusalem, Albert Barnes says, "This council has been usually appealed to as the authority for councils in the church as a permanent arrangement, and especially as an authority for courts of appeal and control. But it establishes neither, and should be brought as authority for neither."
After coming to this conclusion, he gives four long and well-thought-out reasons for this. What he says can be read in his commentary, but the overall thought of his words can be summed up with the single thought that what is recorded here in Acts is not a prescriptive account. It prescribes nothing for future councils.
Rather, it is a descriptive account of what occurred. The form, structure, type of authority, and makeup of the council cannot properly apply to later councils. The apostolic age has ended. What occurs now in councils around the world is not in the least bit comparable to what occurred in Acts 15.
Now, instead of doctrinal issues being handled as occurred in Acts, a total reliance on the contents of Sacred Scripture, meaning the Holy Bible, is to be considered. The presence of the Holy Spirit is in the pages of the Bible because it is the Holy Spirit who breathed out its words through those who wrote it (see 2 Timothy 3:16 & 2 Peter 1:19-21).
Therefore, if the considerations of and decisions rendered by a council are not in accord with the words of Scripture, they are, by default, not guided by the Holy Spirit; they are not of God. If they are not of God, they are, by default, of the devil. This is a lesson that must be considered as councils, conferences, and the like are held by churches and denominations. What is happening in the world today, such as in the ordination of women, homosexuals, etc. is not of God. The Holy Spirit is not among these gatherings, and only unholiness and apostasy will be the result.
Hold fast to this sacred and precious word for the guidance of matters of the church and the Holy Spirit will guide that church through its times of difficulty. And the same is true with your personal life as well.
Heavenly Father, how could we expect You to bless our actions in our personal lives or in the churches we attend if we are not acting in accord with Your word? Help us to think this through clearly and never deviate from its precepts. In them, there is life and the straight path. Apart from them is unhappiness and loss. May we do all that we do to Your glory alone. Amen.