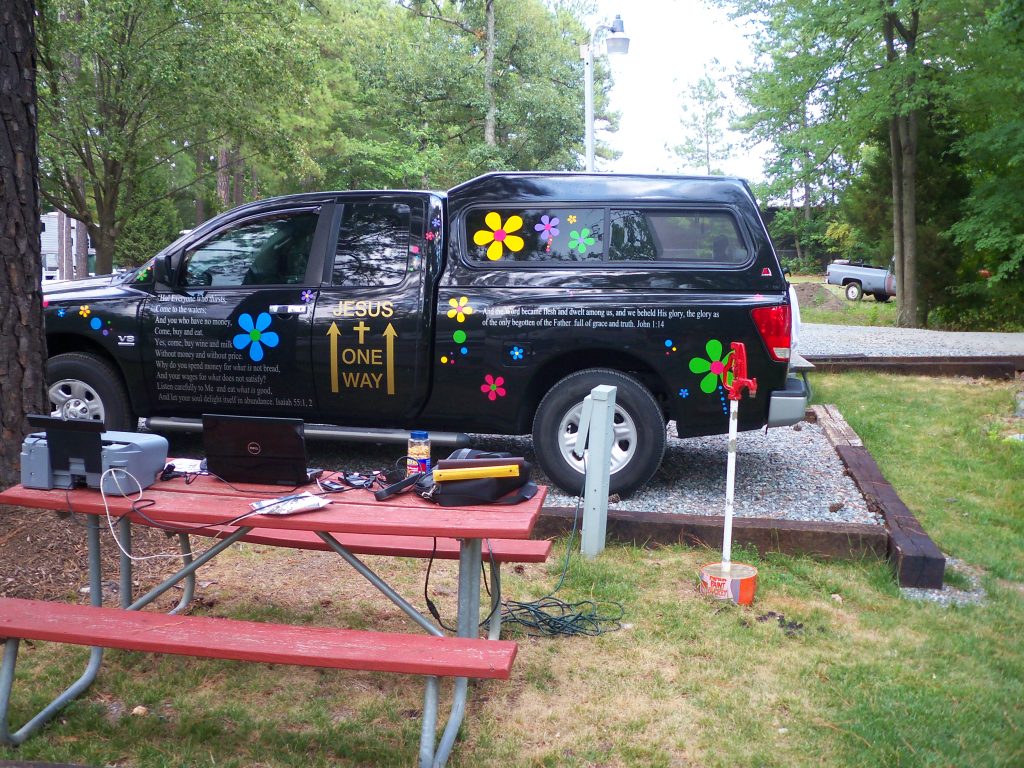 Campsite. Virginia.
Saturday, 4 March 2023
So, being sent on their way by the church, they passed through Phoenicia and Samaria, describing the conversion of the Gentiles; and they caused great joy to all the brethren. Acts 15:3
Note: You can listen to today's commentary courtesy of our friends at "Bible in Ten" podcast. (Click Here to listen).
You can also read this commentary, with music, courtesy of our friends at "Discern the Bible" on YouTube. (Click Here to listen), or at Rumble (Click Here to listen).
Based on the dispute that had arisen between the Judaizers and Paul and Barnabas, it was determined that Paul and Barnabas, with certain others, should go up to Jerusalem to obtain a resolution to the matter. With that, it now says, "So, being sent on their way by the church."
The Greek is more precise, saying, "They, indeed, therefore, having been sent forward by the church." Here, the word propempó is introduced. It carries one of two meanings. The first is sending forward with necessities for the journey included. All the provisions would be supplied for the travel. The second meaning is to accompany the traveler part or all of the way.
It is debated which is intended here, and the intent might be both. It would be unheard of to send them without supplies for the journey. At the same time, it would be a mark of respect to have a delegation accompany them as they traveled. This was seen as far back as Genesis 18:16 –
"Then the men rose from there and looked toward Sodom, and Abraham went with them to send them on the way."
With this, it next says, "they passed through Phoenicia and Samaria." Rather, the verb is imperfect. It says, "they were passing through." They didn't just hurriedly pass through, but took their time, ensuring that they would stop along the way and greet the believers who lived in those areas. As they went, they had great news to share with them. They were "describing the conversion of the Gentiles."
In this, the second and last use of ekdiégeomai is found. The first was in Acts 13:41 –
"Behold, you despisers,
Marvel and perish!
For I work a work in your days,
A work which you will by no means believe,
Though one were to declare it to you."
The word signifies to completely recount a matter. It is the strongest and clearest declaration of the events that have occurred. With this recounting of what had taken place among the Gentiles, it next says, "and they caused great joy to all the brethren."
Again, the verb is imperfect, "and they were causing great joy." Each place they went and with each recounting that was made, joy was springing forth from those who heard. Those in Phoenicia were first evangelized by Stephen, as recorded in Acts 11 –
"Now those who were scattered after the persecution that arose over Stephen traveled as far as Phoenicia, Cyprus, and Antioch, preaching the word to no one but the Jews only." Acts 11:19
Those in Samaria were noted in Acts 8, beginning with –
"Therefore those who were scattered went everywhere preaching the word. 5 Then Philip went down to the city of Samaria and preached Christ to them. 6 And the multitudes with one accord heeded the things spoken by Philip, hearing and seeing the miracles which he did. 7 For unclean spirits, crying with a loud voice, came out of many who were possessed; and many who were paralyzed and lame were healed. 8 And there was great joy in that city." Acts 8:4-8
It is these groups, previously established by those coming from Jerusalem and Judea as they traveled, that are now being told the good news that the command of Jesus from Acts 1:8 was being brought about –
"But you shall receive power when the Holy Spirit has come upon you; and you shall be witnesses to Me in Jerusalem, and in all Judea and Samaria, and to the end of the earth."
Life application: Even today, the custom of attending those heading out on a journey continues. We will often go along with travelers to the airport, train depot, or bus station. If they are taking a ship, we may take them to the port and wave them off as they sail away.
This is something we should especially consider doing for those who are going off as missionaries. Their last moments before leaving the friendly land of their departure will be remembered while they are gone, and it will be a note of encouragement while they are in their mission field.
And be sure to write to them from time to time, letting them know they are appreciated. They are doing a job that was directed by the Lord over two thousand years ago, helping bring the command to its conclusion. The locations where missionaries go can be fraught with difficulties and perils, so remember them, pray for them, and extend kind words to them from time to time.
Lord God, how good it is to be a small part in helping the missionaries who are doing Your labors in the world today. We pray for them and ask that Your hand of grace and blessing will be upon them as they continue the jobs set before them. Thank You for our missionaries. Amen.