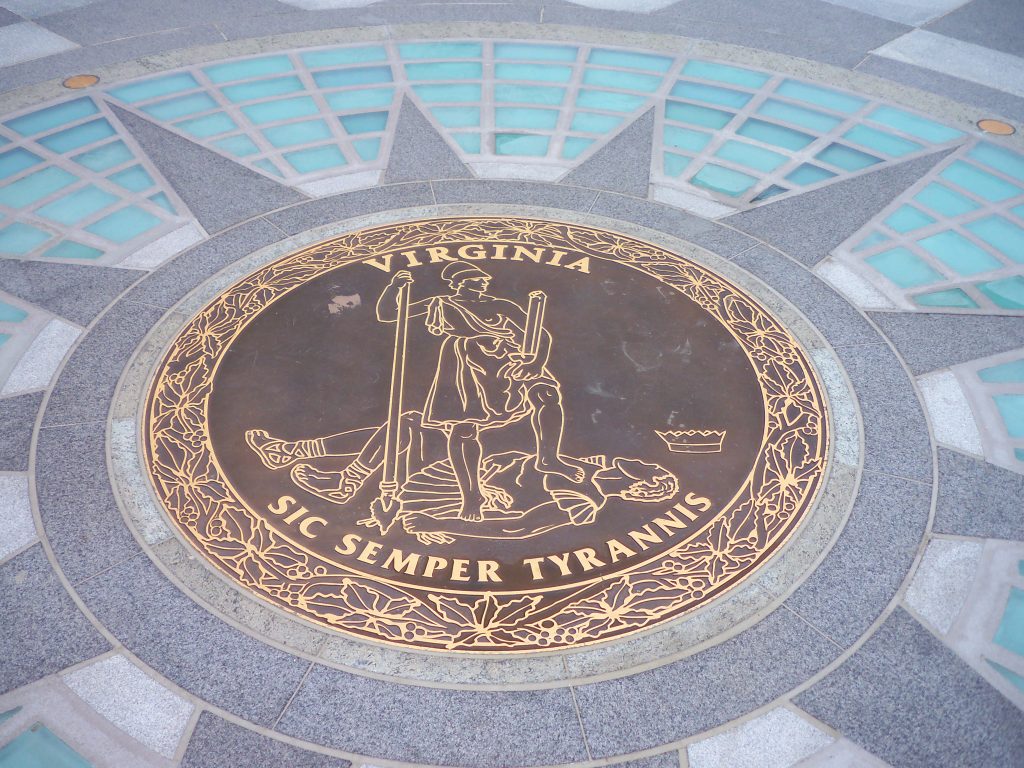 The state has sure forgotten to live up to its motto.
Saturday, 11 March 2023
"Now therefore, why do you test God by putting a yoke on the neck of the disciples which neither our fathers nor we were able to bear? Acts 15:10
Note: You can listen to today's commentary courtesy of our friends at "Bible in Ten" podcast. (Click Here to listen)
You can also read this commentary, with music, courtesy of our friends at "Discern the Bible" on YouTube. (Click Here to listen), or at Rumble (Click Here to listen).
Peter had just said that God made no distinction between the Jews and the Gentiles, purifying the hearts of both by faith. With that, he continues with, "Now therefore, why do you test God?"
The verb is a present infinitive and gives the sense of "why are you testing God?" They were standing there and actively working against what God was doing. Because of this, Peter is reminding the people of their own history. Instead of accepting the will of God that was openly expressed to them, Israel turned and imposed their own will on a situation or matter. An example of this is recorded in Psalm 95 –
"Today, if you will hear His voice:
8 'Do not harden your hearts, as in the rebellion,
As in the day of trial in the wilderness,
9 When your fathers tested Me;
They tried Me, though they saw My work.
10 For forty years I was grieved with that generation,
And said, "It is a people who go astray in their hearts,
And they do not know My ways."
11 So I swore in My wrath,
'They shall not enter My rest.''" Psalm 95:7-11
The author of Hebrews cites this psalm, directly equating it to Israel's rejection of Christ and remaining under the Law of Moses. And now, this is just what the Pharisees were trying to impose on the Gentiles. Paul used the same terminology in 1 Corinthians 10:9, saying, "…nor let us tempt Christ, as some of them also tempted, and were destroyed by serpents."
At that time, the people "spoke against God and against Moses" (Numbers 21:5). Paul warned against doing what is inappropriate, showing that as God was with Moses, He was now fully revealed through Christ with the introduction of the New Covenant.
Peter's admonition concerning testing God is directly tied to a rejection of what God had done to the Gentiles in the giving of the Spirit. This testing was being accomplished "by putting a yoke on the neck of the disciples."
The yoke he is referring to is the Law of Moses. It is the subject of the discourse, and it was the purpose for calling the council. It is what Paul says of the law in Galatians 5 –
"Stand fast therefore in the liberty by which Christ has made us free, and do not be entangled again with a yoke of bondage. 2 Indeed I, Paul, say to you that if you become circumcised, Christ will profit you nothing. 3 And I testify again to every man who becomes circumcised that he is a debtor to keep the whole law. 4 You have become estranged from Christ, you who attempt to be justified by law; you have fallen from grace." Galatians 5:1-4
Paul's words are clear, concise, and specific. The law is a yoke, a burden, that stands against grace. So intolerable was the Law of Moses in this regard, that Peter next says it is a yoke "which neither our fathers nor we were able to bear?"
It is an all-inclusive statement. Israel was given the law and no person within Israel could bear up under the weight of the yoke that rested on them because of it. The law promised that the person who did the things of the law would live (Leviticus 18:5). And yet, the people, without exception, had died. Elijah was taken out before he died, but that does not mean he was sinless under the law. No person born under the law could meet the demands of the law. Thus, all died.
Despite this, these Judaizers were standing there, rejecting the grace of the Lord Jesus. And more, they were trying to impose upon the Gentiles, who had already been accepted by God, the same yoke that they had been under and were unable to bear. The perverse nature of such an attitude could not stand.
Life application: Of the words of Peter, Cambridge says the following:
"So St Paul (Galatians 5:1) calls the ceremonial law 'a yoke of bondage.' Christ uses the word "yoke" for his own precepts, knowing that a yoke was needed for men's guidance, but He calls it 'easy' (Matthew 11:30)." Cambridge
This is not what Paul says, nor is it what Peter is saying. Cambridge has done what far too many scholars do. They have divided the law into a moral law and a ceremonial law. No such distinction is found in the law. The Law of Moses is a codified whole. There are moral parts to the law, and there are ceremonial parts to it as well. But these are internal distinctions that form a single law.
To say that Jesus only fulfilled and set aside the ceremonial law part of the Law of Moses, and not the moral part, would mean that believers today were obligated to the entirety of the Ten Commandments, but no sound Christian or theologian would agree that we must observe the Sabbath. Paul argues against that several times in his writings. The author of Hebrews clearly signifies that the Sabbath is fulfilled, and we have entered our rest in our coming to Christ.
The law, the entire Law of Moses, is fulfilled. It is set aside, it is annulled, it is obsolete, and it is nailed to the cross. This does not mean, however, that we are not obligated to be obedient to what is morally right. Such moral precepts are stated throughout the epistles. These explain our obligations and expectations under the New Covenant.
However, in not doing these things, sin is not imputed because we are not under law but under grace. Our failure to meet the expectations of the New Covenant expectations will not result in a loss of salvation but in a loss of rewards. All of this is explained by Paul.
Be careful to not make the mistake of those who try to shove you back under "part" of the Law of Moses. It is fulfilled and it is over. We now live under a much better dispensation, that of grace. Thank God for the grace of our Lord Jesus Christ.
Yes, O God. Thank You for what You have done for us in the giving of Your Son to remove from us the curse of death and eternal separation from You. We have been granted life, eternal life, through receiving the gospel. Christ has done it all! Thank God for Jesus Christ our Lord who has brought us back to You. Amen.