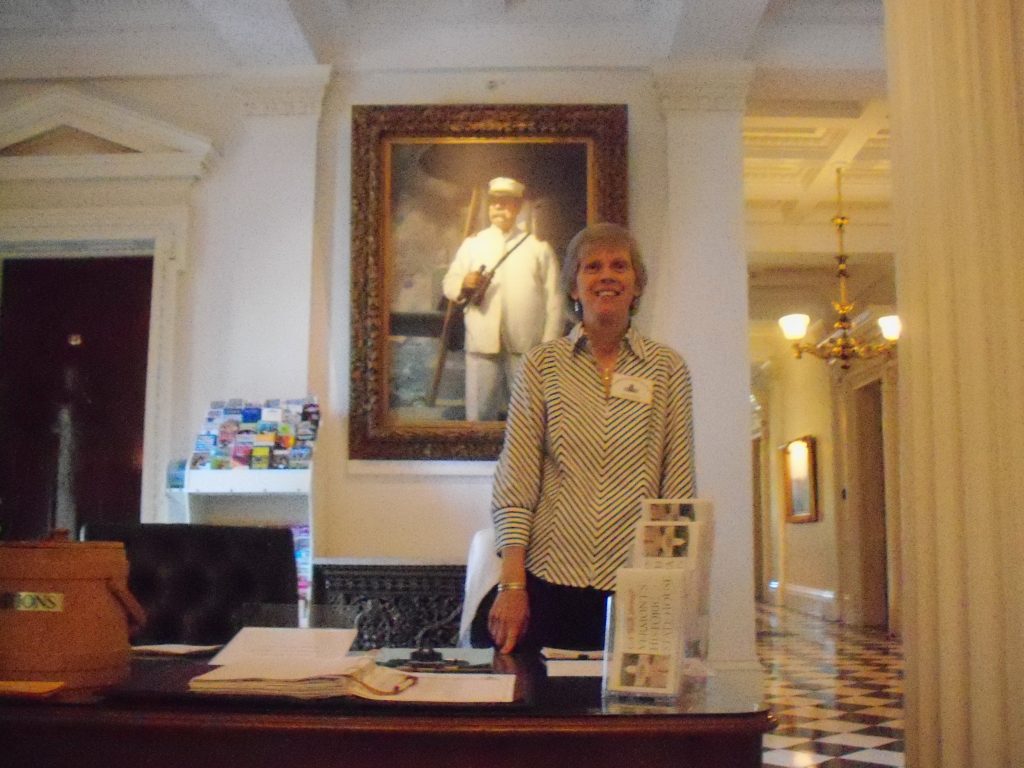 Some person who worked (still?) at the Vermont Capitol.
Thursday, 9 February 2023
And in Lystra a certain man without strength in his feet was sitting, a cripple from his mother's womb, who had never walked. Acts 14:8
Note: You can listen to today's commentary courtesy of our friends at "Bible in Ten" podcast. (Click Here to listen)
You can also read this commentary, with music, courtesy of our friends at "Discern the Bible" on YouTube. (Click Here to listen), or at Rumble (Click Here to listen).
Upon arrival in the cities of Lycaonia of Lystra and Derbe, Paul and Barnabas were preaching the gospel there. With that noted, Luke continues with the words, "And in Lystra."
The events that will now take place in Lystra are surely what Paul refers to, being remembered by him many years later when he wrote his second letter to Timothy –
"But you have carefully followed my doctrine, manner of life, purpose, faith, longsuffering, love, perseverance, 11 persecutions, afflictions, which happened to me at Antioch, at Iconium, at Lystra—what persecutions I endured. And out of them all the Lord delivered me." 2 Timothy 3:10, 11
Timothy would have known these things because this is the general area he came from, as will be noted in Acts 16 –
"Then he came to Derbe and Lystra. And behold, a certain disciple was there, named Timothy, the son of a certain Jewish woman who believed, but his father was Greek. 2 He was well spoken of by the brethren who were at Lystra and Iconium." Acts 16:1, 2
There it says Timothy was a disciple, and so he was probably converted during the events of Acts 14. As for the events at Lystra, the details begin with the next words, saying, "a certain man without strength."
The word is adunatos. It signifies "without power," and it is quite often translated as "impossible." At times it is used concerning Christians whose faith is not yet very firm. In this case, it is a man who had no power "in his feet."
In other words, there was a disconnect between his brain and the feet which left him without any power of locomotion in that regard. This is further explained by the next words that say he "was sitting."
The verb is imperfect, thus denoting a regular and continued state. He was helpless in this regard and thus sat while life went on around him. The reason for his helpless state is that he was in this condition all his life, being "a cripple from his mother's womb."
This is the same condition, using the same word, chólos, as the man who was healed by the Lord through Peter and John in Acts 3 –
"And a certain man lame from his mother's womb was carried, whom they laid daily at the gate of the temple which is called Beautiful, to ask alms from those who entered the temple." Acts 3:2
In this state, even from before his birth, Luke next notes that he was one "who had never walked." The words are not said of the man in Acts 3, but they are implied to some extent. There, it said that he was carried to the temple each day to beg. In Acts 4:22, he was then noted to be over forty years old.
Walking is a real thing that people do, and it is also a metaphor commonly used in Scripture to speak of one's conduct before the Lord. One of many examples of this would be Ephesians 2 –
"And you He made alive, who were dead in trespasses and sins, 2 in which you once walked according to the course of this world, according to the prince of the power of the air, the spirit who now works in the sons of disobedience, 3 among whom also we all once conducted ourselves in the lusts of our flesh, fulfilling the desires of the flesh and of the mind, and were by nature children of wrath, just as the others." Ephesians 2:1-3 –
As this is so, we can guess that metaphor is being conveyed in these two men. The man of Israel was over forty and had to be carried. EW Bullinger defines the number as "a period of probation, trial, and chastisement—(not judgment, like the number 9, which stands in connection with the punishment of enemies, but the chastisement of sons, and of a covenant people). It is the product of 5 and 8, and points to the action of grace (5), leading to and ending in revival and renewal (8)."
This is an exacting description of Israel. Like the Jew in Acts 3 who was healed after forty years of life, they have always been in a state of probation, trial, and chastisement. During this entire time, they have been carried by the Lord because they could not properly walk before Him. Their conduct has been defiled. And yet, He has preserved them and will heal them as a nation someday.
Likewise, the Gentile in Acts 14 has also been lame from birth, never having walked. And yet, the Lord will now be attentive to him through the ministry of Paul and Barnabas.
The care of Luke to document these relevant facts is to be noted. Through his meticulous writings, the state of things among both the Jews and the Gentiles is clearly and precisely detailed for us to see patterns develop. These then provide an explanation for the expansion of the church beyond Israel and into the rest of the world.
Life application: The history of Israel is one of being called by God, accepting that call, imperfectly living life with the Lord, and then eventually rejecting Him. And yet, despite the rejection, there is the promise of being called back to the Lord and wholly restored someday.
It is a pattern that speaks of the eternal salvation of Israel, despite their personal failings and apostasies. If people can come to the realization that national Israel is being given as a template for individual salvation, there would never be a question in their minds about the doctrine of eternal security.
Man is called by God when the gospel is preached. Those who accept the gospel are saved. Even in their salvation, they live imperfect lives before the Lord. Some are even dismissed from the congregation, or they walk away from Him entirely. For examples of this, refer to 1 Corinthians 5:4, 5; 1 Timothy 1:18-20; and 2 Peter 1:9.
There are those who are to be cast out of the church for wholly inappropriate behavior, there are those whose feet get so far off the path that their faith is shipwrecked, and there are those who are cleansed from their past sins and yet have forgotten it was so. Despite these things, the Bible teaches that they have been saved and they will not lose that state, even if their earthly lives face incredibly unhappy times.
Israel was handed over to their own depraved ways for judgment. And yet, the Lord has kept them as a people and has brought them back to the land of Israel to restore them to Himself. This is just what Paul says is to happen to the wayward man in 1 Corinthians 5. This state of eternal security is not because either Israel or that man deserves it, but because God has spoken it. It is His name that is on the line, and so He will perform. He says this explicitly in Ezekiel 36 –
"Therefore say to the house of Israel, 'Thus says the Lord God: "I do not do this for your sake, O house of Israel, but for My holy name's sake, which you have profaned among the nations wherever you went."'" Ezekiel 36:22
If you are somehow convinced that a person can lose his salvation, you are in error. Your understanding of the character of God, the eternal nature of His decrees, and the sacredness of His covenant-keeping are deficient. Look to Israel with the right eyes and your faulty view of these things will be corrected.
O God, our minds are often confused about what You are doing and why. And this isn't because we have not been given the information to figure it out. Instead, it is there to understand. But we have biases, presuppositions, and a failure to fully explore Your word. Help us to be more attentive to what You are telling us in this precious word. In this, we will have a confident and settled walk before You all our days. Amen.