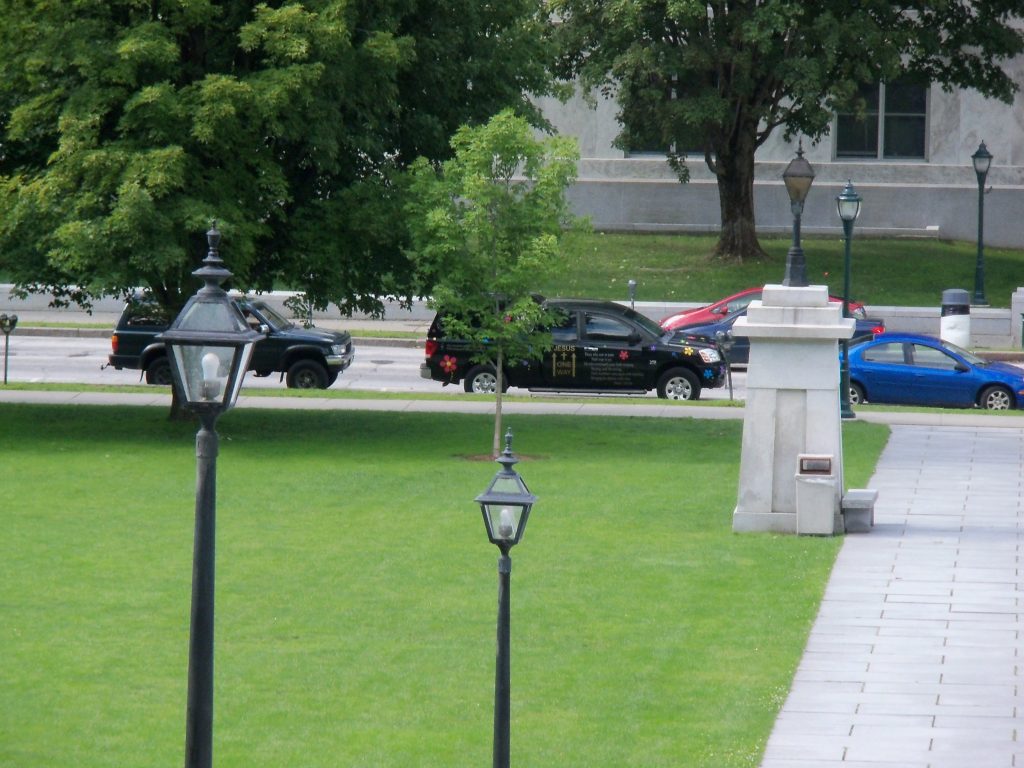 Lovely front courtyard. Vermont Capitol.
Friday, 17 February 2023
"who in bygone generations allowed all nations to walk in their own ways. Acts 14:16
Note: You can listen to today's commentary courtesy of our friends at "Bible in Ten" podcast. (Click Here to listen).
You can also read this commentary, with music, courtesy of our friends at "Discern the Bible" on YouTube. (Click Here to listen), or at Rumble (Click Here to listen).
In the previous verse, Paul and Barnabas spoke against those who were preparing to sacrifice to them, attempting to correct their faulty thinking by saying there is one God, the living God, who made all things. With that, they continue speaking of Him, saying, "who in bygone generations."
The meaning is that up until this point in time, God had set forth parameters by which something had been the case, but which would no longer be the case. With the introduction of the gospel, a new order and direction had come into play. What was the case before is next explained, saying, "allowed all nations."
There is an article before the word translated as "nations." But more, it should say, "the Gentiles," as it is translated often elsewhere, such as Matthew 6:32 –
"For after all these things the Gentiles seek. For your heavenly Father knows that you need all these things."
The reason it should be translated this way is that the words of the apostles do not include Israel. Rather it is a general statement concerning all of the nations outside of Israel. That is seen in the next words where it says, "to walk in their own ways."
God allowed the nations to conduct their own affairs under the dispensation of government while Israel was set under different parameters, meaning the dispensation of the law. They were not allowed to walk in their own ways –
"See, I have set before you today life and good, death and evil, 16 in that I command you today to love the Lord your God, to walk in His ways, and to keep His commandments, His statutes, and His judgments, that you may live and multiply; and the Lord your God will bless you in the land which you go to possess. 17 But if your heart turns away so that you do not hear, and are drawn away, and worship other gods and serve them, 18 I announce to you today that you shall surely perish; you shall not prolong your days in the land which you cross over the Jordan to go in and possess." Deuteronomy 30:15-18
Verses such as this in Deuteronomy set forth the parameters for the conduct of Israel. However, and more directly to the matter that is being relayed to those at Lystra, the Lord's words to the people of Israel through Ezekiel clearly and unambiguously set Israel apart from how the Lord conducted His affairs with the Gentiles –
"What you have in your mind shall never be, when you say, 'We will be like the Gentiles, like the families in other countries, serving wood and stone.'" Ezekiel 20:32
In God's previous dealings with humanity, there was a complete contrast between how He dealt with the nations and how He dealt with Israel. It is true that God judged the nations for their wicked conduct bringing them to an end as He saw fit, but they were not imputed sin without law. This is explained by Paul in Romans 2:12 where he notes that "as many as have sinned without law will also perish without law, and as many as have sinned in the law will be judged by the law."
The law was given to Israel. It was not given to any nation under the heavens except Israel. Thus, Israel's judgment would be greater because of the imputation of sin that came from being under law. With that understood, the apostles will continue to appeal to the crowd, making their defense concerning the nature of God in relation to the people of the world.
Life application: The thoughts that are being explained to these Gentiles by the apostles are quite clear when properly translated and considered. The law, rather than giving freedom from sin, only increases sin. It is true that the nations without the law would perish apart from the law, but the guilt of Israel was far greater than the other nations because they had the law and still did not obediently follow the Lord –
"If you do not carefully observe all the words of this law that are written in this book, that you may fear this glorious and awesome name, THE LORD YOUR GOD, 59 then the Lord will bring upon you and your descendants extraordinary plagues—great and prolonged plagues—and serious and prolonged sicknesses. 60 Moreover He will bring back on you all the diseases of Egypt, of which you were afraid, and they shall cling to you. 61 Also every sickness and every plague, which is not written in this Book of the Law, will the Lord bring upon you until you are destroyed. 62 You shall be left few in number, whereas you were as the stars of heaven in multitude, because you would not obey the voice of the Lord your God. 63 And it shall be, that just as the Lord rejoiced over you to do you good and multiply you, so the Lord will rejoice over you to destroy you and bring you to nothing; and you shall be plucked from off the land which you go to possess." Deuteronomy 28:58-63
This was the burden laid upon Israel. They were to be an object lesson to the world that all people, Jews and Gentiles, needed something greater than law. What we all need is grace. That is the grace that comes through the giving of Jesus Christ.
Wanting to go back under the law is as nutty as putting square tires on a bicycle. It is contrary to the smooth and even path set forth by God in Christ. Don't be nutty! Trust in God's grace, live by God's grace, and be set in your mind that you will find that alone sufficient to bring you back to Him. Nothing else will do.
Lord God, help us to rightly contemplate what You have done in the sending of Jesus. He has accomplished everything necessary to bring us to a right standing before You. What more could we add to that? Help us to trust that Your grace is sufficient and to rest our souls in what You have done through Him. Yes, Lord God, thank You for the grace of our Lord, Jesus Christ. Amen.