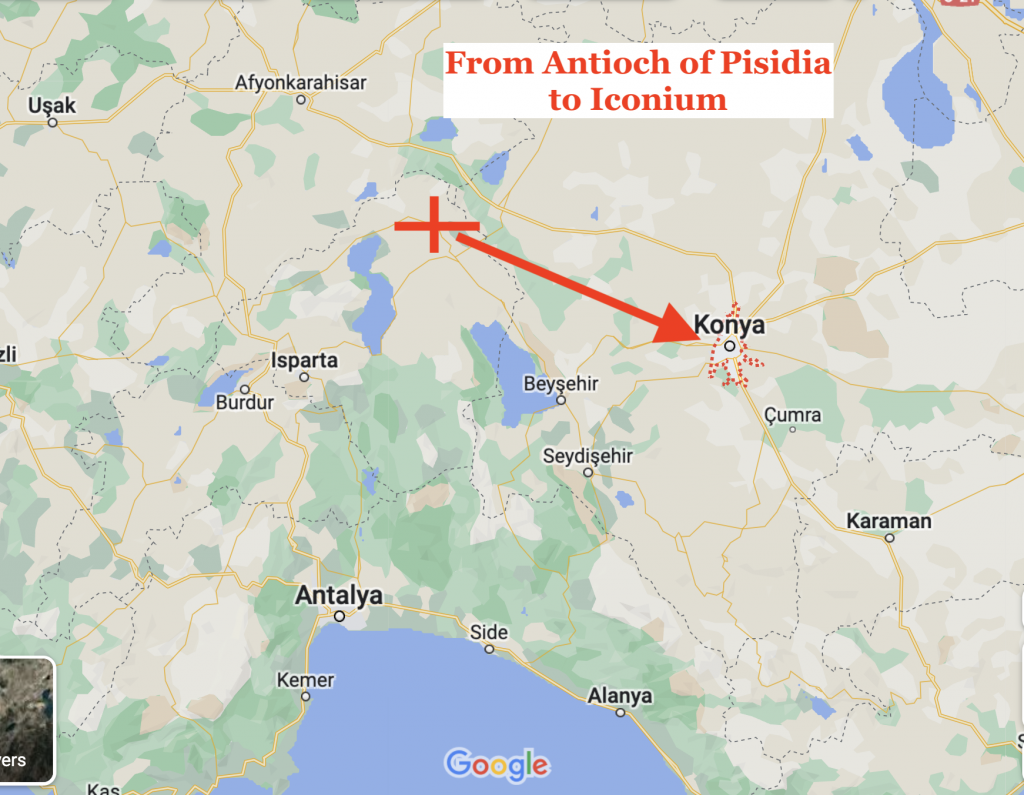 The continued journey.
Tuesday, 31 January 2023
But they shook off the dust from their feet against them, and came to Iconium. Acts 13:51
Note: You can listen to today's commentary courtesy of our friends at "Bible in Ten" podcast. (Click Here to listen).
You can also read this commentary, with music, courtesy of our friends at "Discern the Bible" on YouTube. (Click Here to listen), or at Rumble (Click Here to listen).
In the last verse, Paul and Barnabas were expelled from the region of Antioch of Pisidia. With that, Luke next records, "But they shook off the dust from their feet."
This was obviously a way of demonstrating their displeasure with those who had expelled them, revealing that even the dust on the apostles' feet that was associated with those of Antioch was detestable. It is what Jesus instructed His apostles in Israel to do, if necessary, while proclaiming the kingdom of God, as is testified to in the gospels –
"Whatever house you enter, stay there, and from there depart. 5 And whoever will not receive you, when you go out of that city, shake off the very dust from your feet as a testimony against them." Luke 9:4, 5
This is recorded in Matthew and Mark as well. Matthew's words explain the matter further –
"Now whatever city or town you enter, inquire who in it is worthy, and stay there till you go out. 12 And when you go into a household, greet it. 13 If the household is worthy, let your peace come upon it. But if it is not worthy, let your peace return to you. 14 And whoever will not receive you nor hear your words, when you depart from that house or city, shake off the dust from your feet. 15 Assuredly, I say to you, it will be more tolerable for the land of Sodom and Gomorrah in the day of judgment than for that city!" Matthew 10:11-15
Quite often, this act of Paul and Barnabas is directly associated with the words of the Lord in those gospel passages, such as –
"The act was one of literal obedience to our Lord's commands (see Note on Matthew 10:14), and may fairly be regarded as evidence that that command had come to the knowledge of Paul and Barnabas as well as of the Twelve." Charles Ellicott
Actually, there is nothing to suggest this, for several reasons. One is that if this were "literal obedience to the Lord," then other such instances where they failed to do this would be considered "literal disobedience to the Lord." Further, the surrounding context of Jesus' words demonstrates that this was never to be taken as a command during the church age, such as other words found in Matthew 10, and which are also summed up in the other gospels as well –
"These twelve Jesus sent out and commanded them, saying: 'Do not go into the way of the Gentiles, and do not enter a city of the Samaritans. 6 But go rather to the lost sheep of the house of Israel. 7 And as you go, preach, saying, 'The kingdom of heaven is at hand.' 8 Heal the sick, cleanse the lepers, raise the dead, cast out demons. Freely you have received, freely give. 9 Provide neither gold nor silver nor copper in your money belts, 10 nor bag for your journey, nor two tunics, nor sandals, nor staffs; for a worker is worthy of his food.'" Matthew 10:5-10
If Paul and Barnabas were following the command of the Lord from the gospels, they would not have been going to the Gentiles, they would not have been carrying money, which they obviously did in order to sail on ships, etc. Rather, Jesus' words were to the twelve apostles and were directed to the ministry within Israel while still under the law.
With Jesus' work completed, a new dispensation had entered. The shaking of dust off of their feet was obviously a sign that was known and practiced at the time, and which Jesus directed his apostles to employ for those who saw them do it as a witness against them. The same is true with Paul and Barnabas. This is all the more evident because, in Acts 18, Paul uses a different method of employing the same general thought –
"When Silas and Timothy had come from Macedonia, Paul was compelled by the Spirit, and testified to the Jews that Jesus is the Christ. 6 But when they opposed him and blasphemed, he shook his garments and said to them, 'Your blood be upon your own heads; I am clean. From now on I will go to the Gentiles.'" Acts 18:5, 6
This was a similar sign of displeasure that was directed to his Jewish audience. It was something they would have fully understood from their own Scriptures –
"Then I called the priests, and required an oath from them that they would do according to this promise. 13 Then I shook out the fold of my garment and said, 'So may God shake out each man from his house, and from his property, who does not perform this promise. Even thus may he be shaken out and emptied.'" Nehemiah 5:12, 13
If Jesus' words were still in effect, Paul and Silas would have needed to shake the dust off of their feet at that time as well. But verse 13:51 is the only instance in Acts where this is recorded. The use of such gestures is simply a way of demonstrating frustration at the circumstances that have arisen. In this case, it was shaking off the dust of the feet "against them," meaning the Jews, the devout and prominent women, and the chief men of the city mentioned in the previous verse.
Of this, Ellicott rightly says, "It was in itself, however, the language of a natural symbolism which every Jew would understand." Even more, anyone – Jew or Gentile – would understand with only a moment of thought.
If this were a sign as commanded by the Lord, it would then include all of the inhabitants of the city as noted in the Matthew citation above. But the city was also filled with new believers. The action was not directed against them. It was merely an open gesture of displeasure to those who had been so rude to them. With that, it next says that they "came to Iconium."
The name in Greek is Ikonion. Strong's supposes the name is derived from eikon, meaning "image," and thus it means "Image like." On the other hand, John Gill says –
"It was called by the Syrians, 'Ik-ona', which signifies 'the bosom of sheep'; the country round about it being famous for feeding great numbers of sheep; and here afterwards was a church of Christ, a bosom for his sheep."
Of this location, the 19th Century theologian Albert Barnes provides these words –
"This was the capital of Lycaonia. It is now called Konieh, and is the capital of Caramania. 'Konieh extends to the east and south over the plain far beyond the walls, which are about two miles in circumference … Mountains covered with snow rise on every side, excepting toward the east, where a plain, as flat as the desert of Arabia, extends far beyond the reach of the eye' (Capt. Kinnear). 'Little, if anything, remains of Greek or Roman Iconium, if we except the ancient inscriptions and the fragments of sculptures which are built into the Turkish walls.' 'The city wall is said to have been erected by the Seljukian sultans: it seems to have been built from the ruins of more ancient buildings, as broken columns, capitals, pedestals, bas-reliefs, and other pieces of sculpture contribute toward its construction. It has 80 gates, of a square form, each known by a separate name, and, as well as most of the towers, embellished with Arabic inscriptions … I observed a few Greek characters on the walls, but they were in so elevated a situation that I could not decipher them' (Capt. Kinneir)."
Today, the name is Konya. It is a major city in Turkey, being the sixth most populous and having over two million residents.
Life application: Understanding the dispensational model for interpreting the Bible is crucial to possessing proper theology. When someone claims that the words of Jesus in a particular section of the synoptic gospels still applies today, just take them to the surrounding verses and ask them, "Then why aren't you doing this also." There will almost always be obvious indicators that Jesus was speaking only to Israel about matters that pertain solely to them.
To tear verses out of their context, and then shove them into church-age doctrine, is damaging for several reasons. Probably the main reason is that an inevitable contradiction in theology will arise. What is prescribed in the epistles is based upon the finished, final, and forever work of Jesus Christ. What is presented in the gospels is not. In those gospels, He was still in the process of fulfilling the law, and his apostles and disciples were a part of that until His work was complete.
Once the law was fulfilled and set aside, Jesus gave them new instructions and poured out His Spirit on them to lead them in a new direction. This includes Paul. These instructions are now found in the epistles.
Having said this, dispensationalism can be taken too far, wrongly dividing the church age further than intended. This mainly comes from a lack of scholarship in understanding the symbolism and typology of the Old Testament, something that pointed to the work of Jesus. This was not "Jewish" symbolism, but "Christ-centered" symbolism. By misunderstanding this, heretical teachings have arisen that further, and incorrectly, divide the church.
Be careful what you assimilate. Everything must be taken in its proper context. When this does not occur, you are assured of having unsound doctrine.
Glorious Lord Jesus, thank You for Your work under the law to free man from law and to bring us into the state of grace that brings us back to our heavenly Father. For those who have come to You, we are safe and secure forever from condemnation. Thank You, Lord, for what You have done. All glory to Your magnificent name! Amen.