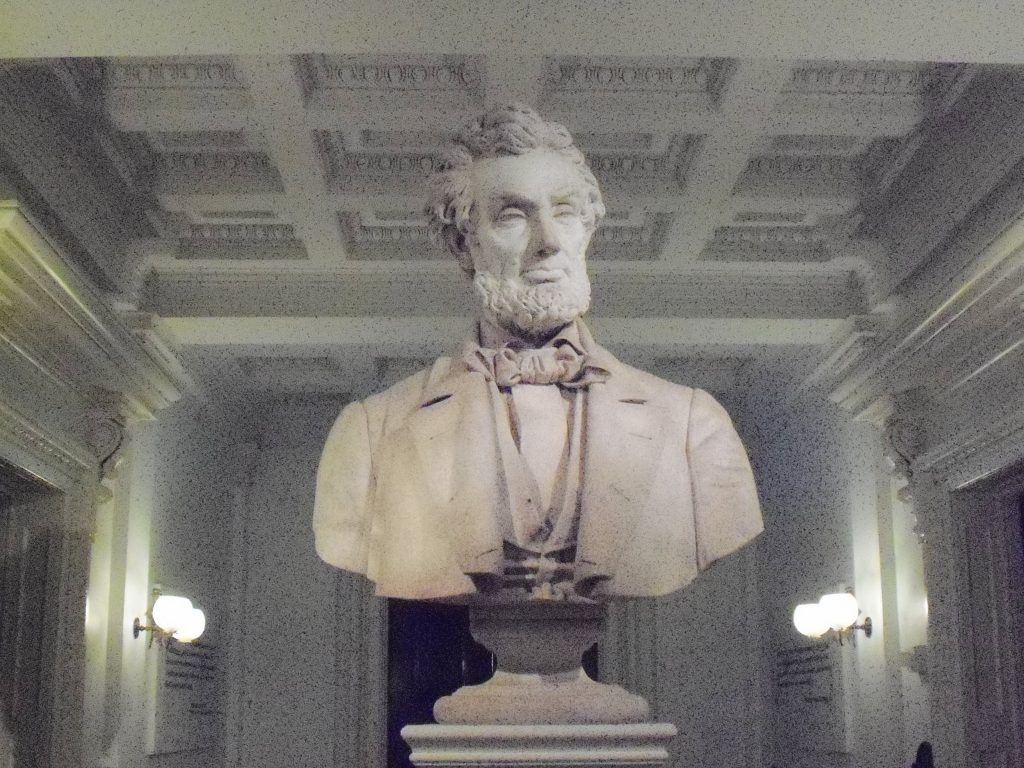 Abraham Lincoln. Vermont State Capitol.
Thursday, 12 January 2023
"And we declare to you glad tidings—that promise which was made to the fathers.  Acts 13:32
Note: You can listen to today's commentary courtesy of our friends at "Bible in Ten" podcast. (Click Here to listen)
You can also read this commentary, with music, courtesy of our friends at "Discern the Bible" on YouTube. (Click Here to listen), or at Rumble (Click Here to listen).
Paul just referred to the fact that Jesus was seen for many days after His resurrection and that the apostles have become His witnesses to the people. With that, he now continues, saying, "And we declare to you glad tidings."
The words literally mean, "And we preached to you the gospel" as was seen, for example, in Acts 14:21 and elsewhere. The gospel is the good news, and it is "that promise which was made to the fathers."
Of these words, Barnes says, "The promise here refers to all that had been spoken in the Old Testament respecting the advent, sufferings, death, and resurrection of Christ."
This is certainly not merely speaking of the "fathers" as noted in verse 13:17 which includes those to the time of the captivity in Egypt. Rather, it is inclusive of any of the faithful line of people who anticipated the Messiah and from whom the people of Israel descended. This is certain, for two main reasons. The first is that Paul will speak of the deity of Christ, the incorruptibility of Jesus, the resurrection of the Lord, the forgiveness of sins, etc.
These things may have been hinted at simply because of how the Lord structured both the recorded history of the world in His word as well as how He structured the rites and rituals found in the Levitical portion of the law, but to clearly demonstrate them, Paul will cite David in the Psalms, Isaiah, Habakkuk, etc.
What was promised in veiled terms to Adam, Noah, Abraham, and so forth became more and more specific through the later prophetic utterances. Eventually, the word carried so much specificity in it that when Jesus came, it should have been evident to Israel that He was what those prophecies were pointing to – He and none other. This is now what Paul proclaims to those in the synagogue in Antioch of Pisidia.
Life application: It is true that the Bible says so many things that anyone can make up almost anything from its pages and create a false religion or doctrine from it. That has happened from the very beginning (see the book of Galatians, for example, to see this even in Paul's time), and it continues to this day.
Many false religions began in recent history that are based on a manipulation of Scripture. Even within the very recent past, this is so. David Koresh used Scripture to identify himself as "the Lamb of God" spoken of in Revelation. The problem with this rests on the fact that those who followed such people 1) do not know Scripture well enough to avoid such falsity, and 2) remain unwilling to check out what Scripture says to determine if what they are being told aligns with what the Bible proclaims.
Be sure to know the Bible well enough to avoid being drawn into such traps when they come before you. But more, be sure to tell others to do this as well. Continuously speak of the importance of knowing Scripture personally. One's knowledge of the word is what will keep a person on the straight path concerning what God has done, is doing, and will do for His people. God is telling us the story of Jesus Christ. Let us not get diverted from that basic and all-important point.
O God, thank You for Your word. It is there to keep us from the traps and snares set before us and to lead us to the true and right understanding of who Jesus is. Give us both the wisdom and the desire to hold it closely, read it daily, and to contemplate its riches always. Thank You, O God, for this precious and sacred word. Amen.