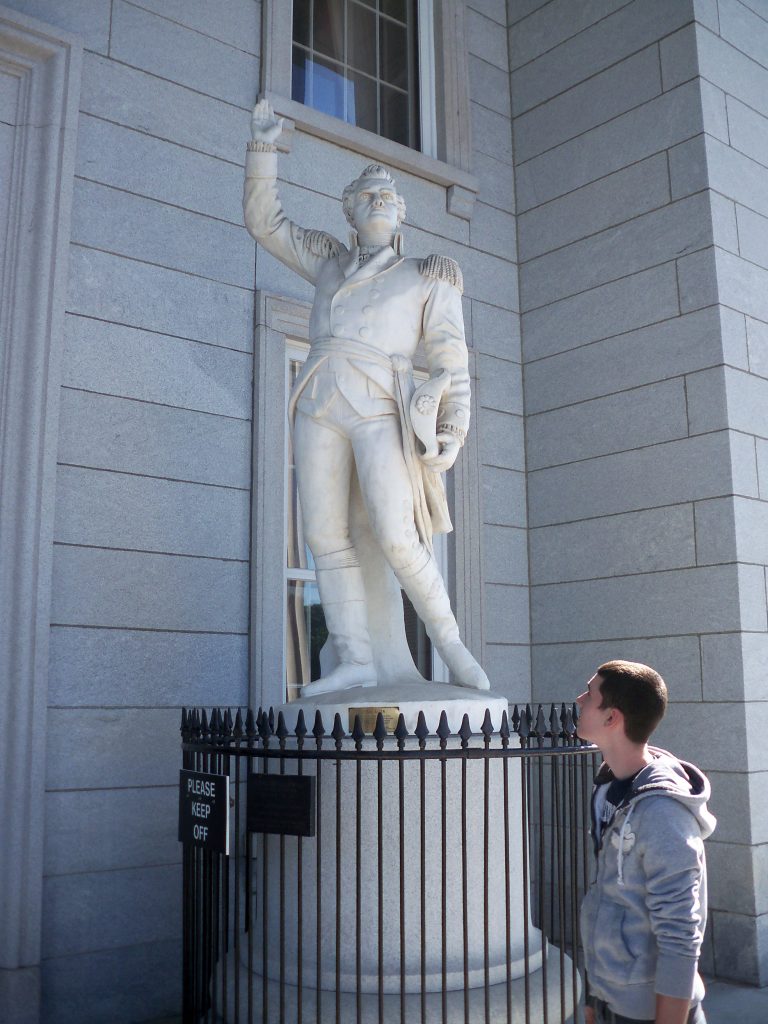 Guess who? Hint, famous in Vermont.
Saturday, 10 December 2022
But the word of God grew and multiplied. Acts 12:24
Note: You can listen to today's commentary courtesy of our friends at "Bible in Ten" podcast. (Click Here to listen).
You can also read this commentary, with music, courtesy of our friends at "Discern the Bible" on YouTube. (Click Here to listen), or at Rumble (Click Here to listen).
The words of this verse are set in total contrast to the events of the previous verses –
Herod the king looked flashy and spoke to the people from an elevated seat. When he did, the people kept shouting, "The voice of a god and not of a man!" With that, he was struck by an angel of the Lord because he didn't give glory to God and he died, having been eaten by worms.
While the word of God may not seem flashy to the masses, it speaks to us from the highest heaven. It is the voice of God in written form. When we cherish it and apply it to our lives through the reception of the gospel, we ascribe glory to God. We affirm its sacred contents. In this, we find life. We go from being corruptible to incorruptible.
With that noted, the words now begin with, "But the word of God grew." The verb is imperfect. It grew and continued to grow. The sense of the word is that of growing like a plant or a child. Essentially, it conveys the idea of becoming greater in size. While Herod's "voice of a god and not a man" ceased forever, the word of the true God increased in its reach. Further, Luke says it also "multiplied."
The verb is also imperfect, it multiplied and continued to multiply. The word signifies growth in number. Not only did the word continue to grow up, but it grew out. While Herod lay in the ground, turning back to the dust from which he came, the word of the true God expanded to soul after soul, bringing them to spiritual life and vigor.
It should be remembered that Herod was the one who put James to death. He was also set to put Peter to death. Instead, God made James and Peter alive in Christ. James' physical death is a temporary impediment to his walk with the Lord. Herod's physical death is a permanent one. And while the blood of James helped expand the growth and multiplication of the word of God to others, the death of Herod brought a swift and decisive end to the cult of the word of Herod.
Life application: On several occasions, Paul writes about the insignificant state of man. We tend to think more highly of ourselves than we ought to. Heeding Paul's words will help us realign this incorrect thinking –
"For I say, through the grace given to me, to everyone who is among you, not to think of himself more highly than he ought to think, but to think soberly, as God has dealt to each one a measure of faith." Romans 12:3
"And if anyone thinks that he knows anything, he knows nothing yet as he ought to know." 1 Corinthians 8:2
"For if anyone thinks himself to be something, when he is nothing, he deceives himself." Galatians 6:3
Obviously, these and other such verses have a context that must be maintained, but the main intent of each is that of considering ourselves in the proper light. God is God. We are created. Whatever we are, whatever capabilities we have, whatever traits we possess, and so on, all these things came from God. As this is so, we should glorify God with who we are and not allow our minds to become puffed up like Herod. With such an attitude, catastrophe is the certain result.
Glorious God, thank You for who we are. You have created each of us to be unique and precious. And yet, what we possess is only because You have allowed it to be so. And so, as we are grateful for the lives we live, may we use them to bring glory to You. Help us to never be tempted with self-exaltation, but to walk humbly before You all our days. Amen.