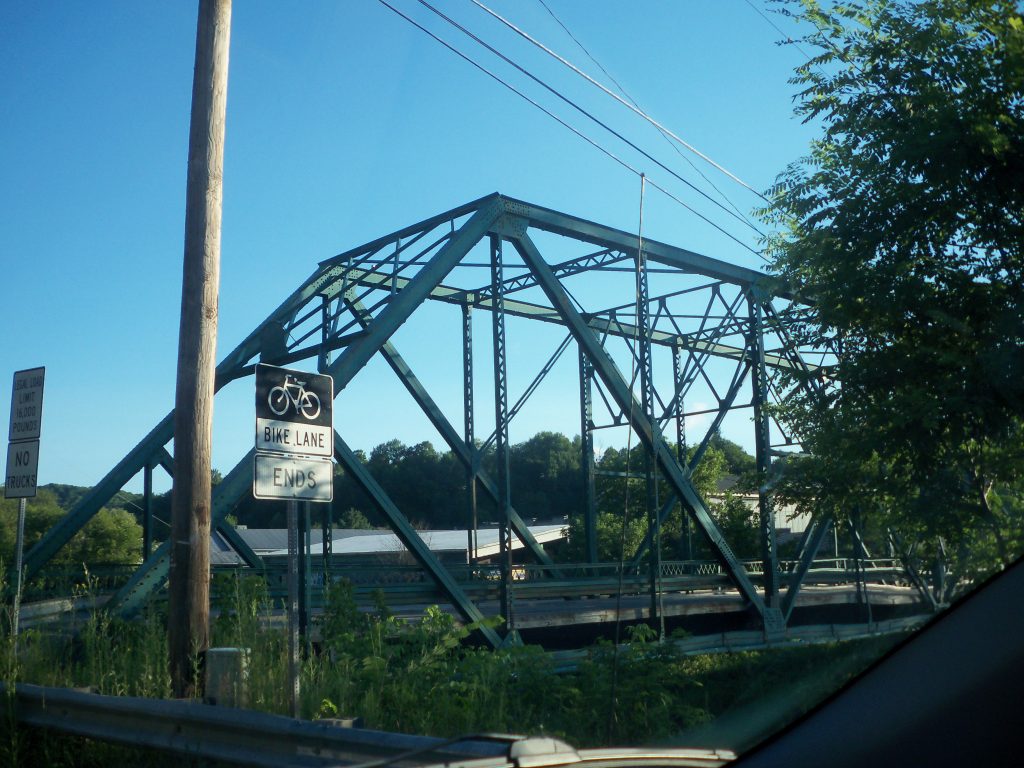 Truss bridge on Vermont state line.
Friday, 18 November 2022
Then he killed James the brother of John with the sword. Acts 12:2
Note: You can listen to today's commentary courtesy of our friends at "Bible in Ten" podcast. (Click Here to listen)
You can also read this commentary, with music, courtesy of our friends at "Discern the Bible" on YouTube. (Click Here to listen), or at Rumble (Click Here to listen).
Acts 12 opened with the note that Herod the king had stretched out his hand to harass some from the church. With that noted, it next says, "Then he killed James the brother of John."
This is then James the son of Zebedee recorded in Matthew 4 –
"Going on from there, He saw two other brothers, James the son of Zebedee, and John his brother, in the boat with Zebedee their father, mending their nets. He called them, 22 and immediately they left the boat and their father, and followed Him." Matthew 4:21, 22
He is known in early writings as James the Greater. James the Less is James, the son of Alpheus noted in Matthew 10:3 when the apostles were designated by name. The only mention of him in Acts outside of this verse is that he is noted among the apostles after the ascension of the Lord –
"And when they had entered, they went up into the upper room where they were staying: Peter, James, John, and Andrew; Philip and Thomas; Bartholomew and Matthew; James the son of Alphaeus and Simon the Zealot; and Judas the son of James." Acts 1:13
No reason why he was selected to be killed is given, but it does show that he was prominent enough and outspoken enough to be noticed and brought forth. So, despite not having anything recorded concerning his apostolic work, it is certain he was faithful and productive. It is a good indication that Acts is structured around Peter and Paul for a reason. Even if the other apostles did a great deal of work, the ministries of Peter and Paul are given special attention, showing the shift from the Jewish people to the Gentiles. Of James, it notes that he was killed "with the sword."
Because of this, it is certain that this was a Roman and civil execution. Like John the Baptist, there is an obvious political element to what occurred. Being death by a sword, it could be either decapitation or being thrust through. Either way, the description of his death comes down to two words. This is in complete contrast to Stephen who was given almost an entire chapter of the events surrounding his stoning.
As for his death, it appears that this is something hinted at by what Jesus said in Matthew 20 –
"Then the mother of Zebedee's sons came to Him with her sons, kneeling down and asking something from Him.
21 And He said to her, 'What do you wish?'
She said to Him, 'Grant that these two sons of mine may sit, one on Your right hand and the other on the left, in Your kingdom.'
22 But Jesus answered and said, 'You do not know what you ask. Are you able to drink the cup that I am about to drink, and be baptized with the baptism that I am baptized with?'
They said to Him, 'We are able.'
23 So He said to them, 'You will indeed drink My cup, and be baptized with the baptism that I am baptized with; but to sit on My right hand and on My left is not Mine to give, but it is for those for whom it is prepared by My Father.'" Matthew 20:20-23
James certainly participated in the sufferings of Christ. But more, in a sense, the request was granted. James is noted as the first apostle to be martyred now in Acts. It is known that John was the last surviving apostle. Thus, the two sons of Zebedee were granted two positions of honor in their lives and deaths as chosen apostles of Jesus.
Life application: If the mother of James was alive at this time, she may have questioned God's goodness in allowing her son, who had done so much in his ministry, to be killed in such an ignoble way. Or she may have understood that this was an honorable death in the eyes of the Lord. As tragic as it may be for someone to lose a family member, we cannot impute wrongdoing to God when it occurs.
The fact is that we are all going to die. Paul goes further and says –
"But you have carefully followed my doctrine, manner of life, purpose, faith, longsuffering, love, perseverance, 11 persecutions, afflictions, which happened to me at Antioch, at Iconium, at Lystra—what persecutions I endured. And out of them all the Lord delivered me. 12 Yes, and all who desire to live godly in Christ Jesus will suffer persecution." 2 Timothy 3:10-12
We have been told this, it is included in God's word, and therefore, it should not be a surprise to anyone when a faithful, godly believer is persecuted in some manner. This doesn't mean God is uncaring. It means that God is receiving glory through the right conduct of His people. It is also a sign to those who engage in the persecution that His judgment upon them will be just and deserved when it comes.
We need to consider our earthly bodies less and look to what is promised. Our time now is in a fallen world where we can expect things to occur that may seem bad from our perspective. But in seeing how they fit into what lies ahead, they are not really "bad." What God does, and what He allows in our lives, will always lead to what is good. Trust this as you consider the events of the world around you. Look at all things from an eternal perspective and you will be much better off as you trudge through this life of difficulty, trial, and woe.
Lord God, help us to maintain an eternal perspective on things and not get too caught up in the temporary, transitory things that will have their end. We know that good is promised for us, and so whatever happens now must be leading us to the good that lies ahead. Thank You that we can know this and cling to it while we are here in this life of difficulty. Amen.